4 brands winning at user generated content
User-generated content (UGC) is the holy grail of marketing. It provides authentic brand advocacy from people who are inspired, rather than paid, to endorse your brand. And for millennials in particular, it's hugely powerful, holding 20% more influence than other channels. 
Here we look at how retailers are harnessing that power.
MADE
In a previous blog post on the best product page features I praised MADE for its awesome 'Our customers' homes' section. This popular, user-generated-content feature allows customers to upload photos of their purchases once safely installed in their homes. Shoppers are able to see what products look like in different contexts, with different colour schemes, and in different types of lighting.

The benefits of this approach are clear: satisfied customers volunteer free product imagery, which act as clear endorsements for MADE products (and a picture is worth a thousand words, after all). What's more, a prospect buyer has only to flick through a slew of such images to see how popular an item really is.
  
This move away from stock image photography in favour of engaging with satisfied customers helps MADE build trust around both its products and its brand as a whole.
Public Desire
Public Desire is also putting user-generated imagery to good use. Its homepage is populated with images of happy customers wearing Public Desire shoes – shared via Instagram or manually uploaded via an on-site system.

For a brand with a younger following that regularly spends time on social media platforms, this is a very smart approach. The power of endorsement is certainly not limited to celebrities anymore, and individual testimonials show peer groups that 'someone like me' could use the product.
The approach helps grow Public Desire's reach while building a rapidly-growing library of product images which the retailer uses to curate a highlights reel of the best snaps. 
Click on a picture and you'll see an enlarged image along with details of the person who created the content and, of course, a price and link to the product page for the item on display.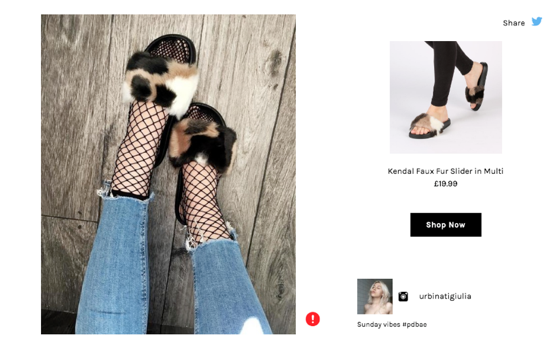 AO.com
ao.com sells a wide range of goods – from washing machines to fridges – and it does a great job of making its product reviews stand out.
Every product's main features are detailed separately to allow users to rate each individual area of a product. The option for user videos is a useful way for shoppers to see products in action, something that's often lacking when you purchase online.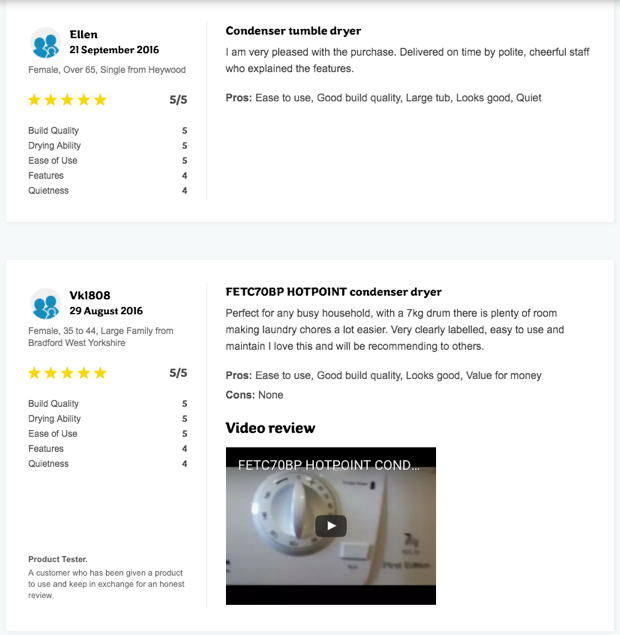 GoPro
An interesting example of UGC that doesn't actually showcase the product, but instead shows-off the results it's capable of is GoPro. The company invites customers to upload videos taken on their GoPro action cameras to show site visitors and prospective customers how their products can be used.
GoPro even has its own awards for the best uploads – a competition that's guaranteed to attract high-quality and imaginative videos from its fanbase. It's a very smart ploy by GoPro, which no longer has to reply on its marketing team to come up with all its content, and ensures a steady stream of creative videos which showcase its products in their best light.

UGC is a valuable tool in any brand's marketing arsenal. For millennial shoppers in particular, the social media posts, photos, videos, blogs, and reviews of their peers hold considerable weight, and brands that ignore UGC's influence do so at their peril.
The good news is that, in today's digital era, such content is accessible and sharable, and the likes of loyalty programmes make it easy to incentivise your brand fans to get involved.