The holiday season is a critical time for retailers as they pull out all the stops to increase year-end revenue. With mobile set to account for nearly half of all ecommerce by 2020, those retailers who cater to a growing mobile user base will reap the rewards of the Q4 sales rush.
In this guest post from our partner Nosto, Zulay Regalado explores some quick-fix personalisation strategies you can apply to your webstore in the run-up to holiday season to help drive sales and keep the mobile-savvy masses satisfied. 
Note that these strategies are also applicable for your desktop site, but our focus here is on the benefits personalisation can bring to the mobile scene.  
1. Simplify gift shopping with product suggestions
There's always that *one* person who throws you off your gift-giving game, because they're just so difficult to shop for. As a result, we often find ourselves aimlessly trawling through a website for a suitable gift, growing uninspired, and then moving onto the next site. 
So as a retailer, how can you help quell a shopper's indecision and keep site abandonment at bay? 
The solution is to make it easy for them to find products that have already shown value. Show your customers the items that are selling well – based on attributes such as gender, budget, and geographical location. 
By highlighting your best-performing items, you will assure your customer that they're making a good decision. It's a two-fold approach, as you can most likely increase average order value (AOV) in the process.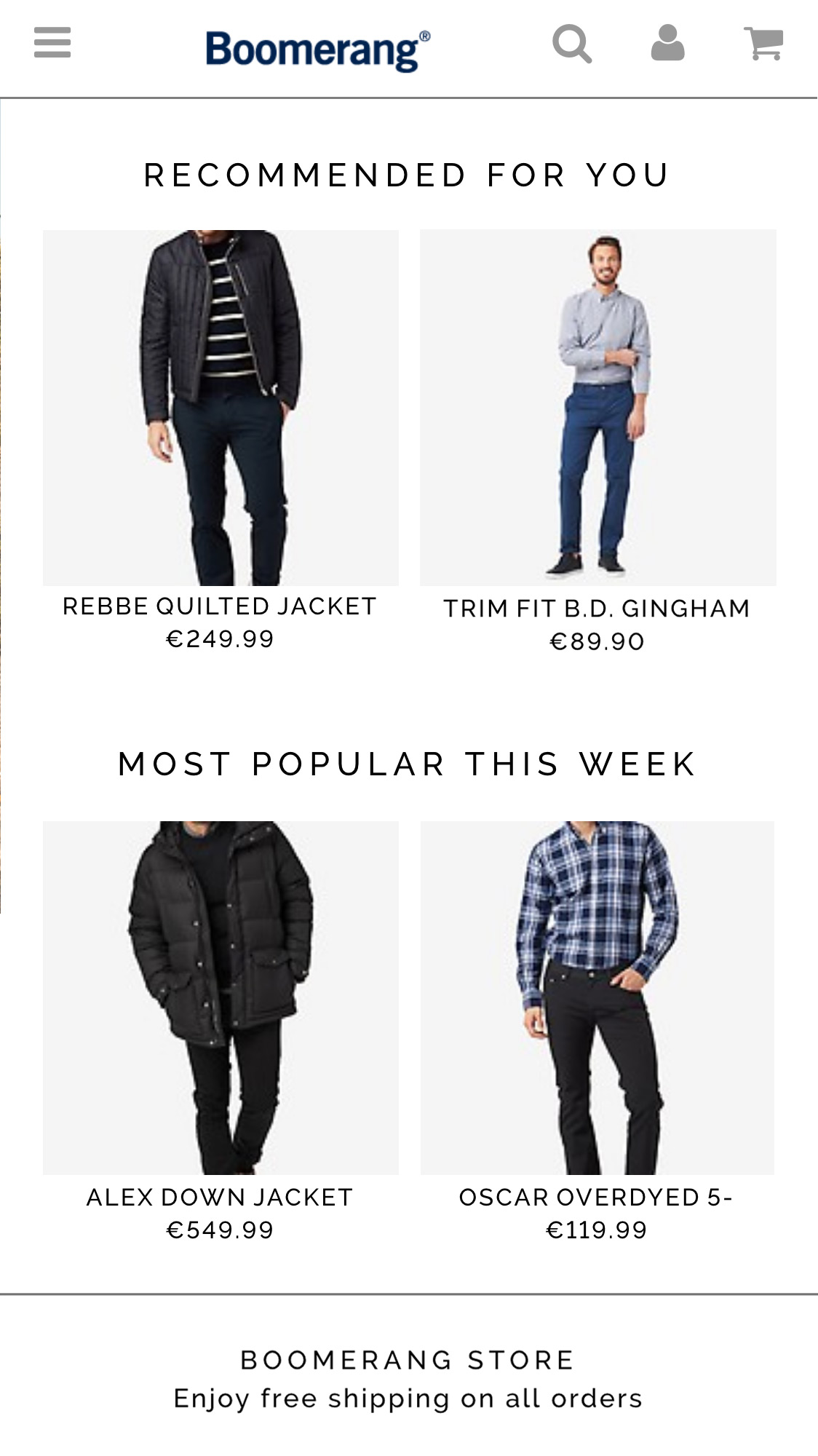 Boomerangstore's homepage provided browsers with a clear indication of what was trending during last year's holiday season
Highlight these items on the front page to make them top-of-mind and help mold a customer's site navigation strategy. But be wary of how you display your bestsellers, as mobile is more of a sensitive experience than desktop. Avoid using animated carousels, for instance; while they pause on desktop when hovered over, hovering on mobile may cause the visitor to click on the wrong slide (which may also cause them to leave your site). 
2. Use filtering to help people find what they need
So many gifts, so little time!
Make it easier for your customers to navigate through your website by providing them with filtering options. Standard filters such as 'In stock' are a good start, but take it a step further by incorporating temporary filters for the holiday season. Layer your standard filters by categories like price brackets, gift recipient, and type of gift. 
Baymard Institute analysed how subjects interacted with mobile shopping sites and found that some mobile shoppers would layer up to six filters to get to the right product. And it's no surprise when you consider that these people are shopping on a smaller screen. The ability to filter products makes it easy for shoppers to navigate and easily identify what they need. 
3. Make your site search-friendly
Baymard also found that, while search was the preferred method of finding products on mobile, it can also be one of the most broken elements in the average mobile shopping experience. The study found that search was often what led shoppers to believe a website did not carry the product they were searching for. 
But just because search can be tricky doesn't mean it's not effective. It's all about how it's implemented. We recommend that you:
Ensure your search function accounts for misspellings and synonyms. Forcing shoppers to use the exact same product names listed on the site is limiting – and 70% of ecommerce search implementations make it harder for shoppers to navigate because of this. 
Offer shoppers the option to search within a given category.
Allow shoppers to filter search results to category level. If a customer is searching for 'leather', for example, allow them to filter by, say, 'Jackets' rather than displaying all results for leather.
Support thematic searches (i.e. gifts for her).
Suggest alternative products in the event a shopper receives no result for their search.
4. Increase AOV with some last-minute personalisation
Maximising the order value at checkout can be an easy task if you're offering the right things. After all, your customer has made it this far. They're clearly interested, so why not inspire them with a few more items? Here are some handy characteristics that make up a solid mobile-optimised store:
Product recommendations. Show items that complement what they're about to purchase; for instance, encourage your customers to create a gift bundle associated with a discount.
Add-on items. These are your small-ticket items that are usually bought together (like shoe polish for a pair of boots or batteries for toys).
'Did you forget…?' Leverage data from browsing behavior to lead a visitor back to items they viewed but did not add to their cart. To drive AOV, ensure that filtering is applied to only show higher-priced items.
Free shipping. It's the cherry on top of a memorable shopping experience. We all love a little retail treat, and nothing says 'thank you' like free shipping. To maximise your offering, suggest a threshold that customers can reach to receive free shipping, and offer products to help them reach that threshold.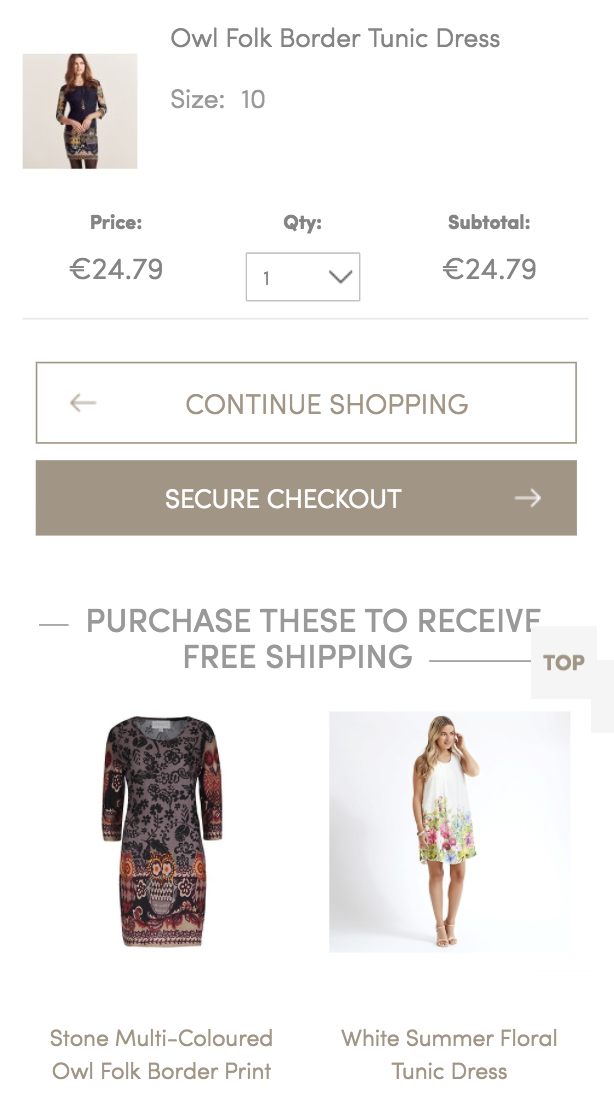 Apricot incentivises shoppers to buy related items
5. Use personalisation to optimise PPC campaigns 
While PPC (pay-per-click) campaigns tend to be pricey during the holiday season, it's still possible to get the most out of your campaigns without increasing your ad budget. 
Dynamic Facebook and Instagram Ads are a way to stand out from the masses. After all, Facebook users spend an average of 50 minutes a day on the site. Make sure they remember you by reacquainting them with your brand while they browse. 
Instagram is a particularly powerful tool for driving holiday traffic. With over 700 million users the mobile-heavy platform is a go-to for consumers looking for holiday inspiration. Take this as an opportunity to retarget current customers and drive new ones to your store. 
One important thing to watch out for is promoting products that may not be available for purchase. Nosto's 1:1 personalisation eliminates that roadblock by automatically updating product lists, so your ads will never show a product that is sold out or discontinued. 
Want to learn more?
Now that you're well-equipped for December's sales rush, check-out Nosto's Ecommerce Holiday Handbook to dive into the holiday mindset and ring in a successful new year!
Nosto's personalisation solution is used by online retailers around the world. As an official Nosto partner, Inviqa is primed to help you get the most out of the platform and boost your online sales. Get in touch to learn more!
Related reading