Adding a simple feature to a brand website should be a piece of cake. But too often the process is hampered by long lead times and slow feedback loops that cost the site owner time and money.
Sound familiar? That's because this can happen to the best of brands. Picture this: your organisation has a slick, eye-catching website, but something's missing. It's a fairly simple feature – an FAQ page, for example – and it shouldn't be painful to add. 
But what ensues is a workflow that looks like the following diagram: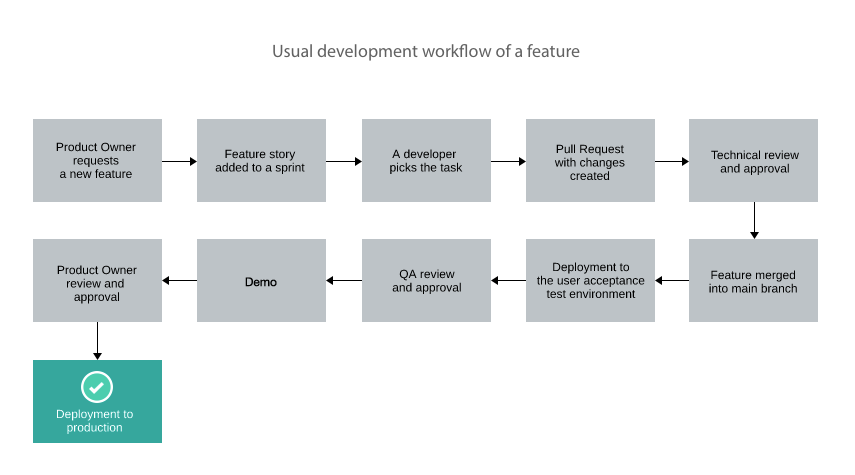 This diagram illustrates the myriad of steps between the initial feature request and the deployment – steps which can take days or even weeks to progress. Because of this lengthy, linear process, lead times take a minimum of two weeks. 
Sounds complicated, right? It shouldn't be – and thankfully, there's a new approach to web page editing that's driving business value by simplifying this process.
ContinuousPipe is a continuous deployment pipeline I've created to allow frictionless deployment of features in isolated application environments. Based on Docker and Kubernetes, it dramatically speeds up the feedback loop and cuts lead times.
If we return to our diagram, here's how different things can look with a smoother, more efficient process in place: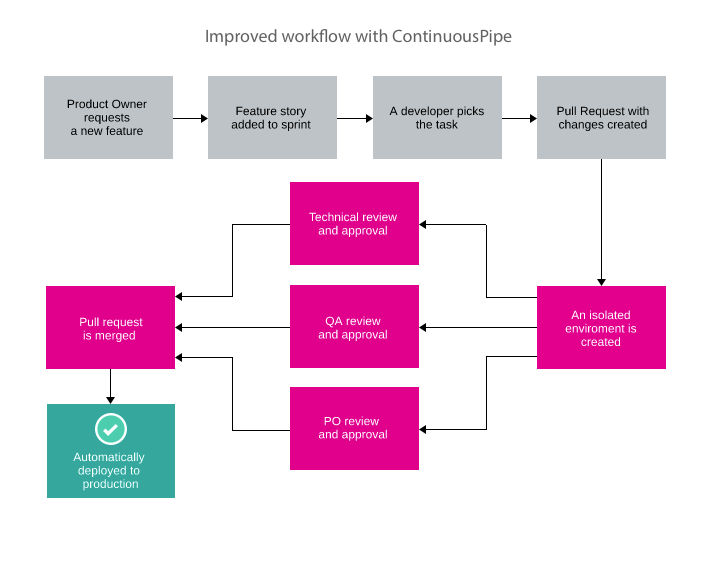 So how does ContinuousPipe work? As you can see from the diagram, the pipeline approach allows you to run different steps of the process in parallel. So QA and PO approvals, for example, can kick-off just minutes after a developer pushes some changes, instead of days. 
The highest priority is to satisfy the customer through early and continuous delivery of valuable software.
A shorter lead time brings multiple benefits, from cost savings, to faster deployments. It's a far more efficient approach to web application improvement that provides the client, and/or the QA team, with a direct feedback channel to the developer team. A developer can constantly grow websites without causing any site disruption, while a clear format for monitoring these changes ensures that the end result is the product of a shared vision across all parties.
Other benefits include:
Tech freedom. Since it's based on Docker containers, ContinuousPipe is technology agnostic. In other words, you can build and deploy any kind of technology stack. You can be using Go, Java, PHP or anything else – all you need is the Docker configuration. 
Cost savings for large-scale apps. Because ContinuousPipe allows you to deploy different applications on a common cluster, you can save a lot of money for large-scale projects. 
Creativity. The pipeline allows you to easily try a new design, feature, framework or programming language. Changes can be tested without creating any interruption to the application availability or performance – unlike the traditional deployment pipeline.
Until your pretty code is in production, making money, or doing whatever it does, you've just wasted your time.
Transparency. A smoother workflow allows you to get feedback from your clients and users faster. Providing ephemeral environments for the features being developed, ContinuousPipe makes it easy for product owners to monitor the website development process and ensure it meets their requirements. 
Seamless QA. With the pipeline approach, quality assurance is constantly monitored, which means better performance and no need for extensive quality assurance checks at the end of projects.
Complete integration with GitHub. ContinuousPipe sees GitHub as something more than a code repository; it's also your project repository. On each code change you make, the status of the pipeline will be updated on GitHub, and the address of that freshly-built environment will be included in your pull requests.
Because of the benefits outlined here, Inviqa is already using ContinuousPipe with many of its clients, including a leading financial publication and a large European energy provider – and is introducing it to more organisations that are attracted to the business value it drives.
Got questions? Want to learn how your business could benefit from ContinuousPipe? Be sure to visit the website or contact Inviqa. 
Banner image credit: Dennis Hill