In today's world of the demanding, changeable, and always-on consumer, retail's winners and losers are separated by how they employ technology to deliver ongoing value through their digital products. Here we look at how and why to place business value at the heart of the search for an ecommerce platform.
Domino's Pizza is a great example of what can be achieved when businesses align business strategy with technology procurement and digital delivery. The organisation has transformed itself so comprehensively over the last few years that it's almost unrecognisable from the business it used to be. 
We have found ourselves describing the 'new' Domino's as a technology company disguised as a marketing company disguised as a pizza company, and recent years of dominant out-performance…probably bears that comment as true.
Domino's, and compelling stories from the likes of Graze, Commercial Motor, and Astrid & Miyu, show that the application of digital strategy and solutions is key to success, along with establishing a virtuous circle of the right organisational structures, processes, and digital culture.
Together these factors equip a business to get closer to users, continually improve digital products, and stand out from the competition. 
By the same token, the consequences of making poor, short-sighted, or uninformed technology decisions are more serious than ever. Equally as debilitating is not investing in people and skills that will drive these initiatives forward with vision, pace, and determination.
The alignment between business-strategy-makers and your team of technical experts (whether they're internal, external, or a healthy blend of both), is at least as important to your success as any board of directors, sales team, or product designer.
So given that choosing a major piece of new technology such as an ecommerce platform, or other piece of critical infrastructure, is so important, why do some retailers appear to treat technology procurement in the same way they procure printer cartridges or other office commodities?  
Why do we often see a focus on driving down price and increasing the scope? And what responsibility do digital consultancies and technology providers have in this situation?
Shifting ecommerce buyer mindsets
Over the years we've heard about procurement conversations where an agency has been on the receiving end of an RFP and the conversation has gone something like this:
'I want as many features as I can get, for the lowest-possible fixed price'.
'Let's deliver a solution that sits within our capabilities (regardless of whether it's really right for the customer). Since it's fixed price we'll either have to cut corners to make any money, or stick on a big contingency to cover ourselves'.
Whilst this agency response is not part of our thinking, for others this would appear 'so far, so standard'. But the imaginary battle lines have already been drawn here; on the one hand the client is looking for as much from the budget as possible, whilst the agency is looking to maximise its margins by delivering (or risking) as little as possible. 
It's clear that entering a conversation in this way is likely to result in potential conflict, rather than constructive collaboration. Most likely, one of the two parties will leave a bit dissatisfied with the outcome.
Preventing this outcome requires a shift in mindset from both sides of the 'divide'. Much of this is firmly rooted in cultural change, and I think everyone appreciates how hard this type of transformation is to achieve. Enabling a procurement mindshift from 'price' to 'value' is tricky and some businesses won't make it.
It's time for retailers to initiate conversations around the purchase of technology platforms and solutions in an open-minded way that's less prescriptive and less 'price' focussed.
Equally, agencies bidding for the work need to be more transparent in their motivations and responses, and more empathetic towards the potential client trying to procure a new solution.
Thinking in terms of business value
The word VALUE is still missing in a lot of these conversations. What does a valuable solution look like, and what can be done to deliver it?
So perhaps a more helpful initial dialogue looks like this:
'I have a set of important commercial objectives and goals to hit. I am looking for a partner that can help me get as much traction towards these, within the available budget'.
'We will work hard to uncover what is really important for our client, and deliver a solution that delivers value at every step of the journey, from today to goal achieved'.
Today, many conversations start without the procurement manager or buyer having a clear and established concept of a digital initiative's goals, and what business value would be delivered if it's successful.
Instead, the focus is often on how many, or what type of, features can be procured, with no critical evaluation around whether those features actually deliver value to the business. 
 
Clearly this is quite a big topic with many, many facets – certainly too many to cover here. So instead I will focus on mid-market, mid-sized businesses i.e. those that can operate with a little more freedom, and a little less bureaucracy than larger organisations, because it's here where change and progress is readily achievable.
An engagement model built on transparency
Partnering with Inviqa has enabled us to think like a digital company. We've changed how we approach digital and can now respond to changes in our buyers' behaviour easily. Technology can be complicated, but it's fast becoming a key differentiator for Bidfood.
I think there's nothing at all wrong about reminding retailers that agencies exist in the same world they do. Agencies also have staff to pay, offices to run, and all the associated overheads, and they exist to generate revenue from clients just like them.
But here's where I've seen some agencies fall short: successful agencies see their path to generating revenue as a byproduct of what they really exist for, and not the singular objective at the expense of everything else. 
And that purpose, to my mind at least, is to help retailers achieve their goals faster, accelerate growth, and drive innovation through digital initiatives that deliver business value. 
Once the conversation is framed in those terms I think that a lot of potential conflict dissipates. Neither client nor agency should consider a pitch, RPF, or any initial engagement as anything other than the start of a process that will generate mutual benefit for both parties, and hopefully over a long period of time.
As an agency I think an important part of the 'getting to know you' phase is to consider the pressure the client is under. Helping uncover the 'why?' at this stage often brings to light the motivation for the project. 
Having established where the business value lies in the project, another great question to ask at this stage is: 'If we delivered that for you, do you really care how we do it?' i.e. are you most interested in the outcome, or the specific solution? 
This is interesting as it gives an early indication of how a client would like its agency to approach the challenge, and where they see priorities within any potential engagement. How wedded are they to a particular technology or approach, for example? How flexible and open-minded might they be? This insight helps a technology partner to understand what type of engagement the retailer values.
Our agenda is simple: to deliver the most appropriate strategy, service, or solution to enable the client to meet and exceed  clearly-defined business goals.
For this reason we use our in-depth platform knowledge to ensure that we are genuinely platform-agnostic. We want to understand and articulate the value in a project. Ultimately it comes down to what we can do as a trusted advisor to deliver value to our client.
Once this roadmap of activity is defined, we can then deliver appropriate solutions to ensure the retailer has the best-possible chance of reaching and exceeding their commercial goals.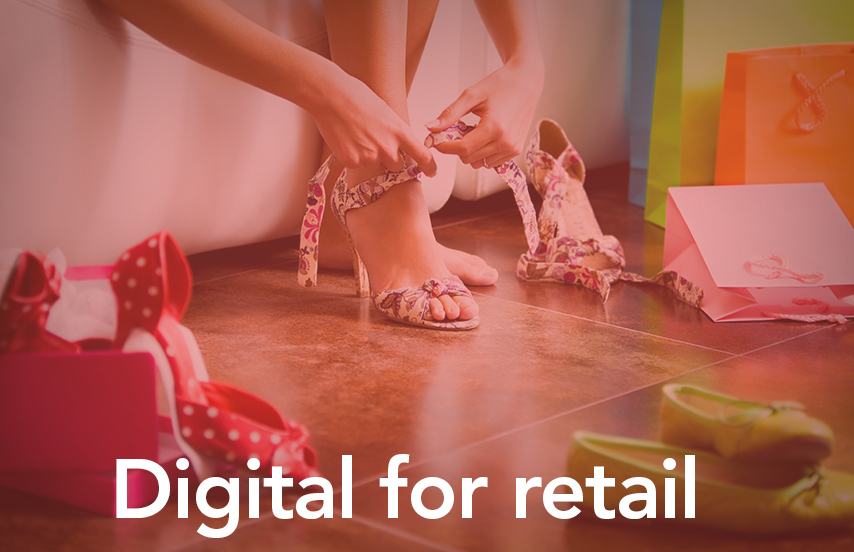 Related reading