Digital prototyping: how to learn and innovate faster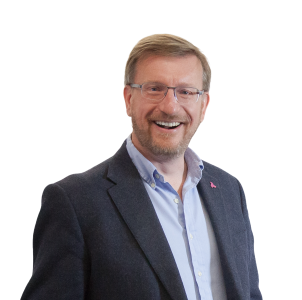 Developing a digital prototype can help you test drive ideas for your digital product or service in a fast, safe, and cost-effective way. Beyond this, it's a critical business tool for driving innovation in your organisation. Here we explore the key considerations for digital prototyping.
What is a digital prototype?
A prototype is a digital simulation or demo of a product or service that enables you to test assumptions and virtually explore a product before it's built. Digital prototyping can save you time and money by ensuring that product development is based on data from the outset, rather than untested assumptions.
Digital prototypes can take different forms, from a working sample, to a model or simulation of a digital product or service, from which a minimum viable product (MVP) and product variations can be developed.
Here at Inviqa we've helped businesses of all types to build, measure, and learn about how their proposed digital product or service fares against their business goals and customer expectations. 
To give a few examples, we've worked with our clients to design a first-of-its-kind prototype for a new gambling poker product, develop proof-of-concept apps for a facilities management company, and launch an innovative investor relations platform.
Thanks to the wide availability of affordable cloud technologies, open-source platforms, and community software, some of the financial overheads that could have crept into digital prototyping have been reduced, so it's easier to test hypotheses in a relatively safe and cost-effective environment.
So when it comes to developing a prototype, the building blocks are cheap, but the data and insight you can gain is invaluable.
7 benefits of digital prototypes
The business benefits of prototyping extend far beyond designing a digital product or service, because prototyping is an important business tool for driving innovation in your wider organisation.
Prototyping allows you to:
Test hypotheses and refine your ideas
Conduct usability testing with 'real' users of your product or service
Gather data and validate product requirements and assumptions
Gain early-stage feedback and buy-in from project stakeholders 
Generate support and investment for your digital initiative 
Drive digital transformation
Foster a culture of digital innovation
Ultimately, digital prototyping allows you to develop the simplest iteration of a product in a cost-effective way.
Testing and listening to feedback from your target audiences then allows you to improve the digital product or service over time, adapting based on what you learn as you go. In this way you can observe changing user behaviours and needs and adjust your offering to better address those needs as they evolve.
This build-measure-learn approach allows you to test and learn early before you take a product to market. It brings clarity to what you're trying to do while eliminating risk and ensuring you focus on delivering business value, rather than features that contribute little towards your objectives. 
It also helps prevent scope creep and test the real demand for your product or service – and its ability to address a genuine need or problem.
With lower barriers-to-entry, developing a digital prototype can be key to bringing a business plan to life, securing financing and buy-in for digital initiatives.
Funding for digital initiatives will sometimes need to be made at board level, and this is where prototyping comes into its element. Small digital experiments can help build a robust business case based on empirical evidence, rather than assumptions, which is far more compelling to the board or project stakeholders.
Ultimately, the digital prototype will show how a proposed digital initiative is capable of solving a tangible business problem while gaining actionable insight that will shape future iteration and development.
Prototyping is a key component of any business' digital transformation drive since it allows you to rapidly learn more about your users, test assumptions, and gather the insight needed to build robust business cases for digital initiatives. This is especially relevant when developing new services that are accessed via digital platforms.
This way of working allows you to design and test in increments, making it easier to design and build in an iterative way, from prototype, to MVP, to product, and to continuously improve their digital products and services. What could be more insightful than getting a working model or product into your users' hands, getting their feedback, and then using that to learn and iterate – again and again? 
How do you build a digital prototype?
As we've explored here, prototyping naturally involves many cycles of feedback and iteration. Developing a basic coded prototype is a continuation of this process, but also allows you to learn more about how a product will integrate with existing system requirements, how the product or service will work across different devices and customer touch points, and the risk involved in further development work.
Digital teams can dip into a growing pool of tools to help them develop a coded prototype. For apps, for example, teams can use the likes of Remixer, which allows you make on-the-fly design changes to an app prototype as it runs, or Stage, which speeds-up the process of making a prototype by allowing you to test and demo apps at an earlier stage in their development.
How do you put CX at the heart of your prototyping?
Disney is a great example of the business value of prototypes that focus on improving customer experiences. It created a prototype of its new Magic Band experience to help secure investment of $1 billion, and the result is a fine lesson in customer experience. 
Over in the gaming world, some developers invite players to test-drive early iterations of games, using their feedback to learn, refine, deliver a final product that delivers the kind of experiences gamers are looking for.
And the world of independent nursing has a great example of how usability testing and digital prototyping can be used to become a more customer-experience-orientated organisation. 
Rather than simply considering what services its staff needed, Thornbury Nursing Services conducted focus groups with its nurses to explore what they were thinking, hearing, feeling, and doing, at every stage in the user journey.
Focusing on user mindset in this way provided a window into the motivations behind its users' actions, allowing the organisation to generate a detailed map of the entire user journey and generate more than 70 opportunities to improve the customer experience.
The nursing group then assessed these potential opportunities using an effort versus impact matrix to identify the order in which initiatives should be tackled first and their ability to affect the organisation's KPIs.
The ability to find and book shifts emerged as a common theme in the focus group sessions, so the team decided to move ahead with an app that would enable nurses to easily and quickly find and book their shifts. 
Within just one week the digital team had a proof-of-concept app to build a robust business case for investment and to start learning even more from its users as part of user testing and ongoing focus sessions. And thanks to the opportunities surfaced from the customer-experience focused workshops, the organisation now has a blueprint for its digital transformation journey.
What's the smallest element you can test?
Your company's ability to lead the market depends on delivering great digital experiences and products – fast. Get the service right and the customer will choose you.
But that service doesn't have to be a fully-formed solution. Because there's often greater value in fast experimentation and prototypes that enable you to measure and learn quickly.
By testing the smallest element possible, and by learning about customers' responses, you can prioritise or re-prioritise your product development based on empirical evidence, rather than assumptions. This is the business value of digital prototyping.
Our prototyping services
Here at Inviqa our digital strategists and technologists equip businesses to:
Design, build, and validate software ideas with rapid prototyping
Provide consultancy and strategy on digital prototyping and experimentation
Develop prototype mobile apps, websites, and other digital products
Empower teams to build a business case by testing a hypothesis
The development process we use is highly collaborative and will usually start with stakeholder workshops to identify your goals and the hypothesis you're looking to test. Our engagement with you may also start with an audit to explore the best way of testing the hypothesis based on your existing capacity and capabilities.
Consultants provide you with a proven framework and approach for properly testing and exploring ideas before too many resources get used. We provide in-house capability to develop prototypes as working software, visual designs, or even something simpler. And if you need help developing your digital prototype, our experienced software developers are on hand to make your vision a reality.
Our developers use Agile methodologies such as Lean Kanban so that development is fast, efficient, and collaborative, with short cycles of work that generate deliverables and options for your business. Depending on the nature of the project and your objectives, prototypes with fully functioning and tested core algorithms can be delivered in a little as two weeks.
Drop us a line today to get prototyping and start learning – fast!
Prime your digital initiatives for success