British Forces Broadcasting Service (BFBS) needed to consolidate its 5 websites to achieve a stronger brand identity and operational benefits
Launches new Drupal-8 media portal and digital branding
Secures 40% year-on-year increase in average page dwell time on mobile
250 journalists can publish content from the field whilst embedded within the forces
Launched in April 2015, Forces.TV provided 24-hour news coverage of the UK armed forces and wider military world. It forms part of the wider Forces Network, operated by The British Forces Broadcasting Service, which includes brands such as Forces Radio and Forces Sport. The Network's content is produced by The SSVC Forces Welfare Media Team, which receives grant funding from the Armed Forces Covenant Fund.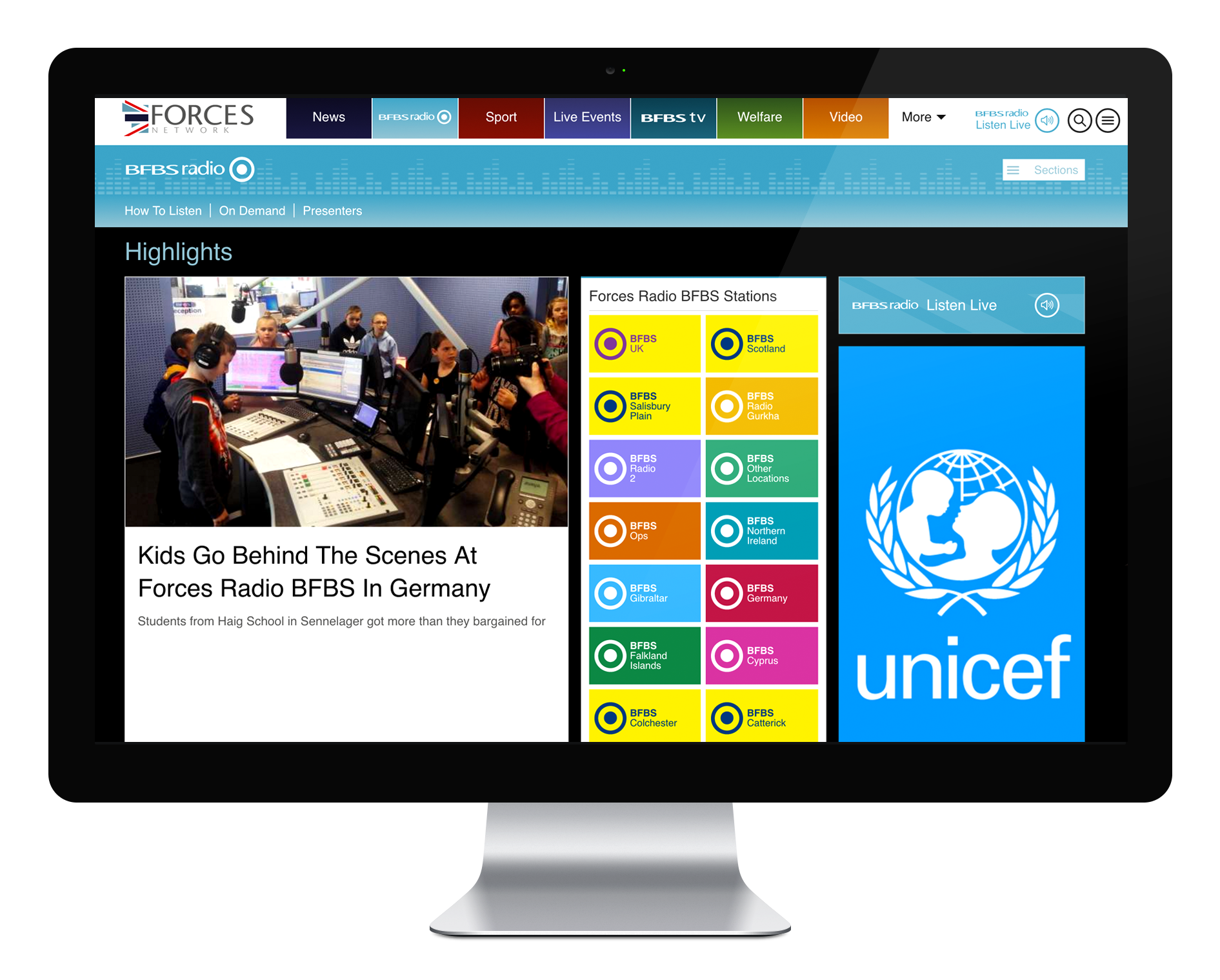 The challenge
BFBS' numerous, legacy content management systems had limited functionality, were inflexible, and could not be adapted to support the unified web portal it was aiming to deliver. It needed to consolidate its many media channels into a single platform that would strengthen the Forces Network brand and enable its loyal listeners and viewers to find and consume different types of content. It also needed its editors to be able to work across multiple brands within the same CMS, without having to use multiple systems.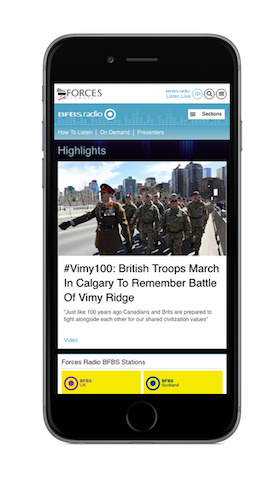 The solution
BFBS needed the new platform to be flexible, open-source, and both easy and cost-effective to evolve alongside the organisation's changing business needs. It needed to be mobile-first, optimised for both users and content creators using mobile devices, and capable of increasing efficiency, usability, and security.
Our team ran a series of facilitated workshops with all key stakeholders – including users, editors, journalists, in-house developers, marketing, and PR teams – to fully understand the in-house capabilities before recommending Drupal 8 – the enterprise, open-source content management system – as the ideal basis to achieve the goals and aspirations of the new media portal: Forces Network.
From the outset the Inviqa team proved they were focused on achieving our business goals. They clearly understood our organisation, mission statement, ethos, and budget constraints.
Our work with Forces.net included:
Discovery: workshops with key stakeholders to gain a deep understanding of the project goals and how success would be measured to help prioritise and inform decisions
Branding: creating a new logo and brand identity to unify the numerous brands in keeping with the heritage of the British military
Drupal 8 customisation and implementation for the Forces.TV website
Drupal 8 training for Forces Network's in-house developer and editorial teams, including tailored training on Forces' own customised platform
Consolidating the many Forces sites into a single site under the Forces Network brand
Content modelling and information architecture to determine the right migration strategy
Solutions and technical architecture
User experience, UI, and mobile-optimised design
Business Intelligence, user journey, and behaviour pathway analytics
Project management, programme governance, accessibility, and user experience
The Inviqa Discovery process helped Forces Network to clearly define goals not only for this project, but also for the wider business. It helped ensure the all-important intellectual investment in the project from the senior management team.
The first phase of work included migrating the Force.TV website to Drupal 8. The second phase of work included creating a new digital 'umbrella' brand that would act as a guide for the organisation's wider rebranding efforts, and consolidating Forces' many sites into one Drupal 8 site under the single brand. The project was delivered on time and to budget.
The results
The launch of the new site has seen tangible growth in engagement and a fall in bounce rate – both being key drivers for the project. It's still early days, but the new site is already driving engagement including a 40% year-on-year increase in average dwell time per page. The new site allows consumers to easily discover other areas of the organisation, encouraging the consumption of content from across a diverse array of channels.
The project wasn't just building a site – it was a successful re-brand and has really helped drive a cultural change within the organisation towards being 'digital first' in everything we do. I'd wholeheartedly endorse working with Inviqa – especially using a co-located team.
We help brands achieve complex business requirements using next-generation content management solutions like Drupal. Get in touch to learn how we can support you.