The ecommerce homepage has a difficult job on its hands. First impressions are everything, and the homepage is often the very first step in engaging prospective customers.
So what's needed to convince people to venture beyond the first page they land on? What critical areas should you consider when figuring out what does or doesn't make the cut for your homepage?
We take a look.
Design
Incorporating good design across the entire homepage is key. While making the page look impactful is important, the retailer still has to think about how best to get their main messages across.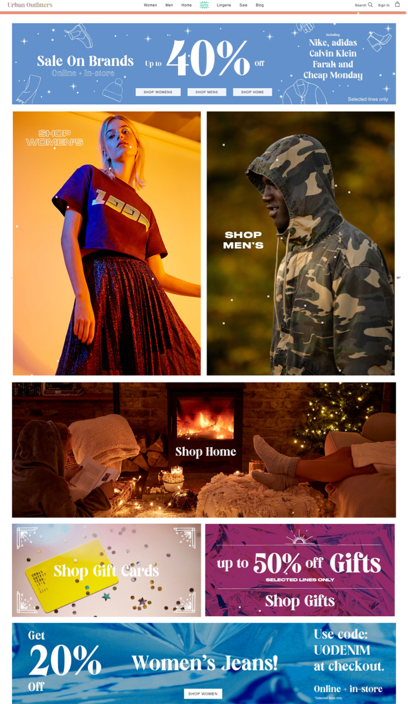 Here, Urban Outfitters has got a lovely, simple block design that displays its key categories, as well as showing important up-sells in the run up to Christmas, pushing their gift cards and gift category. The main navigation is still available at the top but is much smaller than usual since the retailer is relying on its striking imagery to help users navigate the site. This is a good example of keeping things simple but still being effective.
Content
Serving the right content to a shopper is important as it makes their experience seem tailored. ASOS has come up with a smart homepage design by using a very simple but effective way of presenting the correct items to the shopper.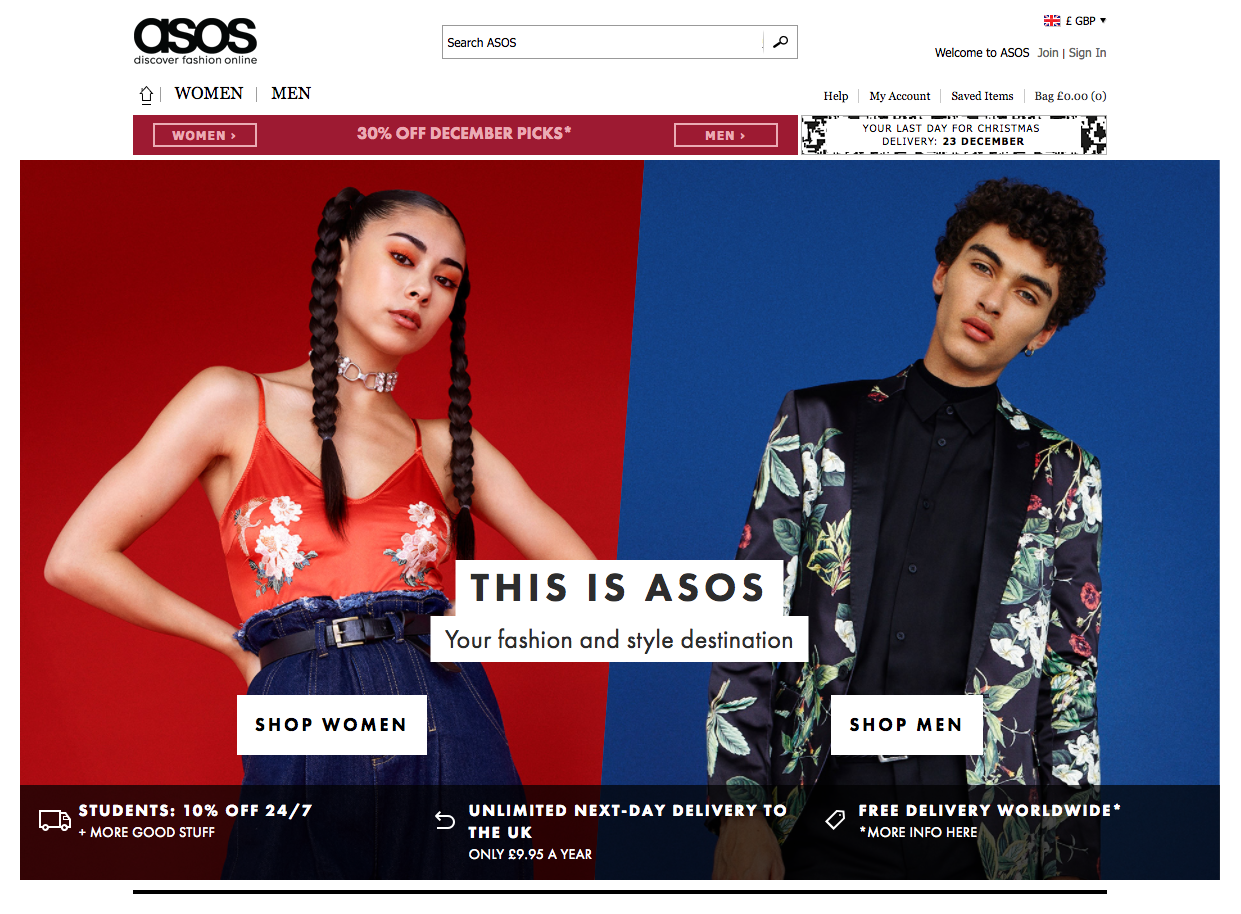 The majority of call-to-actions on the homepage are asking you if you want to 'Shop Women' or 'Shop Men' which drops you into the relevant shopping category. These clicks then allow the retailer to track shopping preferences as well as allowing them to drop you straight into the most relevant category for you next time you hit their homepage, remembering your choice from last time. A clever and basic method to find out a little about your visitors whilst giving them a streamlined experience.
Search
Online shoppers are becoming less patient with sites that are difficult to navigate, especially when they know exactly what they want to purchase. Having a search function, that's easily accessible on the homepage, can be invaluable to time-restricted browsers. House of Fraser has used the contrast of colours on its site to make the search function unmissable, and by placing it front and centre.
This is especially important for sites that have a large catalogue of products, like B&Q, which has also added an eye-grabbing search area.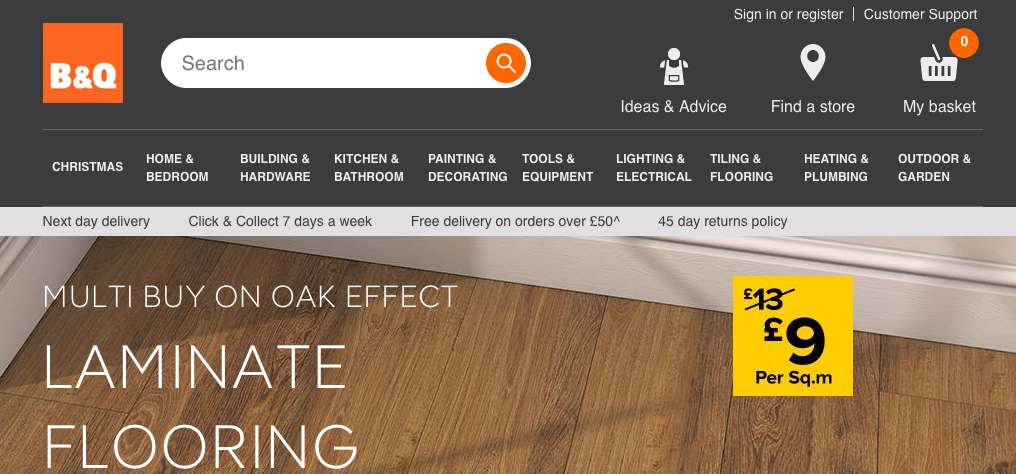 Imagery
On the flip side, you can also get sites where the aim is to NOT get visitors in and out as quickly as possible. Some brands want potential customers to be more engaged with their site through a showcase of exciting content.
A good example of this is M-24 which sells upcycled bags made from truck tarpaulin. When the product range is smaller, there isn't the same urgency to get the right product in front of the shopper. M-24 wants each browser to learn about the brand and the history of the products so that they buy into the ethos of the company, rather than simply purchasing a product and leaving.
With the use of big, bold, flattering images of the items the site is introducing visitors to, M-24 is showcasing a different way of thinking.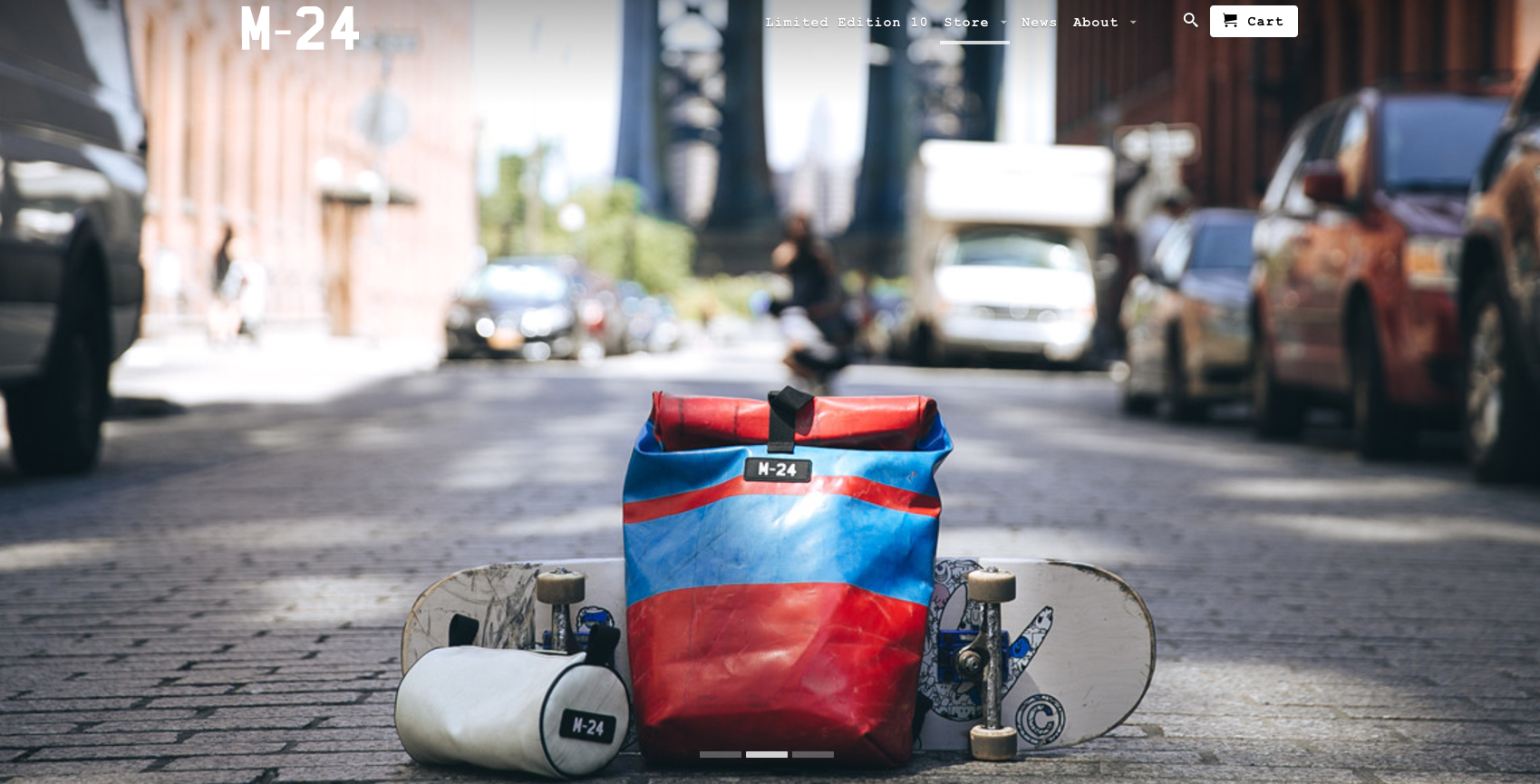 Similarly, Bose has designed its homepage to create an immersive experience, imposing large, high-definition images of its products on your screen. Again they want you to buy into the brand and appreciate the quality and performance of the products which comes across in the sleek design of the whole homepage.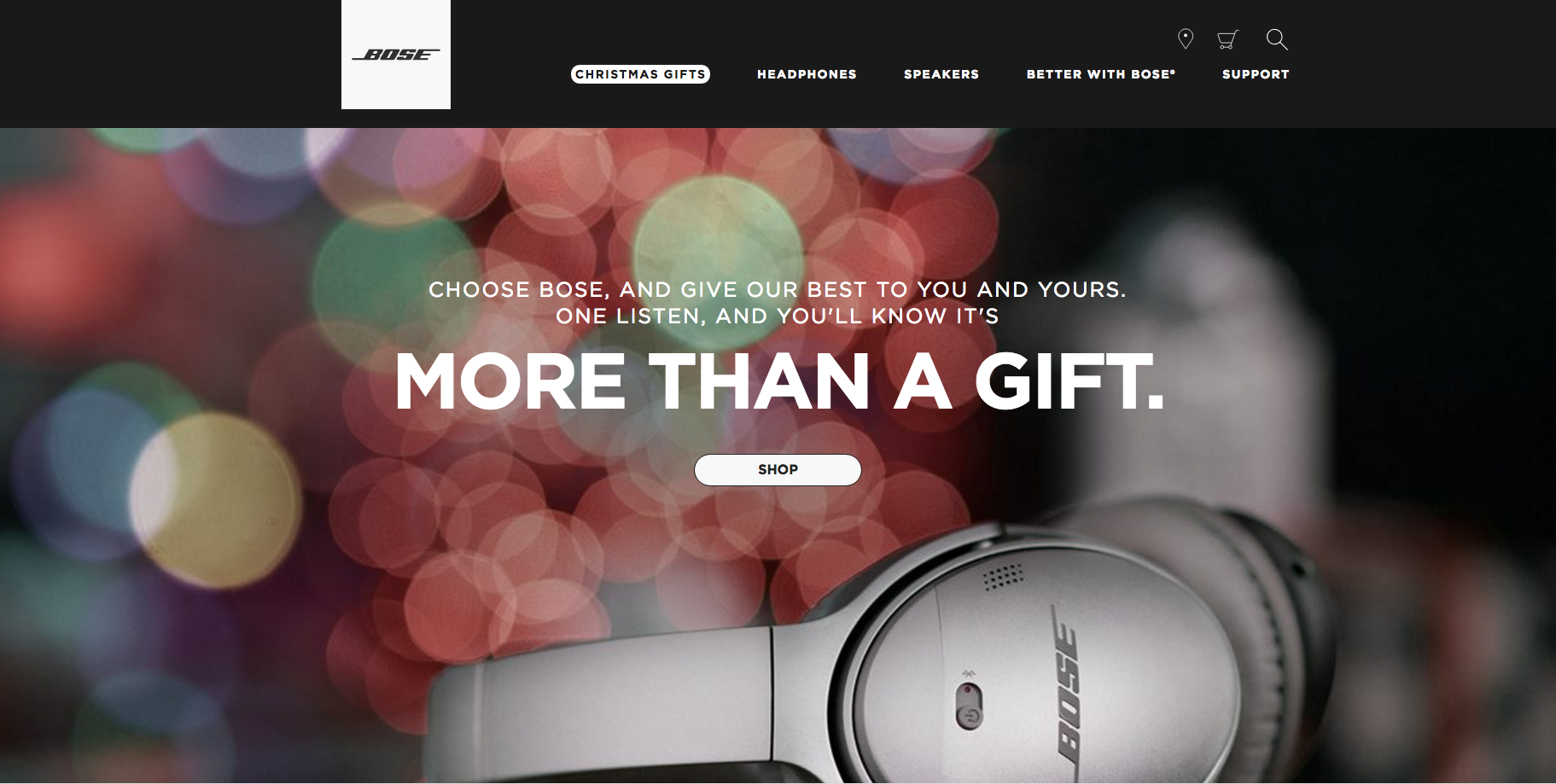 Mobile
No one in the ecommerce industry needs to be reminded of the importance of mobile. It's little surprise then that mobile sites are becoming increasingly prioritised when it comes to design.
Levi's has utilised what limited space there is above the fold on their homepage to display its logo, the menu, search functionality, and the mini basket. The brand has also made sure to include a key message about shipping, plus a link to both men's and women's clothing. All-in-all, they've managed to display the core areas of the entire site within one mobile screen.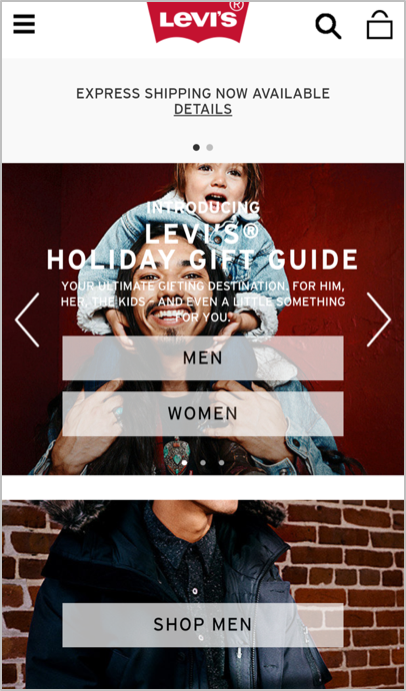 Key messages
It's important to make sure your customers know how to get around your site. But it's also important to let them know how you stand out from the crowd, and what else you can offer. Why should they buy their new phone from you?
For this reason it's become commonplace to add key messages below the navigation so people can see what makes you different from the rest.
Argos operates in crowded markets, selling items you can buy in multiple outlets, so it's decided to explain clearly why you should buy from its own brand in particular. The retailer has highlighted its best selling points and has done a good job at making them stand out with 'Same Day Delivery' and 'Free Click and Collect' claiming prime real estate on the page.

Although a little more subtle, The Range has informed customers when they should order to guarantee their items arrive before Christmas, offering next-day delivery and a link to easily find your nearest shop for those who prefer to shop in-store.