How Generative AI is being used in ecommerce in 2023 
Inviqa's CTO Kaustav Bhattacharya took to the stage at Ecommerce Expo in London this week to discuss how generative AI is being used in ecommerce right now. While there is much talk of future uses for the technology, in the past six months lightening quick developments mean that artificial intelligence is quickly finding a role within many of the systems and processes already in place for ecommerce teams.
Kaustav was interviewed on stage by Pedro Ramos, Head of Ecommerce at our sister agency Havas Market to talk about applications for AI in ecommerce in 2023. Havas Market is also already using gen AI in live projects with some of its retail and consumer brand clients. Below are the highlights of their discussion.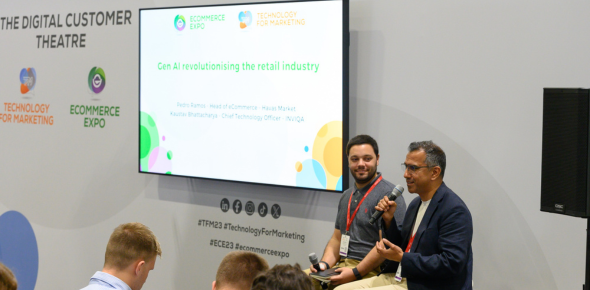 Automating product information collection and cleansing 
Kicking off with a key topic of AI and product data, Kaustav explained that product information management (PIM) software vendors are integrating generative AI into their solutions to improve and simplify the task of cleansing and enhancing product data – attributes such as colour, size, ingredients, and product descriptions etc. One such vendor is Inviqa partner Akeneo, who announced its acquisition of Unifai - an AI platform for data collection - earlier this month.
Another application of generative AI is to automatically create image descriptions and meta data for product images, something that has often been a very manual process for ecommerce teams until now. AI models can also be trained on the tone of voice of a specific brand, to ensure descriptions are in keeping with the brand experience on the site; with the proviso that humans are still very much required to check that what the AI tool is producing is accurate and stays on brand.
Can ecommerce content be created by AI tools? 
"The whole area of content management is fascinating, "explained Kaustav. "A client recently came to Inviqa regarding the use of AI in content creation. With generative AI, that capability is now built into many leading content management systems (CMS) and we can use prompts to expedite tasks that need to be done quickly."
He gave the example of a blog post to promote a new product range needing to be pulled together in a couple of hours. "You can prompt the CMS to create an article about the new product range and provide it with context and information about the range. The CMS will pre-populate the body copy and headline. It will not create the finished article, but it will help to give you a structure and inspiration to get you started."
Inviqa's partners Contentstack and Contentful both provide generative AI based text creation services as an integral part of their products.
Pedro added that a client of Havas Market has been able to utilise generative AI to organise the content on its site. It had a lot of content that an AI tool was able to organise by topic and sub-topic in a way that would make sense to a customer for a better user experience.
Kaustav advised that businesses should dig deeper beyond the ready-made tools such as ChatGPT and start to explore the power of the underlying APIs where you can build bespoke solutions that are embedded into an organisation's systems and workflows to address genuine business challenges.
AI to better analyse user research 
"A large part of user research is uncovering what the users' needs or pain points are. Generative AI can do advanced analysis on customer data to uncover real user needs, and analyse it in a conversational manner," commented Kaustav. By conversational manner, he meant that you can ask the AI a question that you would typically ask a person, and it will provide a written answer.
Inviqa has already developed an internal chatbot that improves employee experience related to searching for HR and career development information. Rather than entering a search query and getting back a stream of search results, Inviqa's solution presents a friendly, chat-style interface that enables colleagues to have a two-way conversation to discover specific and accurate information. This has helped colleagues reduce the frustration of searching through dense policies and documentation, or large and confusing corporate intranets, to find the information they seek more readily and efficiently. After a successful proof of concept, we're now exploring how we can deploy the chatbot for client projects.
Chatbots for ecommerce 
This led on to a further conversation about when chatbots might be ready to have realistic conversations, for applications such as to field customer service calls. This was one of the use cases that clients at our AI roundtable in May 2023 felt would quickly evolve.
Kaustav told the audience to check out a tool called HeyGen that allows users to turn text into a synthetic representation of people and even generate realistic, synthetically generated voices. As well as facial and voice generation, HeyGen's ability to accurately portray body language and hand gestures offers an extra level of nuance and emotion that is crucial to the acceptance of such tools.
He added that major chatbot vendors are evolving from decision-tree models for interaction (i.e., basic if-this-then-that rules) to use generative AI to deliver much more natural responses. Kaustav believes that key to this will be fine tuning of chatbots to the tone of voice of brands and fine tuning the general, underlying large language model with additional data to provide more contextually relevant answers based on a business's specific products and services. The process of fine tuning AI models has started to become a lot more readily accessible and affordable to businesses.
"Six to 12 months ago that was not possible unless you were willing to put significant budget and expertise behind that refinement process. But now with platforms such as Gradient the process is a lot more accessible to business stakeholders," Kaustav explained.
This prompted a question from the audience about whether consumers would ever buy from a customer service bot in organisations where the telephone is a sales channel?  "Typically, it is advisory going on at the moment (with chatbots), to get more information from the customer on their requirements and then present them with a carousel of options," explained Kaustav.
Pedro added that Havas Market has a live test to employ generative AI early in customer conversations, and identify where a pre-written response doesn't answer the query and a human customer services agent is required. Pedro added that this means agents spend more time where they will add value, such as closing deals.
Thanks to everyone who came along to our Ecommerce Expo session on gen AI. If you would be interested in attending future Inviqa events connected to the topic you can register your interest here.
If you would like to speak to Inviqa about how we can support you as you investigate and begin to exploit generative AI within your ecommerce business send us a message here and we will be in touch to arrange a time to speak.