How to keep remote design teams engaged and aligned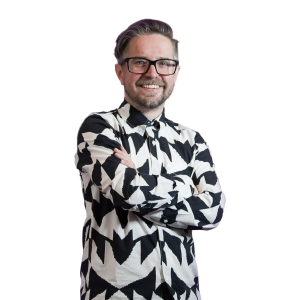 Engaged people drive business success. And they're key to thriving in the age of Covid. Here we explore how to keep your remote design teams engaged, aligned, and happy.
The highs and lows of remote UX working
How are your teams coping with the overnight shift to remote working? 
Some have struggled, overwhelmed by a tide of new tools and practices. Others have quickly overcome initial glitches and settled into new ways of working.
Here at Inviqa, it's been a fairly seamless transition. Yes, most of our UX team used to be based in a single office, but we've always had a healthy flexible working policy, remote workers, and workers based on-site with clients – and the likes of video conferencing are second nature, with clients and Inviqa offices based around the world.
But 'coping' is a broad spectrum, and it would be unhelpful (and untrue) to suggest businesses are polarised by those handling 'this remote thing' well versus those who are struggling.
Even those of us well versed in remote UX methods can struggle to keep teams engaged and aligned across a physical divide. We all suffer video call fatigue, and can struggle to find working patterns optimised for our team members' individual needs.
What's clear though, is that supporting your remote design team in this new world requires deep empathy for your employees, colleagues, and reports. 
Design is a process for solving business and user problems – and businesses today have some (dare I say it) unprecedented problems to solve. So, keeping your teams energised and aligned is not a nice to have; it's a business imperative.
What constitutes an engaged remote UX team?
Gallup research shows that employee disengagement costs the United States upwards of $550 billion a year in lost productivity. This figure is from seven years ago, so just imagine the true cost today.
Yes, people are your business' most valuable asset, but only if they are engaged – and that, in our experience, means that they are:
Active participants, both within their role and beyond  
Emotionally committed to the organisation
More likely to remain at the business for longer
In roles where they can excel and best utilise their skills and talents 
Happier!
There isn't one model for defining what engagement is, but, broadly speaking, people who are engaged in their work activities are turning up for more than the pay cheque. 
Engaged individuals exhibit certain behaviours and characteristics, such as the following:
They feel motivated to contribute to the success of the team and business
They actively collaborate with their colleagues
They know their role and the value it brings 
They feel listened to and trusted
They are empowered to make and take decisions  
They feel they have the right environment in which to learn and grow
So how do we ensure our remote UX teams stay engaged and aligned while working across a physical divide for the foreseeable future?
Empathise with your remote UXers
Empathy is a key ingredient to powerful design leadership, and it becomes even more important during extraordinary times like these. We need to pay closer attention to the wellbeing and mental health of our teams and our clients – things that could easily be impacted by the crisis, and which directly affect team engagement and alignment. 
The key empathy challenge is the loss of observation. Having the ability to 'read the room' is key to understanding where everyone is at, which we're able to do easily when we're surrounded by our team, day in and out. 
With reduced visibility of your team and clients, it's difficult to pick up indirect signals, interpret body language, and understand general demeanour. 
We can, however, adapt our observation skills for remote working by following the following six guidelines:
1. Encourage facetime (but don't overdo it)
Ask everyone to enable video so you can see their faces and reactions during calls, meetings, and workshops. You'll be able to observe multiple facets at once – body language, facial expressions, tone, and engagement – which is key to leading with empathy and maintaining engagement. 
Facetime also helps maintain a sense of togetherness. Regularly sharing what you're working on allows everyone to stay on the same page and keep up with various initiatives and projects throughout the wider team.
The caveat being that it's important not to overdo it. A lot of design teams are struggling with 'Zoom fatigue' and over-communication, so don't overlook the fact that you can still send someone an email or IM. 
Not everything is urgent, and not every Zoom call requires people to be on camera; sometimes it's just about using the messenger feature in an application like MURAL.
2. Watch out for changes in behaviour
Keep an eye on your team's behaviour, as changes can indicate a loss of engagement for various reasons. 
Is someone's video on or off where perhaps it wouldn't normally be? Are they focussing on the call or activity, or are they distracted – for example, looking at phones? 
How collaborative are they? Are they suddenly (or gradually) more reluctant to participate, share opinions, or take ownership of work? 
If you notice a change in a team member, you can investigate the cause and look to help where you can.
3. Start with compassion
Whatever the situation you're navigating, start from a place of compassion. Treat your team and clients as human beings. It sounds simple, yet it's surprising how often it can be forgotten. 
Dial up the empathy by actively seeking to find out how your team is really doing. Everyone's situation is complex and different and it's not always apparent how the pandemic might have affected them personally.
You can do this directly by asking them how they've been coping, and you can do it indirectly through other channels like a survey. 
Sharing a bi-weekly survey, with questions about wellbeing and individual work environments, provides an outlet for those more comfortable with sharing anonymously, and will help you lead more effectively.
Pay attention to the individual needs and mindsets of your remote UX team (for example, introverts vs. extroverts) and remind people to take time off, even if that feels a bit strange in the circumstances. 
4. Actively listen
Active listening is a fantastic way to demonstrate empathy. By showing the person you're speaking with that you understand them and their situation, you can then focus on finding a win-win outcome. This is an especially important skill when managing challenging situations or confrontation.
If you notice a behavioural change, or situations become tense and difficult, approach your colleague with empathy and compassion. Start by asking them how they're doing and what's going on. Trust that they're not intentionally causing harm or disruption. Then, use the seven steps of active listening to empathise and come to a resolution.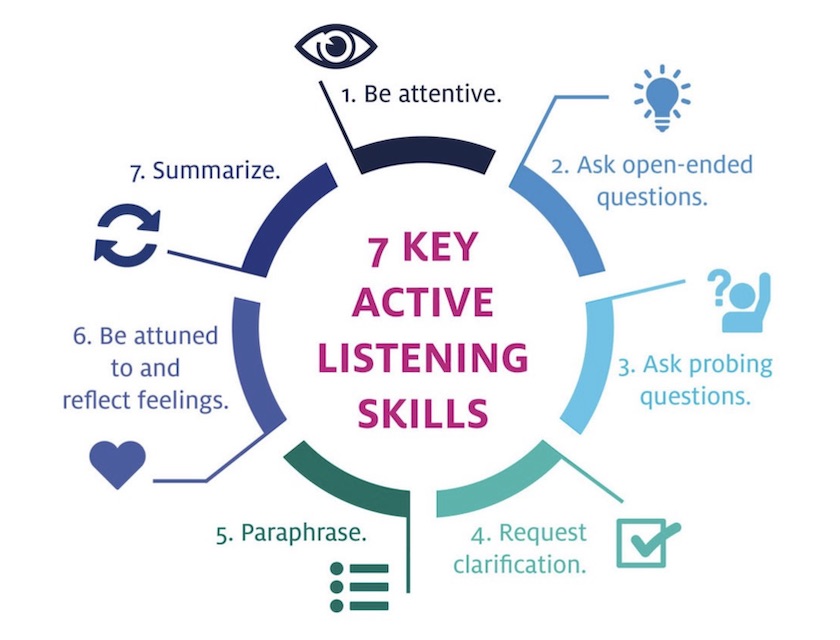 5. Be frugal with time
Screen burnout is very real, and we need to be mindful of this when planning daily activities and work. 
Are your designers able to get their work done within the day, or are they in back-to-back meetings? Do they have sufficient time between meetings to get up, take a pause, or have some mental space to process? 
Has their workload increased as a result of a shrunken team or added responsibilities reacting to COVID-19 circumstances? Are junior or newer teammates exhausted from feeling the need to visibly demonstrate that they're constantly busy?
Here are some tips:
Trust your team to do their work without needing to be on screen. 
Be respectful of their time by keeping your meetings to a minimum. Check calendars before booking, and reduce half hour meetings to 25 mins, and hour meetings to 45, to allow for breaks. 
Structure working patterns according to your team's preference, energy levels, and when they tend to be most creative. Work with your team to find the right cadence and stick to it.
Have clearly allocated time to think and do things that provide a sense of achievement and productivity.
6. Be clear and direct
One of the biggest killers of engagement, morale, and productivity are job security fears. At a time when the world is in lockdown, and many jobs are at risk, it's natural for your team and clients to be concerned about their future security. 
Practice empathy by acknowledging people's worries and understanding how difficult it can be to perform under such primal anxieties. You won't have all the answers, but that's ok. Don't hide behind ambiguity. Be as frank as you can without promising things you can't achieve. 
Know when to stick to routine
If your team was thriving before you went entirely remote, you probably already have a few team rituals to help everyone stay engaged and connected. 
On the 'working' side, you'll likely have team meetings, knowledge sharing lunches, and regular review and critique sessions. On the social side, you may also have things like regular team outings, games sessions, or after-work drinks.
As some of these activities are disrupted initially, and people feel the strain of increased workloads, it might at first feel tempting to cancel or reduce some of them. But even if your former routine isn't quite right for remote working, you'll still need some form of regular interaction going forward.
Maintain critical, collaborative sessions 
Out of all your team rituals, figure out which ones are the most interactive and collaborative (for example design critiques or sessions to set future goals). These are the ones that will help keep people energised, and the best candidates for a remote format.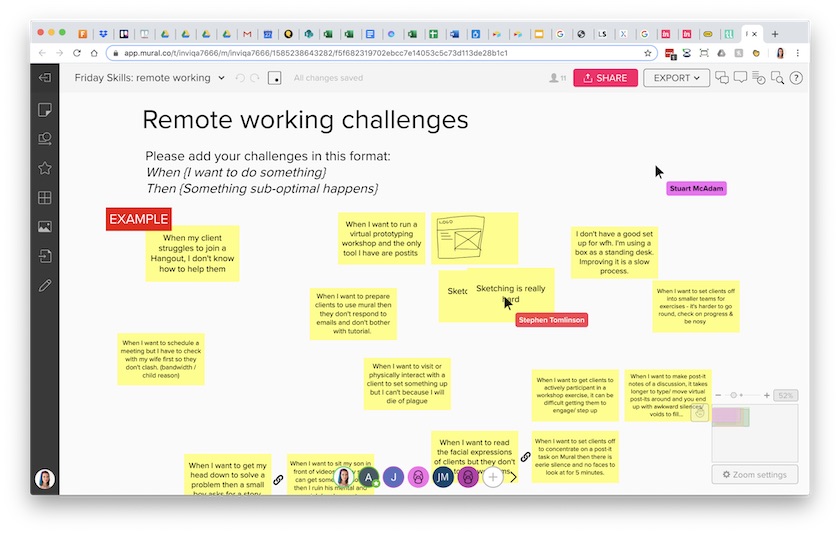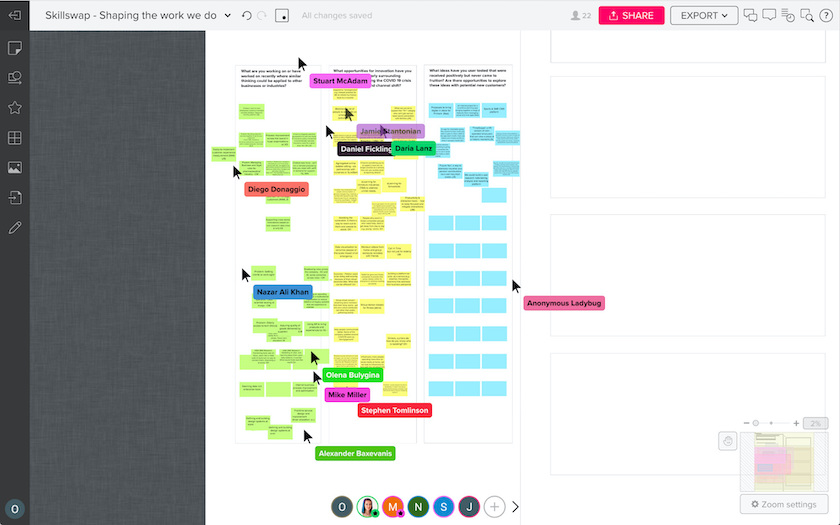 Don't worry about not getting it 100% right straightaway; going ahead sends a strong signal to your team that:
there's flexibility and tolerance for everyone while we switch to remote working; and
you're still committed to bringing the team together.
Make some regular communication asynchronous
For all the team meetings you've been running, especially the regular ones, you should already be thinking 'does that really need to be a meeting?'. Now is the time to be even more strict on that question, and avoid burning out your team with video call fatigue. 
Many teams have a 'regular status update' ritual that really doesn't need to be a meeting. In fact, keeping it as a meeting could alienate members of your team whose personal circumstances might make it tricky to attend a regular slot.   
If a team meeting is mostly about announcing things or sharing individual updates, can it be replaced  with a digital method, for example an email announcement (if minimal discussion is needed), or a dedicated channel on your group chat (Slacks/Teams) that allows follow-up questions.
A social bridge for the physical divide  
As a company that has people based around the UK and Germany, going remote-first for socials has meant we got to socialise with colleagues we hadn't really met before, linked only by our joint interests. If you're in the same position, look for chances to enlarge your team's social circle in the same way.
What works for you and your team will vary based on what you all like to do in your spare time, but bear in mind that any 'organised fun' can get boring after a while, so you'll need to switch around or experiment with the frequency (our virtual pub is now only open once a week, rather than every day!).
Give people some slack (no, not that one)
Balance is crucial to our lives. Without a clear division between 'work time' and 'play time' it's easy to conflate these two worlds, and then both worlds can suffer.
The answer is about providing the flexibility to form good habits right now. As a design leader you should be thinking about how you can optimise working patterns and help your team strike the right work-life balance – not only now, but across our slow and staged return to more 'normal' circumstances.
Learn from this situation and revisit that WFH policy. It can work. You've made it work! Moreover, look at the software or practices you've implemented. Are they better? If they work, then why change back? 
Be flexible to adapt to the positives. Some people (internal and external) might prefer the comfort of an incognito MURAL board to the 'Who wrote this one?' performance of a workshop.
Wrapping up
As we've explored here, there are three key attributes to successfully aligning and engaging your remote UX team: empathy, consistency, flexibility.
Design leaders that visibly demonstrate these attributes – that actively listen and adapt based on what they hear – will be rewarded with a stronger UX function and happy, engaged team members.