Digital enablement is one of the only tools left to drive top-line growth. It enables businesses to transform and achieve a competitive advantage – irrespective of the industry in which they operate. But over recent years, some executives have moved away from sponsoring one-off digital projects in favour of programmes of continuous improvement.
This behaviour is typical of those businesses that are seen as 'digital masters'. By digital masters I am referring to those businesses who know how and where to invest in digital capabilities and are backed up by a leadership team that's committed to driving forward the digital agenda in all areas, exploiting their digital advantage, and strengthening their overall market position.
So if you're not a digital master, where else do you stand? In terms of digital maturity, beginners (who have little digital experience and limited transformation management in place) are reducing in number over time as more and more businesses become aware of and invest in digital improvement.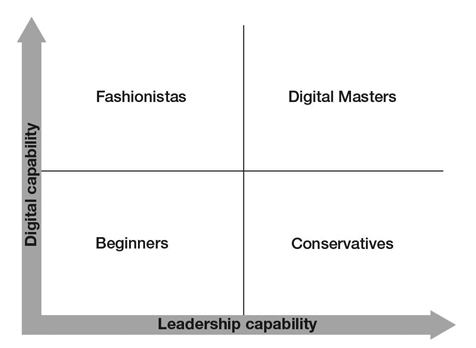 A 2012 Capgemini report identified the four levels of digital mastery
Then there are the fashionistas who often waste investment by immediately jumping on 'the next big thing' without the insight, governance, and strong leadership required to ensure ROI.
Conservatives meanwhile possess the leadership and transformation capabilities required to succeed, but remain so cautious in their approach to investment that they are likely to miss opportunities which their less prudent competitors will pounce upon.
There is no 'endgame' with digital 
Historically, digital investment has very much been focused on a one-off project basis, where resources are focused on the achievement of a very specific objective. A goal post is determined, a business case devised, and efforts are mobilised to achieve it. 
Whilst these individual, one-off efforts, such as implementing a CRM, digitising your procurement process, or launching a new ecommerce site, are successful in the short term, they rapidly lose the ability to maintain competitive edge.
That's because this traditional approach is based on the (incorrect) assumption that there is an endgame, but technology is constantly evolving and likewise so are customers' behaviours.
An approach that accepts both these factors will quickly identify that, in order to keep customers happy and meet their ever-changing expectations, your business roadmap needs to be able to constantly evolve in-line with the needs and wants of your customer base. 
What digital leaders have recognised is that a rapid growth in technology capability, combined with widening adoption, leads to ever-changing customer expectations. This means that the evolution of solutions to meet that demand is never going to be complete and, subsequently, nor will the opportunity to use digital capabilities and innovation to gain advantage over your competitors.
Continuous improvement culture 
In order to seize the potential that this premise has to offer, successful digital leaders have to shift their mindset and establish a different way of thinking.
This can possibly be uncomfortable in the first instance since many CEOs and CFOs may have a natural aversion in changing the way they invest from individual 'one-off' projects to a programme of continuous improvement with no natural end-date.
Continuous improvement relies on micro-level (in addition to macro-level) insight on an ongoing basis.
By monitoring performance at a detail level, and using the gained insight to help shape and inform the direction of a programme of work, the ability to identify and realise new improvement opportunities grows substantially. 
This is because taking a detailed, level view of the market supports a much more targeted approach where capabilities can be tailored to the specific wants and needs of customers at an individual (or highly segmented) level.
The more traditional (one-off project) approach relies heavily on tailoring a solution for the 'average' customer and hoping that what's created will still be relevant and 'sticky' enough to engage and retain their interest when it is released. 
Conversely, a continuous improvement model becomes ever more factually informed as insight is derived on a regular basis, rather than months (or years!) ago when the project was originally conceived and greenlit.
Shifting your operating model
Once a change in mindset has been established, there are significant changes that need to be considered within the business's operating model. Again this may fall outside the natural comfort zone for executives used to working with a model that identifies an opportunity, then designs and implements a static solution combined with underlying business processes to support it.
Whilst a direction of travel has been established, the exact route may change along the way. Think about how a sat-nav system uses continuous feedback on traffic levels to alter your route to ensure the best way through traffic jams.
Digital masters shift their focus from looking back at outdated historical data to gaining insight in-real time (using social media, beacons, analytical data, and so on) to understand and react to what is happening 'now' and, by doing so, keep their customer proposition current and relevant. 
Not only does leadership's thinking need to align with this approach, but internal business processes will also need to do so. Operations, finance, production, etc. all need to support the new direction in order for it to be a success.
Consider alone the impact of defining and signing-off a business case for a one-off project vs. a programme of continuous work. It's highly likely that your internal risk model, project governance, financial models etc may be designed on a start-to-finish approach with a defined 'end' and will therefore need to be revised to fit a new way of working which doesn't have a traditional finish line.
Even the basic skills of the people you employ may need to shift to support a stream of continuous improvements as these skills will be significantly different to those required to deliver a one-off project. That's why it's key to consider how you will install those capabilities within your team structure.
Likewise it's key to ensure that the businesses you partner with to deliver and support your digital capabilities can do so in a way that supports this approach.  
Mastering digital innovation
Digital innovation is constantly breaking boundaries and, with that, the expectation it sets with customers becomes ever more demanding.
One-off solutions will no longer pay dividends in the mid-long term and the only way to survive a highly competitive market is with ongoing effort and continuous improvement. 
Where opportunities to disrupt exist, they will be taken, meaning that business leaders need to be in a position to react accordingly to protect their market share by steering product roadmaps based on current insight.
Leaders need to consider how to fund this type of approach and how to adapt their business model and position resources to support it. What capabilities will drive growth and what insight is needed in order to clarify assumptions around ROI? 
Always remember that digital's remit does not sit in one department of a business; it's an enabler that needs to be embraced by every aspect of the business.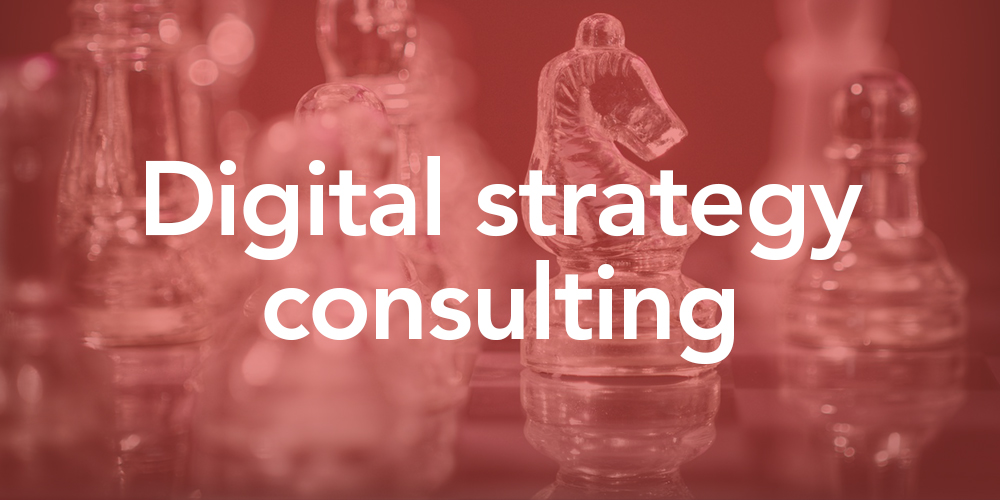 Head to digital strategy consulting to learn more about how we equip businesses to measure, learn, and continually improve their products and services.
About the author
Brett has held leadership positions at global retail and leisure brands, with responsibility for operational, commercial, and technical teams in roles such as Head of Online and Global Head of Business Systems. With 18 years' experience, he guides strategy and growth initiatives.
Related reading