Publishers don't compete on content management technology. We depend on digital, but it's content and branding that really sets us apart from our competitors.
That's according to Ingo Rübe, CTO at Hubert Burda Media and a leading figure behind the Thunder Coalition – a new initiative that invites publishers to join forces by sharing technology resources and innovation.
Ingo and the team at Burda recognised that a publisher's success in today's digital era depends upon being able to keep pace with technological change – something that publishers often struggle to do alone. 
Aiming to address this challenge, the 'Thunder' initiative was born from a belief that media organisations have much to gain from sharing technology and knowledge, and working in a far more connected way.
Publishers were comfortable sharing the same printing presses, so why can't we share resources in a digital world?
Billed as the first content management system (CMS) 'by publishers, for publishers', Thunder is free, open-source, and aims to help media organisations break free from expensive legacy systems so that they can focus on what really matters: the development of content and brands. 
But are publishers ready to put aside their differences and start collaborating around technology?
The case for sharing content management tools
A CMS, argues Ingo, is no longer a strategic differentiator – especially from the consumer's perspective. So, he asks, if we don't compete on technology, why can't we share content management resources? 
To illustrate the benefits of sharing technology, Ingo uses the example of adding a new feature on a publisher's website:
'If you introduce a cool new feature it can easily be copied, and you can expect to see something similar appear on your competitor's website'. 
But, he says, 'the only ones benefitting from this model are the software companies – it just doesn't make sense for publishers to duplicate the work'. 
It's time to share content management technology, says Ingo
Likewise, Ingo explains, if your media organisation uses different content management systems across its brands, new features and technology will need to be implemented several times across your various systems.
This is a pain Burda knows only too well. With around 500 global sites, the media organisation – best known for its Playboy and Instyle brands – was using almost 100 different types of content management systems, including different versions of the same platform.
Without any central coordination, this approach to content management technology was expensive and needlessly complex, and so Burda started looking for a single CMS that would suit all its online properties.
By publishers, for publishers
Many of Burda's online properties were based on Drupal 7, which had been chosen  for 'its active community, different integrators, and the ability to work with a lot of different companies'.
After researching options, a decision was made to go with Drupal 8 which 'best matched' the types of requirements Burda was looking for as a publisher. A key factor was Drupal 8 integrating with the object-oriented application framework Symfony, which is widely used and highly esteemed by developers.
But the team was keen to customise its CMS with publisher-specific configurations and modules that could be easily reused. And so Drupal-8-based Thunder was born: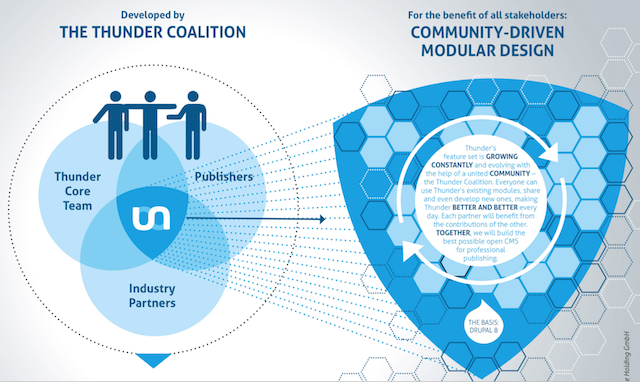 'We realised that what worked best for us as a publisher would likely work best for the rest of the publishing world. We recognised the benefit of sharing modules and development work and that's why we decided to open-source Thunder so everyone could benefit from our development and best practices'. 
Today, all publishers can use and enhance Thunder at no cost, freeing up technical support resources. Publisher-specific features include the likes of responsive web design – and integration with Facebook Instant Articles, Riddle (for opinion polls and quizzes), and nexx.tv videoplayer (a multiscreen video management tool).
In addition, Thunder users benefit from continuous development efforts by the Drupal community. A team of six Drupal developers is employed by Burda to build and maintain Thunder.
'Overwhelming' reception 
So are publishers ready to bite the bullet and start sharing technology? This certainly could be the case. 'We've been overwhelmed by the response to Thunder', explains Ingo, who says that the Burda team has had a total of 230 conversations to-date with organisations from around 35 countries.
'We're meeting with everyone – from CEOs, to CTOs and editors', he says. 'Many of us are working together with our competitors – even seeing the insides of their offices for the first time!'
Having successfully launched iconic brands like playboy.de and instyle.de on Thunder, Burda is confident that it is already proving the value of Thunder.
Thunder has helped cut replatforming costs, and our content management maintenance is down by 30-40 percent.
'We have a clear example of how Thunder is already working for a publisher', says Ingo.
What's next for Thunder?
With the decline in print revenue, many media organisations are focusing on new and innovative ways of monetising emerging digital platforms. For now, Thunder is focused on traditional advertising which it believes is still the most important revenue model for publishers.
'What's great about the Thunder Coalition', says Ingo, 'is that, while Burda doesn't believe in paywalls, we're collaborating with publishers that are contributing different monetisation modules. Being part of a growing community means we're able to do those things'.
It will be fascinating to see how the platform evolves to support the changing needs of its growing user base. Watch this space!
Got questions about your content management strategy? Thinking of changing your CMS? Drop us a line!
Related reading