In this guest post from our partner Algolia, Alexandre Popp explores the key considerations for creating a great site search experience in a digital era where standards and consumer expectations are set high.
Why building search matters
Website search matters. Thanks to Amazon, shoppers have come to expect blazing-fast, autosuggest drop-down menus when they make an online search. Google, meanwhile, has raised the bar with its super-relevant, as-you-type query suggestions – delivered in a matter of milliseconds.
As these big online players have shown, optimising your website for search is key to driving conversion – whether you're an online retailer, or a digital publisher.
An ecommerce shop should allow site visitors to intuitively search for and find products that match their intent. Not only does search functionality help users find what they're after; it also tells you what people are looking for on your site. This is powerful insight that helps show demand for specific products, as well as appetite for products you might not (yet) offer. 
 
We know that site visitors who use search are more likely to purchase than those using site navigation, because they tend to be shopping with intent, often in the later stages of the purchase journey. And the numbers back this up: research shows that conversion rates through site search can be up to 50% higher than through standard site navigation.
Search is front and centre of customer experiences. It provides a window to your digital platform through which users can view what you have to offer and its relevance to them.
What to consider when developing website or app search 
Building search capability used to mean building an end-to-end search engine from the ground up – something that can be expensive and difficult. 
A digital team will first need to develop the model by which intent is deciphered and results will need to be surfaced accordingly. Creating the set of algorithms and properties to do so is no simple mathematical challenge. And then there's the challenge of displaying search results within an intuitive interface.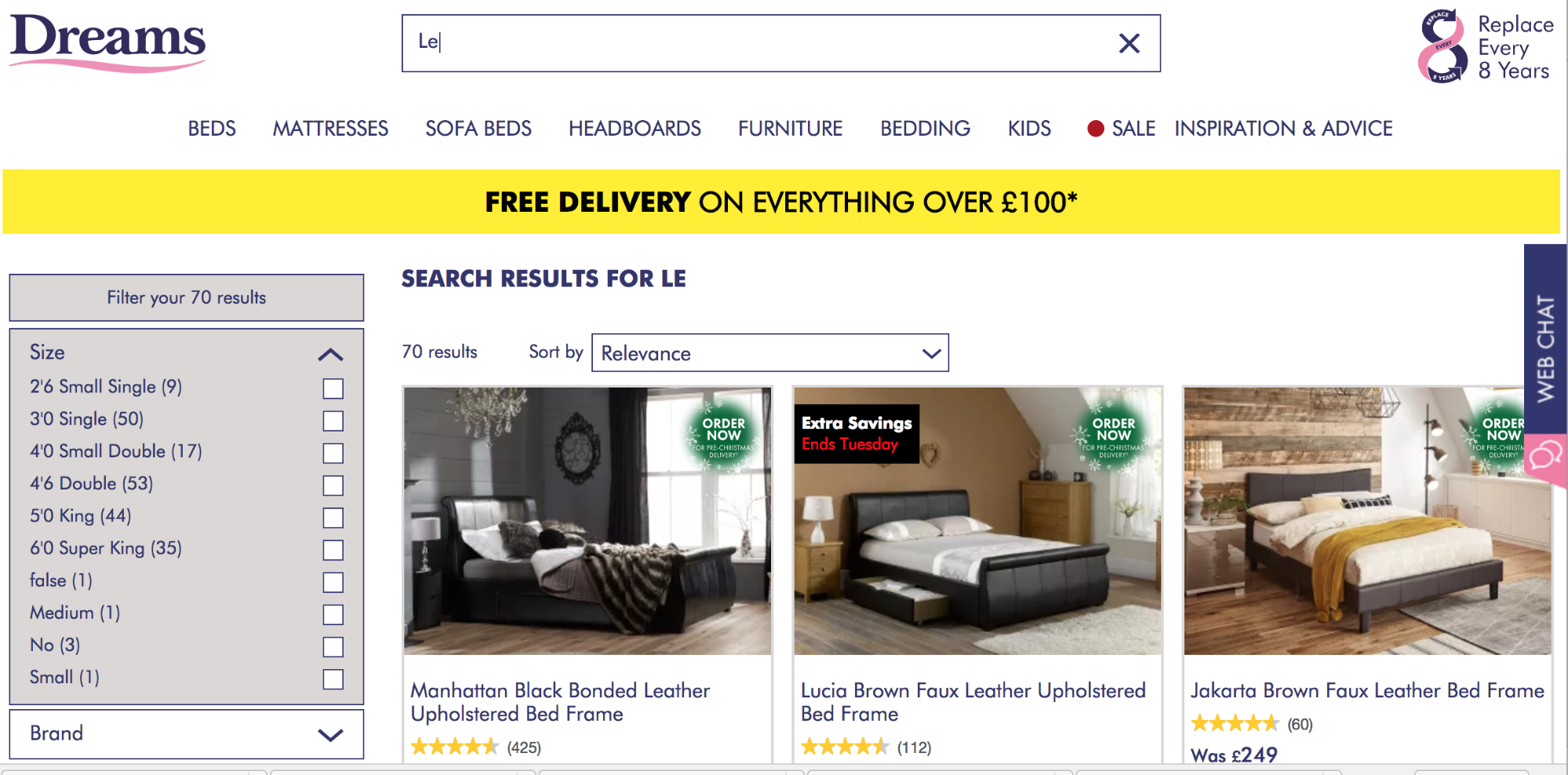 Inviqa client Dreams uses as-you-type search for a superior site search experience
This is made more challenging by changing user expectations. Consumers are demanding the same search features they know through the likes of Amazon and Google. From Google, for example, we're used to seeing the search term highlighted in the results displayed, so it's easy to see why certain items were shown. And thanks to the likes of Amazon, we expect to be able to search across specific product categories, with search results updated in real time at every keystroke.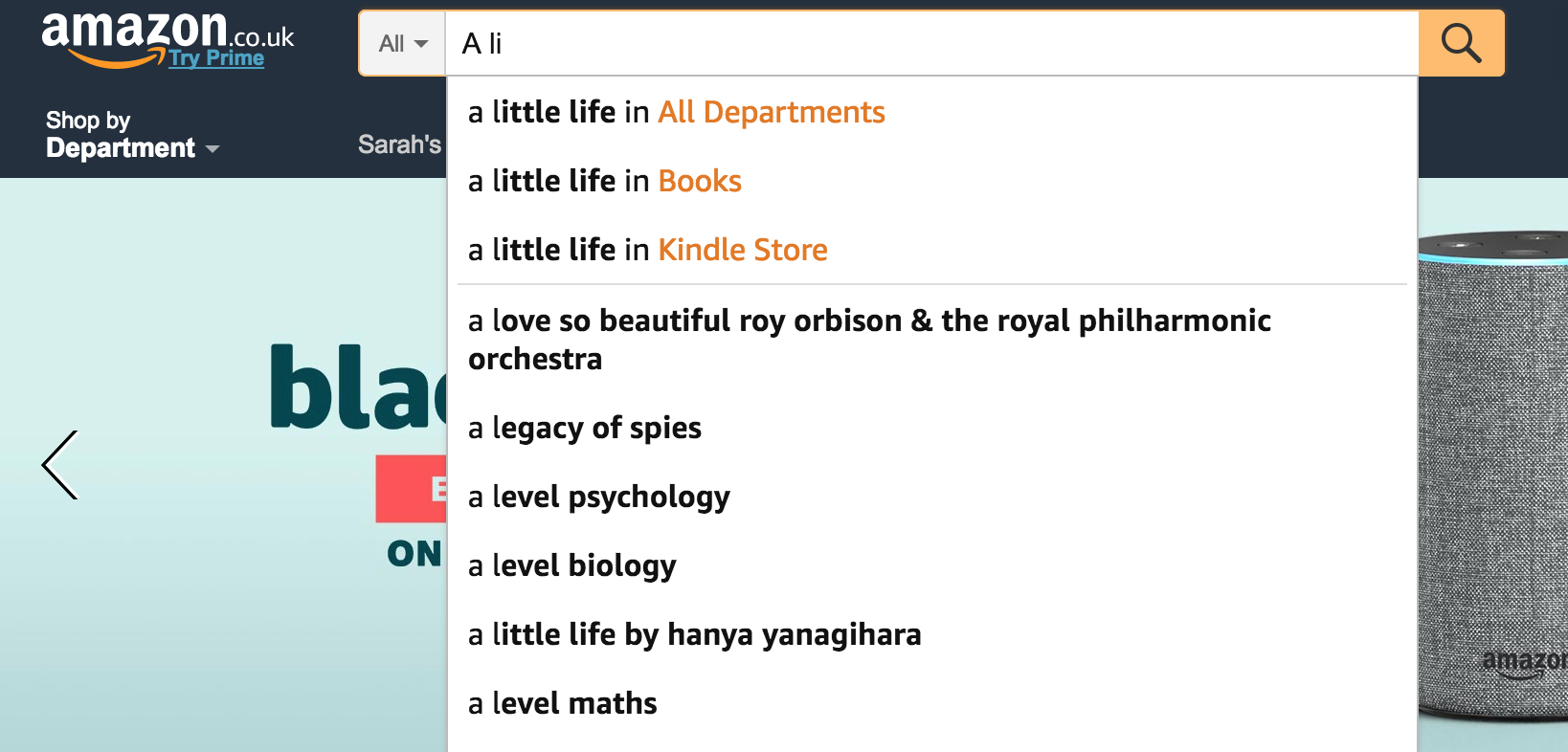 Amazon allows users to refine their search by product category
Implementing such a system involves an array of complex tasks:
Maintaining and optimising search infrastructure. This is difficult and costly as you'll need an infrastructure that can scale to handle the size of a customer's records and the number of queries it must handle. As the volume of queries expands, and as the complexity of queries increases, infrastructure overheads grow exponentially, as do data security concerns.
Ensuring the right data is searched. Identifying the right data to be searched is challenging. Since data can be private or public to an enterprise, it's becoming more and more complex to identify the origin of datasets, and whether a dataset is still usable by and valuable to the business. 
Creating an effective data model. Your organisation will need a data structure that makes it easy to retrieve objects. This is a complex operation and requires a pipeline whereby, once new data is introduced or created, it's added to a repository that can be indexed by developers. The repository that houses the data needs to be structured in a way that is optimised for search. Known as 'indexing' and 'querying', these processes – cleaning data, formatting it in a way that can be searchable, and actually handling those search queries – are compute-intensive operations. 
The benefits of hosted search 
Thankfully, cloud technologies are making it far easier to implement next-generation search technology on your website.
Hosted search APIs such as Algolia have been built from the ground up to search through semi-structured data to power fast search experiences from the very first keystroke
Such solutions take the pressure off brands by handling everything that's needed to create a powerful search experience, from taking the stress off a business's own servers, to providing out-of-the-box features such as typo-tolerance, synonyms, and more.
A hosted search API ultimately helps brands provide better user experience by making it faster and simpler to find the products, services, or content users are looking for. Crucially, it can help drive conversion and provides invaluable insight into user intent, which can contribute to decisions you make around merchandising.
As a trusted Algolia partner, Inviqa helps brands provide flexible, fast, and reliable search and discovery experiences. Get in touch to learn more!
Related reading