Online marketplaces can provide a fast, low-risk path to online growth if used correctly.
In the wake of the EU referendum, currency fluctuations have resulted in even tighter margins for many brands. With this in mind, establishing a business case for investment in growth strategies for new or existing markets has never been tougher, yet marketplaces offer an opportunity to expand with minimal investment.
Here we explore key considerations for taking this route to online expansion.
Using online marketplaces to enter new markets 
Online marketplaces will represent a massive 40% of all ecommerce by 2020. They're ubiquitous, convenient for consumers, and they provide a low-risk way to prove a business case for entering new markets.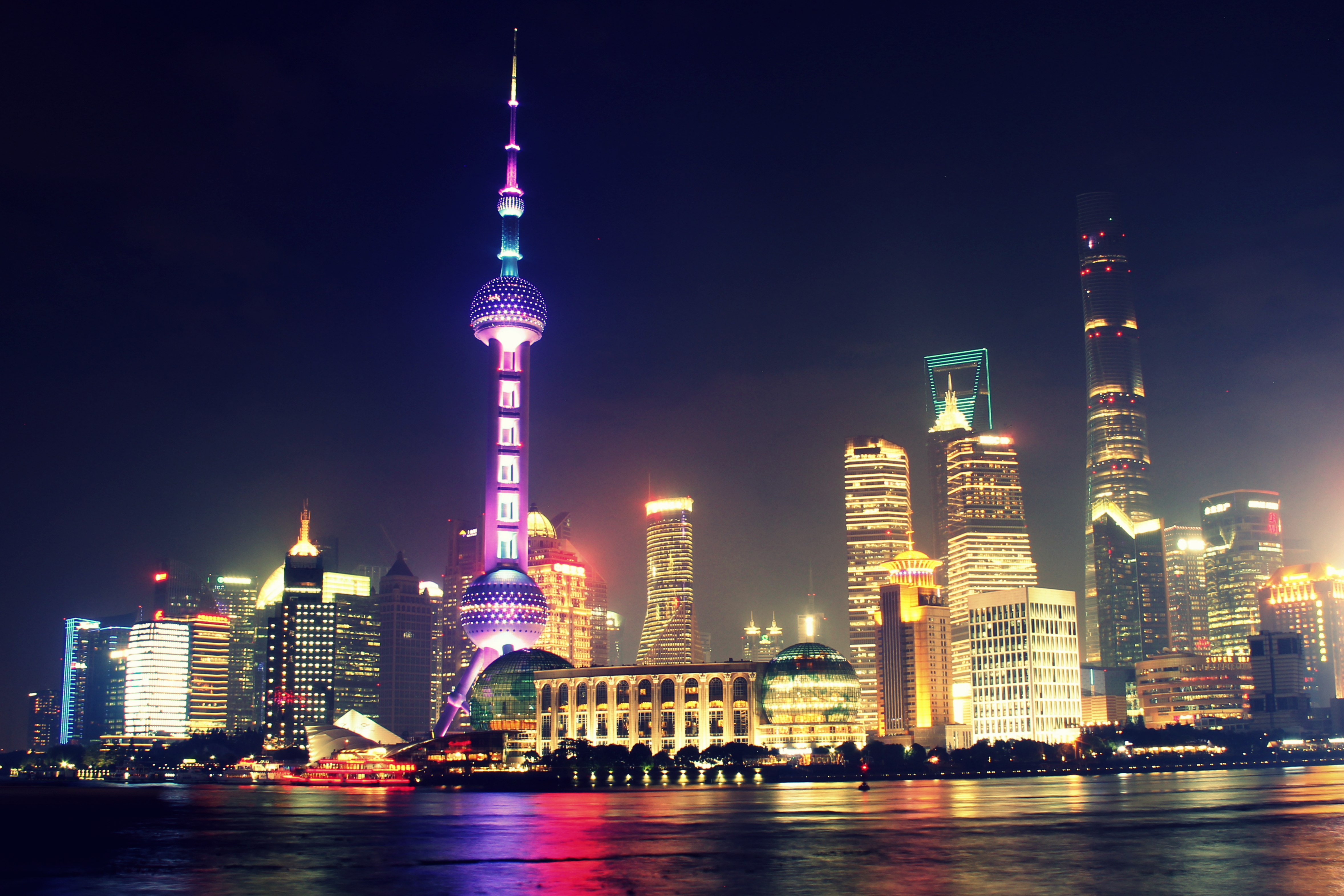 Online marketplaces: a safe place to enter complex, high-promise markets like China
Marketplaces typically ease the complexity of selling by displaying a retailer's wares, handling orders and payments, forwarding orders to sellers, tracking delivery, and releasing payment to the seller once fees are deducted. 
Selling in this way removes the need to invest in having your own website, hosting, payment gateways, and so on, providing an affordable way to gauge appetite for your product at your desired price point. From there, you can start understanding whether it's worth expanding your online property and being more in control of own destiny.
Localisation is imperative in international ecommerce and another key advantage of using marketplaces for overseas expansion is the customisation and local know-how they offer. Marketplaces give you immediate access to that knowledge – from understanding the cultural nuances for customer sets in the Middle East, to putting checks and balances in place to minimise cash on delivery (COD) failures in India where this mode of payment is popular.
Using online marketplaces in your existing markets
Being able to drive customer acquisition in your existing markets often hinges on your ability to meet customers in the online spaces where they're already spending their time. That's why every British brand should be looking at strategic channels that help them reach their target audience and sell in the ways that are most convenient to them. 
As Rowan Luckie, ecommerce head at affordable-luxury brand Radley, puts it, it's about ensuring customers are 'comfortable in the way they shop' and that, if demand is there through new channels, you 'support that choice'. 
Go where your consumers are looking for you, says Radley
Cotton Traders is a great example of a retailer that's been fast to recognise the value of meeting its prospect customers where they were already spending their time. Today 70% of its customers are Amazon-only, according to the retailer's international marketing manager.
If you view a marketplace giant like Amazon as a competitor in your market, selling on that marketplace at a price that makes you stand out amongst other sellers could form part of your strategy to counteract this.
Marketplaces are also a good place to test appetite for your products at different price points since you're able to cater to a wider demographic audience – for example, to both those looking for value and those who are less price-sensitive. Likewise, they're an interesting proposition for brands looking to launch a distinct and separate brand for their outlet sales. 
It's important to remember, however, that you ideally want your customers to shop directly through your website. So as you launch new channels, you'll still need to give your customers a reason to come back to your own domain.
The limitations of online marketplaces
The benefits of getting your brand onto an online marketplace can be great, but this comes at a price. From a commercial viewpoint, you're losing revenue to the marketplace on every sale you make.
However, what you lose in revenue share costs you arguably gain in not having to worry about the likes of fraud, payment providers, and the indexing of your products.
What's more, as long as you're able to protect your brand in terms of price point, and not undercut your main sales channel, any sale on a marketplace is arguably better than a customer purchasing from a competitor.
But perhaps the greatest limitation of using an online marketplace is the customer insight you lose through not having access to the customer data. Since you don't 'own' the customer or platform, getting people to your site through focused marketing campaigns becomes a lot trickier.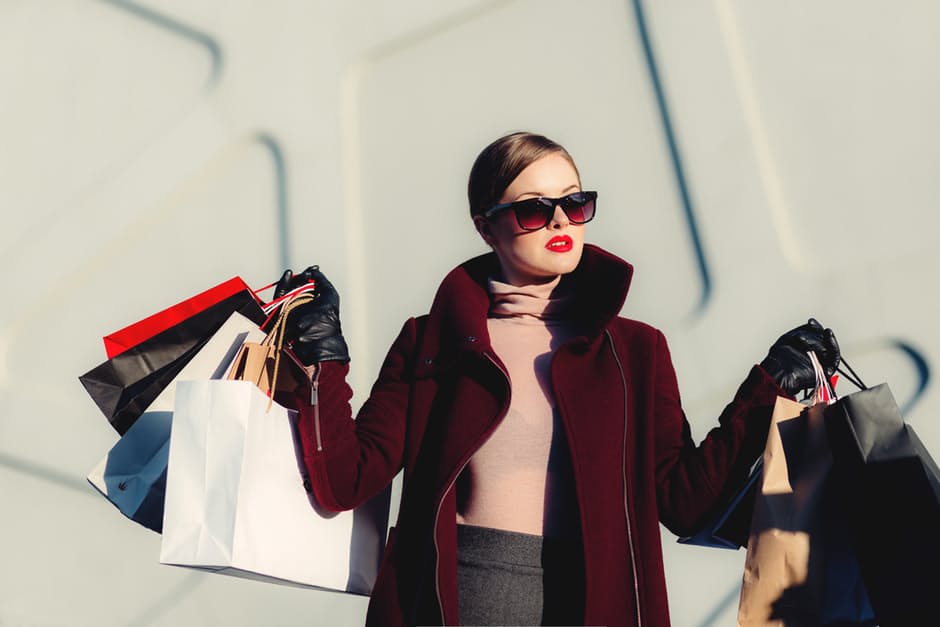 You do not 'own' your customers on an online marketplace
Tactics like promotional codes and abandoned-basket emails aren't an option, and you have little control over the process of converting prospects once they're on your page. 
In addition, customer retention and loyalty becomes difficult to control as customers associate their purchase and engagement journey with the marketplace. A combative strategy to this is to ensure that what the customer receives from you is 'brand heavy' and looks to drive an awareness of your main channel if applicable to that customer.
Another potential limitation is your own ability to supply accurate product data to the marketplace you're using. Each will have its own requirements for how you list your items, with different categories and required product details. Product information management (PIM) systems are well worth considering as a 'single point of truth' means of centrally managing product data across all your channels, ensuring you deliver information that meets a marketplace's requirements and standards.
The good news is that the risks associated with marketplaces are fairly low, and contrary to popular belief, selling on a marketplace doesn't have to mean a loss of control from a brand perspective. The below image from the Superdry eBay store is very much in keeping with the Superdry brand and shows you what's possible.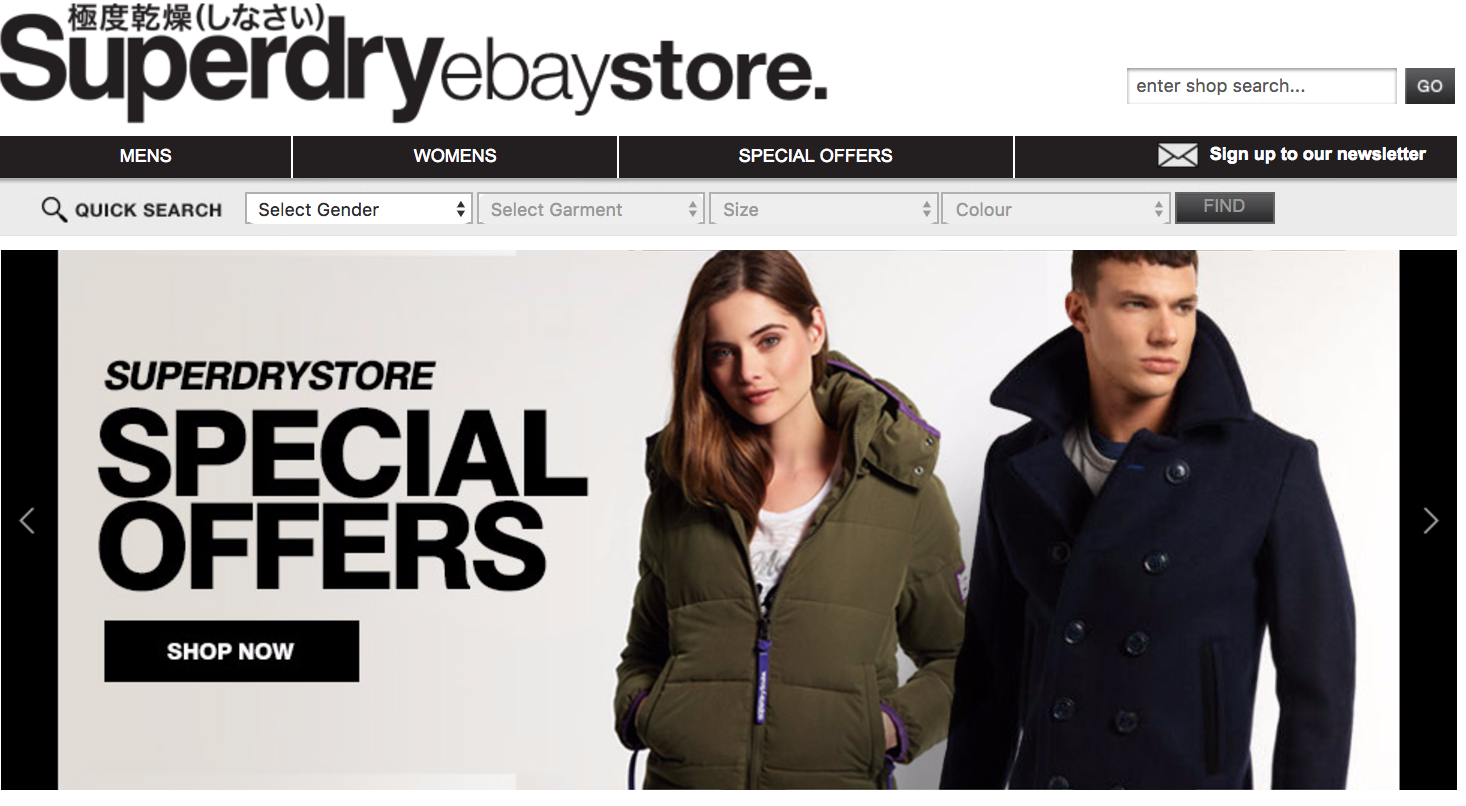 The Superdry eBay store
Priming yourself for marketplace success
Identifying the right marketplace depends on the nature of your business, what you sell, and where you want to be. It's crucial to do your due diligence, taking time to deeply understand both the market and the online marketplace you're considering, and to weigh requirements against your own priorities. Try and be as open and flexible in strategy as can be, testing the waters to see what works. 
Key questions to ask, in particular when building a business case for entering a new market with an online marketplace, include:
Do I have brand awareness there already? 
Does my value proposition translate to this marketplace? 
Have I spotted a supply gap? Or am I fulfilling a demand gap? 
What does local competition look like in direct and non-direct categories?
What's the intensity of pricing competition in my product category?
What are the duties impacts and how could they impact your customers?
Where will your profit target be and when do you want to turn over a profit? 
In the aftermath of the EU referendum, British brands stand to gain much from looking outwards, and marketplaces provide a fast, cost-effective, and low-risk way to explore new avenues. As with any ecommerce endeavour, however, it's crucial that you do your due diligence and lean on a strong partner ecosystem – from business and legal consultancy, to technical implementation – to prime yourself for success.
If you're interested in how Inviqa could help support your online growth, just drop us a line. You might also want to check-out our ecommerce and consultancy services.