Not so long ago, we were grappling with the first Browser Wars. It was painful enough figuring out which browsers supported which types of markup, CSS and Javascript (and to what standard). Today this is not as much of a problem, but the battleground has moved.
The launch of the iPhone in 2007 ushered in a brave new world of smartphones and tablets. And the expectation today is that everything we build on the web will work seamlessly across every model and variation of these devices. 
While it's true that 2007 does not mark the beginning of the mobile internet, it's also true that 2017 doesn't represent the birth of the Internet of Things. Yet we are about to hit the mainstream of a new phase of web development where content takes precedence, and where the devices consuming it are unknown to us. In 2007 it took the iPhone to move us towards the next chapter, and in 2017 we're seeing a whole range of devices that will usher us into the subsequent chapter.
New devices represent new destinations for your content (Image: EFTM)
Voice user interfaces (VUI) like Siri on iOS were initially proprietary and therefore inaccessible to web and application developers. As such, the market took some time to mature. Now we have the Amazon Echo which has a much more accessible API for content consumption. As a result we will see a massive uptake in content-driven services in 2017. 
But these devices are not the only new destinations for our content. There are a huge number of categories of smart devices outside the smart appliance category that is so often in the media spotlight.
I refer to these devices collectively as 'the unknown consumer'. There are thousands of new internet-connected devices now available, and many of them can be content consumers. We have no idea what these devices will be capable of or what they can do with our content – and there's no way we can ever know. Because unlike the phone / tablet / desktop paradigm, the possibilities are limitless. 
We'll be exploring the implications of this new dynamic across a series of blog posts. We'll consider what might be possible in the near future, and the steps you can take to prepare for tomorrow's unknowns.
First up, let's do some future-gazing.
What does the future hold? 
There are many categories of devices that constitute the Internet of Things. Many of these are data-collection devices such as fitness trackers and may not be content consumers in their own right. Instead, we'll focus on those devices that could potentially make use of the type of data we traditionally store in a content management system (CMS). 
The real-time video game 
The simulation genre of video games is capable of utilising very detailed content sources to give the player the most realistic experience possible. In the past, games were locked into the data on their release disc, but today every gaming experience is preceded with some kind of update from a central server. 
To take an example from a recently-released football game, the game utilises many key metrics about players that could change over time (or could be disputable). But what if we could allow our game to consume data from a third-party source? How would that change the player experience?
At a simple level this would allow us to play a full season whilst the actual results of other matches were kept up-to-date. In a more detailed scenario, imagine if a player's injury (in real life) on a Saturday meant you could no longer have that player on your team when you came to play the game on the Monday? And imagine a scenario where the real-time fitness and fatigue of a player could be factored into gameplay? 
Could content save a life? 
It goes without saying that medical devices are relied upon to work accurately – but they're not always without fault. At the moment, the FDA – the US Department of Health and Human Services' Food and Drug Administration (FDA) – and its equivalents around the world maintain a database of devices and their approval status. If a device needs to be recalled a notification is sent out to the end-user of the device and recorded in the FDA database.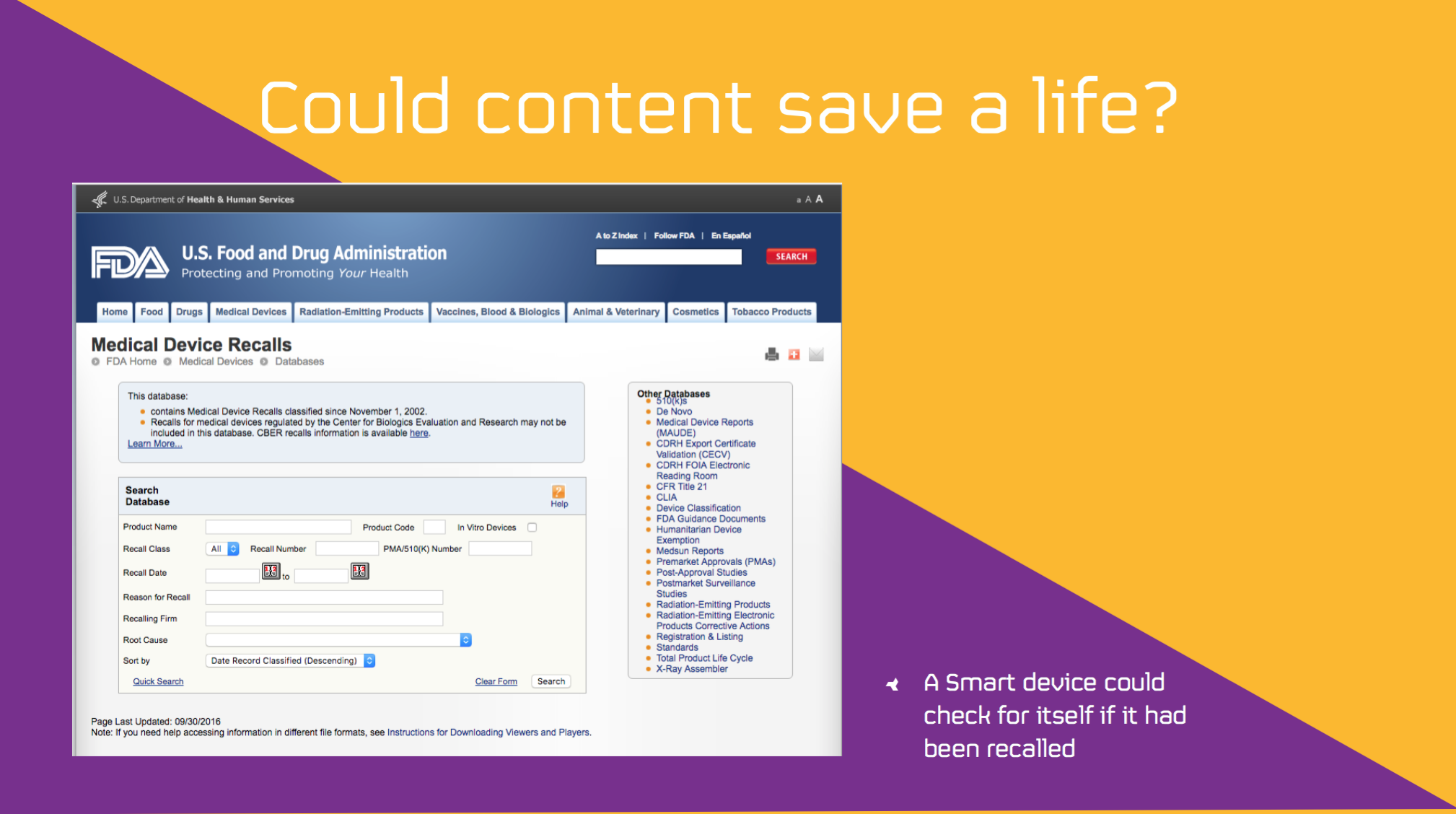 In this scenario, the purchaser of the device – possibly a buying department in a hospital – and the end user of the device – possibly a front-line paramedic – are not necessarily in daily communication. 
Whilst there are processes in place to ensure the information reaches the right person, what if the device itself could consume data from the FDA database and check if it has been recalled? What if it could (in an extreme situation) shut itself down as a result to prevent harm? Of course there are ethics to consider here, just as there are with the likes of the driverless car, but these scenarios of content consumption could be happening right now. 
The driverless car 
It seems very likely that autonomous vehicles will create the same cultural shift that the original automobile was responsible for in the last century. Putting aside the myriad of questions they raise about ethics, employment, and politics (to name a few), driverless vehicles represent new territory from a content perspective.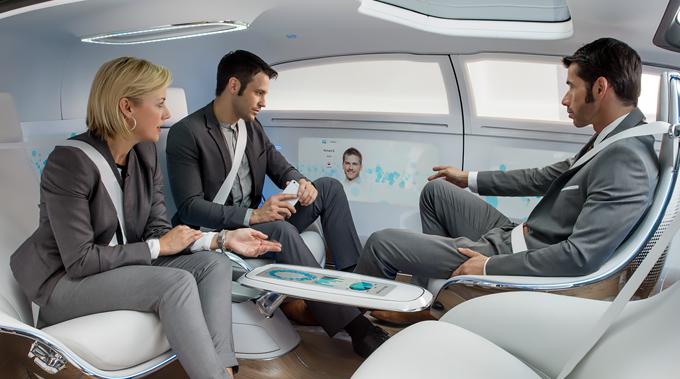 The driverless car marks new territory for content owners (image: Mercedes-Benz)
Because if a car is driving itself, and you genuinely don't need to be part of the process, there'll be new and intriguing opportunities for content consumption. Driverless cars could be designed in a way that means this information is presented onboard in a variety of ways. Remember current assumptions around an individual's relationship with their phone or tablet may not be set in stone.
Defining the business need 
At Inviqa, we believe all technology decisions should be centred around the business goal or objective you're trying to address. For the purposes of this series, that objective (albeit very wide-ranging) could be the following: 
'I need to be able to serve content now and in the future to devices whose capabilities and intent may be unknown to me – without relinquishing publishing control'. 
In the rest of this series, we'll look at how we can meet this goal and we'll explore the role that content models and structured content will play in that journey.
Want to know more about Inviqa's content management practice? Interested in speaking with our consultants about your content strategy? Let's talk! 
Related reading