The ecommerce returns problem (and how to tackle it)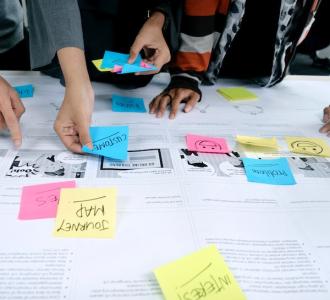 Returns are slowly killing your ecommerce business. And, with ever-tighter retail margins, it's time to grab the returns beast by the horns, says our business consultancy director, Brett Lawrence.
The cost of the ecommerce returns epidemic
The cost of ecommerce returns is spiralling out of control – and this painful challenge cuts deepest following retail peak.
January 2, or 'Takeback Thursday', was expected to see a 72% spike in daily returns compared with December, according to the Royal Mail. Across the pond, US consumers were predicted to return a whopping $100 billion worth of unwanted goods purchased between Thanksgiving and Christmas.
 
More than a third of retail returns in the UK are made following retail peak, from January to March (B-Stock), and some analysts predict that UK returns will grow by more than 27% as soon as 2023, at a cost of £5.6 billion. 
With margins being squeezed in every direction, returns is a beast that needs to be controlled.
The cost of reverse logistics (sending from buyers to sellers), processing, refunding, and potentially disposing of goods means that retailers are taking a significant financial hit as the returns trend grows (not to mention the environmental impact). 
Forrester estimates that as much as 50% of online returns have little to nothing in terms of salvage value. But at the same time, retailers are contending with rising consumer expectations and demands around retail return policies.
 
So what's behind this behaviour? And what, if anything, can retailers do about it?
Balancing an attractive returns proposition with risk
In today's Amazon Era, an easy ecommerce returns process has become key to success as a retailer.
Research shows that UK customers are deterred from shopping online with retailers who don't offer free returns. And some brands are already evolving their returns policies in line with these changing expectations. Zalando's 100-day returns policy is seen by many as a great example of how to surpass customer expectations. 
But it comes with significant risks. Online purchases are nearly three times as likely to be returned than store-bought goods, and clothing continues to be particularly problematic, as shoppers struggle to find the right size, fit, and colour.
What's more, consumers often shop with the intent to return a purchase. The millennial retail trend of buying multiple items online with the intention of keeping only one item (and returning the rest) has driven multiple 'try before you buy' offerings such as Amazon's Prime Wardrobe service. 
It's also paved the way for 'buy now, pay later' models (such as Klarna's compelling 30-day offering), which 1 in 10 millennials say is the best thing a retailer can do to make online shopping more convenient.
Serial returners are abundant, and each day an item is with a customer (who's ultimately looking to return that item), the retailer's cash flow is impacted.
ASOS has taken a hard stance by blacklisting those it deems to have abused its returns policy. The retailer has also revised its proposition to ensure it keeps cash within the business; extending their returns period but refunding with vouchers those customers who return orders after 28 days.
 
So is it possible to provide a premium returns proposition without risking your profits in the process?
Controlling ecommerce returns: understanding your customer
Understanding your customer is essential to achieving a returns proposition that meets customer expectations without crippling your business.
For retailers with international customers, a huge area of complexity is the nuances in customer behaviours and pain points across markets. In-depth research is key to understanding these expectations and guiding your returns proposition strategy. 
All customer touchpoints should be considered to fully understand needs at each stage of a customer's journey, reducing friction and providing a great experience.
Obtaining valuable insight is key. As an example, capturing the reason for a return might show that 90% of returners found that a particular item didn't fit, pointing to potential problems in your product information, or the fit and sizing of the physical product.
Your customer analytics are essential to identifying where these trends exist so that you can refine your commercial model accordingly. It might make sense, for example, to reduce (or even stop) marketing activity to an identified segment of customers who have a high propensity to return products. 
By pairing this information with competitor research, and by testing initiatives ahead of wider rollout, it's possible to form a proposition that surpasses your peers and differentiates your brand. 
Improving the ecommerce returns model
Truly understanding the end-to-end cost to fulfil and return an order allows decisions to be made about when it's no longer cost-effective to request a physical return.
When low-margin items are damaged to the point where they can't be resold, for example, the inbound operational cost of shipping, handling, quality control, and disposal can often erode profits entirely. 
In cases like this, a cost-effective customer experience may be to validate the damage and then provide an instant refund if the customer disposes of the item themselves.
With that in mind, it's essential to streamline your returns process to get a product ready for sale again quickly, and mitigate the risk of devaluing stock and reduced cash flow. However, this should never be to the detriment of quality assurance and fraud prevention, which can plague a supply chain if ignored.
Paying close attention to the reasons behind returns is essential for improving your model and the customer experience as a whole.
Logistical issues are behind a lot of returns. But many are due to reasons such as pooronline descriptions, mistaken purchases, the wrong size being ordered, and an item being unfit for purpose. 
And it's here that online retailers can really take control by helping customers make the right choice, first time, and, in so doing, reduce the likelihood of a return.
How to minimise ecommerce returns
Product experience management is about providing the right content, when and where it's needed. And it's a powerful way to tackle the returns beast.
Use a PIM solution such as Akeneo to curate clear, accurate, and detailed product descriptions. 
Allow customers to compare items using meaningful and relevant attributes. And focus on maximising chances of 'right product, first time' through strong product information and content that enables informed decision-making.
Be sure to:
Localise your content to provide information that's relevant to the customer in a meaningful way. Don't force customers to do their own conversions for information like sizing and measurements, for example. 
Paint a picture: use rich content and imagery that displays a product from multiple angles. Use video to illustrate the size of an item and how it can be used, with close-ups that provide insight into the texture of materials and build quality.
Provide answers: offer the opportunity to ask questions directly to product experts via the likes of web chat, and show the answers to FAQs on your product pages. 
Use (genuine) reviews to enable customers to hear real-world feedback ahead of their purchase decision.  
Bridge online / offline: where possible, show customers where they can see their chosen product in store ahead of ordering (especially for larger items). Embrace technology such as AR to assist customers in understanding how your product meets their needs. Think 'fitting room' tech (such as TrueFit or ASOS's Virtual Fitting Solution), or AR apps that enable you to virtually paint your walls (Dulux Visualizer) or see exactly how stylish a 'Billy' bookcase would look in your lounge (IKEA Place). Reduce shipping fees by encouraging customers to make their returns in-store (at the same time, you'll have the chance to immerse them in a physical brand experience).   
Final thoughts
In what's forecast to be another tough few years for UK retail, the ecommerce returns problem is not going anywhere.
But, by taking action to drive out simple but effective improvements in the customer experience, brands can redress the balance between consumer demands and commercial risk.