Financial services company looks to launch new app
Inviqa delivers hybrid app with sophisticated user experience
Customers empowered to easily manage their loans
Oakam provides financial services for those who find it difficult to borrow from banks because they're new to the UK and have no credit history, or as a result of past financial difficulty.
The challenge
With a strong offline presence, Oakam wanted to grow its digital growth strategy by launching a mobile application to enable customers to manage their loans and personal finance. Oakam has a 'hands on' commitment to customer service and wanted to extend that approach to its digital channels.
Finding a solution
Oakam appointed Inviqa as its technical partner for its digital growth strategy, which included building a mobile app in collaboration with design agency Else.
The progress of the application was carefully paired with Oakam's strong understanding of its customers. The first iteration of the app tackled simple but time-consuming administrative tasks for Oakam, such as providing customers with loans information, allowing them to manage their account details, and providing a contactable customer representative.
The following iterations of the product provide Oakam's customers with tools to manage their loans and personal finances. This functionality aims to create greater sustainability, a stable credit rating, and promotion on the customer rewards programme, which, in turn, unlocks better lending rates and helps improve adoption of the application.
The platform was built on a fast, open-source, and cutting-edge hybrid mobile stack. A hybrid approach uses standard web technologies to create a native mobile application. Using hybrid technology means that the application can be easily ported across different operating systems (for example iOS and Android), without having to rewrite the application.
Given the app was a self-contained customer experience, it was crucial that it was built to be quick and able to handle the demands of thousands of users. We chose AngularJS to integrate with Oakam's backend – an approach that met the performance requirements.
In order to achieve a slick and user-friendly design adopting the principles of native design components, we used a UI (user interface) framework called Ionic which was developed to enable ambitious designs and ensure the UI works seamlessly.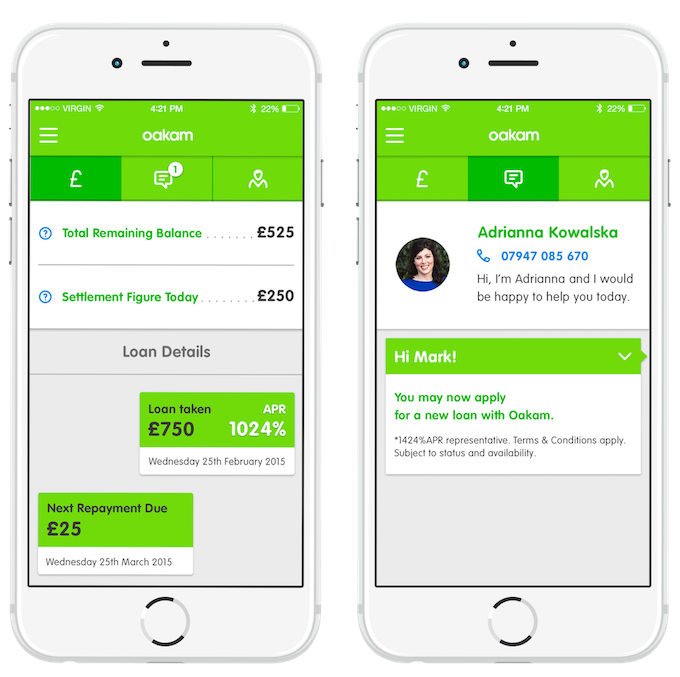 The technology
Ionic, a UI framework for hybrid apps
Apache Cordova
Head here to learn more about mobile development at Inviqa. Discover our unique approach and get in touch to discuss how we can support your digital journey.