Web accessibility guidelines: from compliance to inclusive design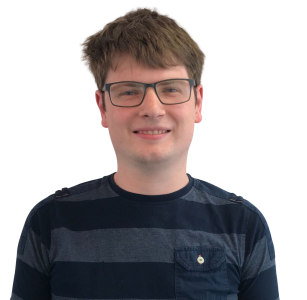 Accessibility guidelines are essential for making life better for disabled customers, but they're just the start of your accessibility journey. Here's how to embed inclusive design and start providing better digital products and services.
The business case for web accessibility
Web accessibility is too important a topic to ignore. More than a fifth of the UK population self-reports a disability, with 15% of the global population experiencing some form of disability. 
This presents clear challenges to all businesses and organisations who provide products and services online, and governments around the world have legislated to enshrine web accessibility guidelines in law, ensuring that a digital-first world is accessible to all. 
But legality aside, we know that poor web accessibility is a clear revenue barrier; if 15% or more of your global customer base could experience difficulties accessing your products or services, how much potential revenue is lost? 
Or, to put it another way, could you grow your customer base and online revenue by building inclusive digital experiences that benefit everyone alike?
If you or your colleagues are still not convinced, making sure your digital products and services do not exclude any of your potential users is simply the right thing to do. 
Irrespective of ability, everyone should have an equal opportunity to participate in society, whether that's being able to communicate with others, purchase products, access services and information, or consume content and entertainment.
If there's something you or your organisation can do to ensure people are not excluded, you should do it. If a group of users cannot access your site or app through no fault of their own, it's your responsibility to remove these barriers.
Remember that accessibility is really just about usability. A site that's optimised for usability is likely to have many enhancements that will be of benefit to people with a range of disabilities and impairments. Likewise, an accessible site tends to have universal usability benefits. So any improvements made with accessibility in mind are likely to improve usability, and vice versa. 
Remember also that disability is a broad spectrum; an accessibility enhancement could be make or break for someone with a disability such as partial blindness, whilst also providing an improved experience to people with minor impairments such as far-sightedness or astigmatism. 
Implementing accessibility enhancements removes barriers, makes happier users, and can even improve conversion rates. So everyone wins!
Where to start your accessibility journey
Web accessibility compliance is probably much simpler than you think. In addition to internationally-recognised web accessibility guidelines like WCAG 2.1, we also have the principles of semantic HTML. 
Combined, these two things enable developers and content creators to deliver experiences that can be understood and reinterpreted by assistive technology such as screen readers and alternative input devices. 
There's also a wealth of tools and resources to help you with accessibility auditing (check out our intro to web accessibility testing to get you started). If you're not sure where to begin, do checkout Andy's web accessibility checklist. And if web accessibility training's what you need, well, we've got you covered for that too.
But first, let's take a step back. Web accessibility guidelines, accessibility consulting, and accessibility checklists are important components in your organisation's digital accessibility journey, but they're not the whole story. 
To create truly inclusive digital experiences, you need to embed the core principles of accessibility into everything that you do.
Look beyond web accessibility guidelines
As Andy points out in his web accessibility checklist:
Compliance is not the same as usability. A WCAG-compliant site is not necessarily an accessible site, and an accessible site may not actually be WCAG-compliant. Unless you've successfully tested your site with real people with real accessibility needs, you can't say it's accessible (even if it's compliant).
To be truly accessible, you need to understand the needs of people with a wide range of disabilities and impairments, and what it means for a site or app to be accessible. 
Web accessibility guidelines like WCAG are only an approximation of these two things; implementing them is not a guarantee that everyone will be able to use your product or service.
To be truly accessible, you need to create services and products that meet the needs of people with specific disabilities and impairments. This might be an alternative interface for an existing product, some usability improvements, or even something completely new. 
To help you think about what this might mean for your organisation, watch this Apple promo and see if you can spot at least five product features that benefit people with disabilities or impairments:
Did you spot all eight of them?
Now, imagine if these accessibility features didn't exist. How would you feel if you couldn't do your job, track your exercise, chat with a friend remotely, open your blinds, take a photo of your family, hear people in an outdoor environment, or read a book. Would you feel disheartened? Would you struggle on through, knowing that your user experience will be substandard? Or would you take your business elsewhere?
Making a product or service accessible is not just a means to an end; an inclusive digital experience should delight and satisfy all of your users, attract new users, and keep your existing users coming back for more.
Make accessibility a non-functional requirement
The phrase 'non-functional requirement' is a bit of a misnomer; if your app or site is insecure, can't handle traffic spikes, and doesn't meet business needs, it's not really functioning at all! Nonetheless, we generally understand non-functional requirements to mean attributes that describe how a product operates, rather than what it does.
So, when you decide how your product will function, make sure accessibility forms part of this discussion. Here's some examples of non-functional accessibility requirements that you could use:
The product must be usable with only a keyboard.
All meaningful content must be available to screen reader users, in the correct order.
All non-text content must have a text alternative (alt text).
The product must give all users adequate time to complete their intended action.
All form fields must have a clear purpose, with visible labels and help text provided where additional context is needed.
All content and functionality should have multiple ways of navigating to and from it.
When you've decided what your non-functional accessibility requirements should be, you should determine:
How will they be enforced? Will failing to meet these requirements block a new feature from going live? If not, why not?
Who will enforce them? e.g. product owners, the whole team, dedicated accessibility advocates
How will they be measured? e.g. auditing, user testing, automated testing
How will problems be fixed? Will you have enough time and resources to make the necessary changes?
Putting accessibility on an equal footing to performance, security, and other non-functional requirements will help ensure it gets the attention and focus it deserves.
Go beyond technical compliance
Any accessibility advocate will tell you that an accessible site is a better, more usable site, and that an inaccessible site will cost you more in the long run in terms of lost revenue and the potential costs of responding to legal or regulatory action. If the benefits of accessibility are clear, then why not go the extra mile?
A great deal of web accessibility content focuses on enhancing what's already there, or ensuring that site and apps are built and designed in an accessible way. But there's far more to web accessibility than guidelines and best practices; there is a clear opportunity for innovative organisations to create digital experiences that prioritise people with accessibility needs. 
This means going above and beyond the legal minimum, doing more than your competitors, and carving out brand new user experiences that place accessibility at the forefront.
Inviqa's experience design team adopted this approach when creating a prototype for a cruise booking site. Choosing a room on a cruise ship is a multi-layered decision making process; customers make their choice based on location (e.g. ocean view, nearby facilities) and room size. As such, selecting a room is typically done using a map-based interface. Users pick their room based on its location within the ship. 
This solution isn't ideal for users with visual impairments or who can't use a mouse, so an alternative accessible interface was created. The accessible room selection tool allows users to choose what type or grade of room they want, then choose the deck and room number.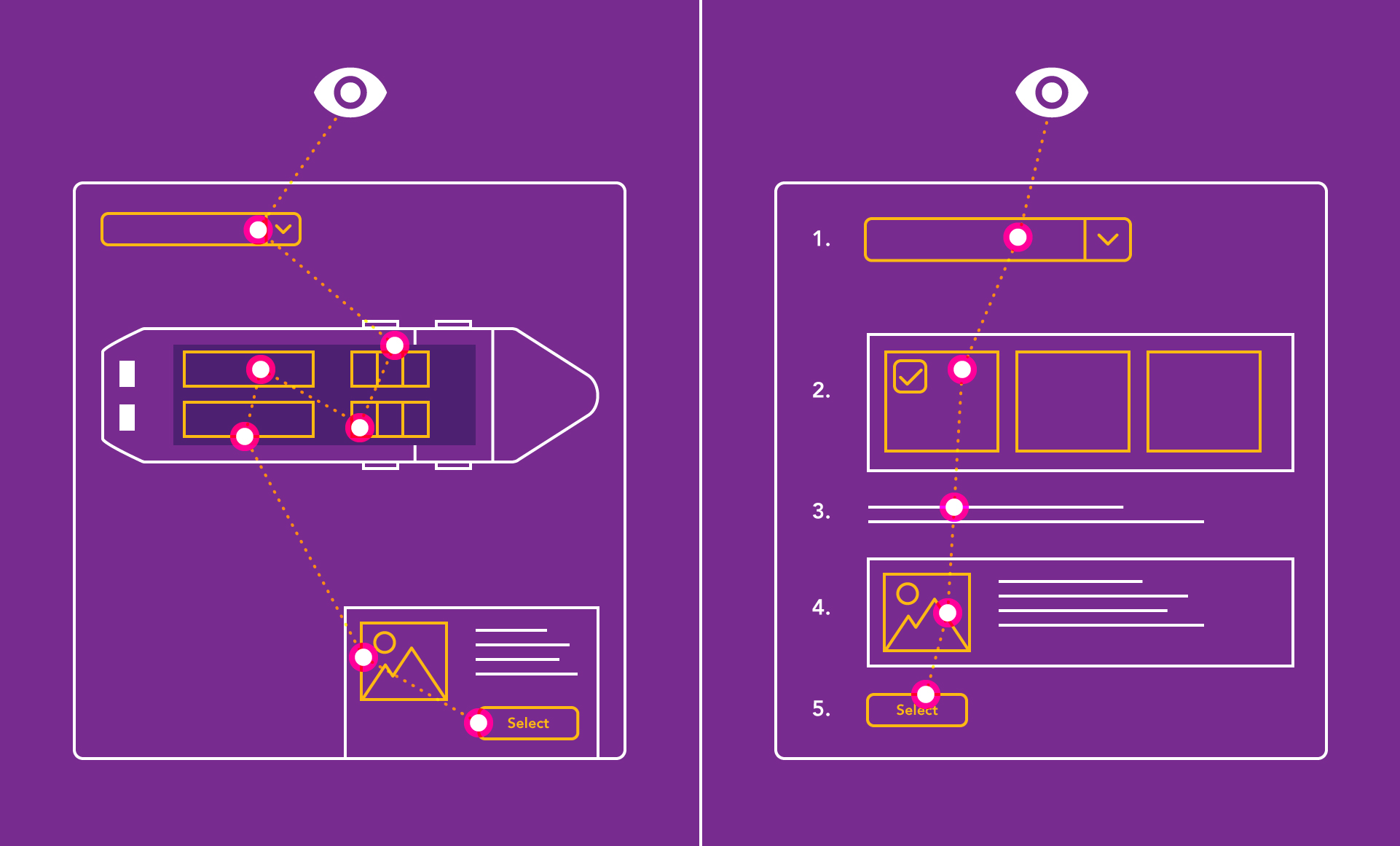 The left-hand side of the above diagram shows the original, map-based interface which doesn't meet accessibility needs. The right-hand side shows the new user journey, which makes it easy to find the right room based on your criteria.
By splitting this alternative process into two steps, and making it text-based instead of map-based, a wider group of users can use this service and have a satisfying user experience.
Creating inclusive digital experiences means doing more than the bare minimum. It means doing up-front research, discovering what your users need, designing accordingly, delivering an experience that fully meets those needs, and testing with real users as you go. 
Doing so might involve implementing an entirely new solution, or redesigning a feature from the ground up. This probably won't be quick or cheap, but it will ensure that your site or app is accessible for all your users. 
Think outside the viewport
An accessible website or mobile app may not be the best tool for the job. What if the most inclusive digital experience doesn't involve a screen at all?
A great example of this is the Virgin Trains Alexa skill.
 
While the Virgin Trains Alexa skill provides an alternative, convenient interface that almost anyone can use, it also makes this functionality available to people who would have difficulties accessing train times via a screen. 
For some people with visual impairments or physical difficulties, this might be the first time they can access this information independently, without the use of a screen or specialist assistive technology! 
Voice assistant platforms like Alexa and Google Home can enable organisations to reach a large pool of users who can't, or won't, use computers or mobile devices. 
Some users will avoid screen-based devices because they do not have the assistive technology or the underlying knowledge to do so. Others simply choose not to use 'traditional' digital devices because they prefer real-world or phone interactions. In these cases, well-designed Voice UI experiences are a great alternative.
For others, voice assistants are an alternative interface for something they can accomplish on a screen-based device, but they have a situational impairment such as driving, cooking, or washing up that prevents them from using a screen at that moment.
Creating truly inclusive digital experiences means starting at the design phase. It might involve a completely different medium like Voice UI, an alternative interface to cater to specific user groups, or a brand new approach to designing for the web. 
Before you decide what experience to create, start by considering the needs of different users, then design one or more solutions that fulfil those needs, remove barriers and delight all of your users.
Use web accessibility guidelines as your starting point
Web accessibility guidelines like WCAG are very important resources. They help us to understand everything that we can and should do to ensure our digital experiences cater for everyone and comply with the law. 
Remember, though, that complying with guidelines is just the bare minimum; it doesn't prove that your site is easy for a wide range of people to use, and compliance alone is meaningless without using accessibility auditing and accessibility testing to confirm that your efforts have been successful.
Accessibility compliance is just the start of your digital inclusivity journey. To create inclusive digital experiences, you need to weave the principles that underpin accessibility guidelines into the fabric of your organisation. 
In this video we talk to SSE Energy to understand why the business is investing in accessibility