Your web accessibility checklist (for Purple Tuesday and beyond)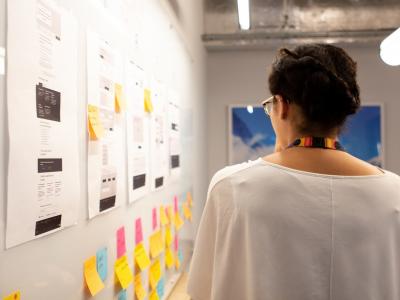 You've heard of Black Friday. But what about Purple Tuesday? This international call to action is focused on changing the customer experiences of disabled people who now represent more than 1 in 5 of your customers. We've put together the below accessibility checklist to highlight some of the key considerations you can action this Purple Tuesday and beyond to start driving sustainable change for customers with accessibility needs.
First up, what is Purple Tuesday?
Purple Tuesday is an international event aimed at getting organisations to commit to taking decisive, practical action to meet the needs of disabled customers. The focus is on making customer experiences accessible and driving sustainable change.
As a means of educating brands and inspiring action, Purple Tuesday is hugely valuable. Less than 10% of businesses today have a targeted plan to access the disability market, despite the fact that 22% of customers have accessibility needs – a figure that rises to 30% over retirement age (and will continue to grow thanks to our aging population).
The Purple Tuesday site provides lots of useful resources on how brands can get involved with this year's event and start their accessibility journeys. To build on this, we've put together the below web accessibility checklist so you can start transforming the customer experiences of your disabled customers today.
So here's our seven-point checklist for taking action on accessibility:
Educate your teams on why web accessibility matters
There's undoubtedly a commercial incentive when it comes to catering to disabled customers, whose consumer spending power is worth a massive £249 billion, and is rising by an average of 14% per annum.
But Purple Tuesday promotes an essential message that needs to be embedded across your teams. That message is that accessibility shouldn't be about economics or compliance; it's about providing a great customer experience to all customers alike.
Your digital products and services should enable all customers to participate fully, helping them solve a problem or achieve a goal. Beyond the fact that this is a moral obligation, there are plenty of examples that show that when you solve a user problem for people with disabilities, you can improve user experiences for everyone. 
SMS texting, for example, was invented as a communication aid for deaf people, but it's transformed mobile telecommunications for all of us. And audio captioning was designed to help those with hearing impairments, but think how many use cases it has today for displaying video in noisy areas. 
Accessibility benefits everyone, not least because accessibility needs form a broad spectrum and can be permanent, temporary, or situational. Making your site accessible to someone who's lost an arm during military service, for example, also benefits your customer with the broken arm, or your customer who's holding their baby in one arm.   
For these reasons it's crucial to make accessibility a hot topic within your organisation. Raise awareness and understanding through the likes of specialist accessibility training from experienced third parties.
Display GDS accessibility lab posters prominently in your office spaces and promote knowledge-sharing through the likes of lunch-and-learns, Slack communities, and empathetic modelling workshops (where you're given tools and props that emulate disabilities, and are then tasked with operating your website).
Educating teams on the need for collaboration is also key. Yes, product owners are ultimately accountable for accessibility, but it's everyone's responsibility too, because we all have a part to play to ensure our actions and decisions do not adversely impact other people. 
Accessibility also needs to be a part of technology procurement when it comes to your website. Only work with technology solutions and partners where accessibility is baked into what they do. Inclusive design from the outset is always going to be cheaper and less painful than trying to retrofit accessibility.
Understand the law on web accessibility
Beyond the economic and moral drivers, digital accessibility is a regulatory requirement, and legislation around this area is changing all the time.
We've seen high-profile legal cases launched against websites that exclude users, and in October The Supreme Court cleared the way for blind people to sue Domino's Pizza and other retailers if their websites are not accessible.
Yes, this was a US case and referred to the Americans With Disabilities Act, but it's one of many examples of an international brand being sued in the US. And with the majority of UK retailers selling and shipping internationally, many are at risk if their sites exclude customers.  
For now, the Web Content Accessibility Guidelines (WCAG 2.1) and British Standard 8878 are the best places to determine whether your site is compliant, and, since September 2018, UK public bodies have had to re-assess how they approach web accessibility in order to comply with the new European directive, which specifies that government agencies must comply with the WCAG 2.1 level AA.
Understand web accessibility guidelines and standards
Web accessibility standards help establish consistency in terms of what we mean by an 'accessible website', with clearly defined levels of compliance.
They're developed by the W3C Web Accessibility Initiative (WAI), along with supporting materials to help people understand and implement accessibility.
WCAG 2.1 is the latest version of the Web Content Accessibility Guidelines and covers a wide range of recommendations for making Web content more accessible, while the Accessible Rich Internet Applications (WAI-ARIA) is a technical specification that defines how to make web content and applications more accessible to people with disabilities.
Educate your teams of the breadth of accessibility needs
It's important for your teams to understand that accessibility needs are hugely diverse.
Sensory disabilities include the likes of visual or hearing impairments, and the needs of these customers can vary massively. A blind customer, for example, may use a keyboard to navigate your site, together with a screen reader, whereas a partially sighted customer using a mouse or trackpad may be looking to change the text size or magnification of your site. The latter is a great example of why you need to hand control back to your customers and design pages in a way that allows users to customise their experience of them. 
Customers with physical disabilities or mobility impairments, on the other hand, may need to access your content without having to touch a screen or keyboard, using assistive technology such as dictation software. And customers with cognitive conditions such as ADHD, dyspraxia, or language processing, will again have very particular needs.
The bottom line: making sure your website caters to the very different ways in which people may be trying to engage with your site is crucial for ensuring you don't exclude any of your potential customers.
Complete a web accessibility audit
Web accessibility audits provide an ideal first step to understanding where and how to make improvements on your website to improve online accessibility. They can be manual, automatic, semi-automatic, or a mixture of all of these. A typical audit covers around 25-30 pages to test all the main content types you can come across on your site.
Online tools and plug-ins provide a 'quick and dirty' approach that enables you to quickly surface some of the key problem areas for your site. They're a really good starting point and there's a whole raft of tools available, from the WAVE Evaluation Tool and Totally Plugin, to Lighthouse from Google and Spark contract checker for Sketch.
However it's important to realise that these tools don't give you the full picture; having no errors flagged with your accessibility plugin doesn't guarantee that you're WCAG compliant. Online tools are valuable, but auditing involves a lot of decision-making, and so it needs to be a highly considered, manual process.
That's why web accessibility consulting (i.e. collaborating with an accessibility specialist) is still the best place to start your accessibility journey. Here at Inviqa we provide a comprehensive. accessibility offering, from consulting and audits, through to code modifications, and diverse user testing.  
An audit is the best place to start your accessibility journey. Find out exactly where you are today and where you need to get to. Train your team, test often, and test with real users once you've worked on your technical conformance.
We typically start with a review of your site, and provide a detailed report of all the accessibility issues we've encountered. We then ensure you get a detailed and prioritised set of recommendations for how to fix those issues, and conduct remedial work to address your design and technical issues.   
If you'd prefer to conduct an accessibility audit in-house (at least initially), getting your teams booked onto a web accessibility training course is the best way to get up to speed quickly.
Test accessibility with real customers
Accessibility audits are super helpful, with a deep level of insight gained in a short timeframe, and in a fairly cost-effective way. But you can improve knowledge transfer and gain deeper buy-in into accessibility by conducting accessibility testing once you've implemented the recommendations that you surfaced in your accessibility audit.
Accessibility testing is where real disabled customers are asked to complete common tasks on your website whilst a moderator notes all the challenges they encounter. Many organisations, such as the Disability Rights Commission, swear by this process, and believe that usability testing with disabled customers is the only way to ensure your site provides optimum accessibility.
A challenge, however, is that you'll need around 30 users to achieve statistically valid accessibility testing because of the sheer diversity in accessibility needs (e.g. you'll need 5-6 people who use screen readers, another 5-6 who use screen magnifiers, and so on).
This makes for a fairly costly exercise, so an easier way of doing this (albeit an approach that won't have the same statistical weight) is simply to recruit disabled users as part of your regular usability testing sessions. This way you can uncover accessibility issues and wider usability issues at the same time.
Remember that there's nothing more eye-opening or educational than watching real users with accessibility needs try to use your site. For one thing, it's one of the best ways to gain internal buy-in and educate your teams on the importance of web accessibility.
In this video we talk to SSE Energy to understand why the business is investing in accessibility
Think big, start small
It's easy to be overwhelmed by the amount of accessibility issues uncovered through an accessibility audit, but remember that small things go a long way. Tackling a small number of the most impactful accessibility issues can improve your baseline dramatically, so definitely think big, but start small.
If your site is built on a CMS or other templated solution, use accessible themes and plug-ins. Identify your core pages and cross-reference them with the WCAG guidelines and your accessibility recommendations report.
Here are a few examples of common usability issues with some relatively easy fixes:
Meeting colour contrast guidelines: under WCAG 2.1 the colour contrast of interactive components and user interface components must have a contrast ratio of at least 3:1. Without this users with visual impairments may not be able to understand or fully interact with a component on your site. Look out for things like a white web form with pale grey outlines around the form fields. Changing the outline to a colour with a contrast ratio of at least 3.1. is really easy, and can make a huge difference to someone who's partially sighted.
Catering to keyboard-only navigation: can keyboard-only users interact with all the components and features on your site in the same way that mouse-users can? Menus (in particular where a user hovers a mouse over an item to load more content below) are a common problem area. With many keyboard-only issues there's a simple fix, such as making a small tweak to a component's code.
In this video we explore the business case for digital accessibility
Getting image alt text right: does an image on your site convey information that's useful for a blind user, or is it purely decorative? If it's the latter, your alt text should use the null <alt=""> so that screen readers will ignore the image, because announcing its presence to someone using screen reading technology could be an unhelpful distraction. Alt text for information images should be clear and concise. Remove any images of text and, for linked images, communicate the action that will be initiated, for example where the link will take the user. 
Using the correct structure and navigation: is your site well-structured, with clear headings, labels, and link text? Is it easy to use and navigate? Ensure your digital content is organised into manageable chunks, with clear and descriptive subheadings, paragraphs, and lists. Always let users know where they are and how to get somewhere else – for example, by including a 'skip to main content' link. 
Audio and video: don't set audio or video to play automatically, and always ensure you provide text transcripts to make audio and video content accessible.
Forms and spam protection: give visitors the option to extend their session – for example, when completing a form that will 'time out' after a specified timeframe. Be mindful that some spam protection can exclude potential customers, so use alternatives, such as text-based logic problems.  
Wrapping up
To wrap up, here are some key things to communicate within your teams this Purple Tuesday:
Web accessibility is about improving the customer experience; it shouldn't just be about technical compliance. 
Accessibility is not complicated, and anyone with basic web design skills can implement it.
Compliance is not the same as usability. A WCAG-compliant site is not necessarily an accessible site, and an accessible site may not actually be WCAG-compliant. Unless you've successfully tested your site with real people with real accessibility needs, you can't say it's accessible (even if it's compliant).
Bake accessibility into your design and development guides and systems from the start. Inclusive design is greater than accessibility, and embedding accessibility from the start will save you time and expense further down the line. 
Test as you go. When you're building an accessible website, remember to keep testing pages as you build them and, where possible, test them using screen readers and other assistive technologies that your disabled customers use.
Purple Tuesday is about creating a step change improvement in the awareness of the value and needs of disabled customers. So use this international event to evaluate where your organisation is on its accessibility journey, and how you can drive positive, lasting change for your disabled customers.