6 of our favourite customer loyalty programmes
After defining what customer loyalty truly is and exploring the benefits and innovations in this sector, it is now incumbent upon us to pick out a few loyalty programmes that we think are getting it right! These 6 customer loyalty programmes have been identified for a number of reasons: their commercial success, the value and innovation in the rewards they offer, how they have been expertly designed, and also how effectively they are being used to communicate with their loyal customer base. 
Starbucks rewards
The Starbucks loyalty programme has been a resounding success, often referenced by experts in the loyalty sector, and resulting in a number of competitors attempting to follow their lead.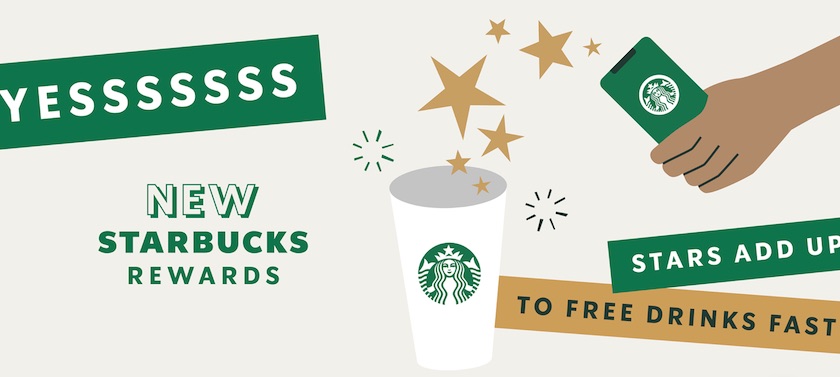 The commercial success of this programme is undeniable, with 40% of Starbucks' total sales attributed to it and in 2019 there was a 7% increase in sales as a direct result of this loyalty proposition. 'Starbucks Rewards' is available to customers through download of their mobile app; the interface is clean and easy to use, filled with targeted branding and engaging images. The app has been designed to be the best of its kind and has a number of impressive features. Customers can add money to it and use it directly as a digital wallet in-store, there is a personalised homepage that shows the member how close they are to earning new rewards, whilst 'Starbucks Music' offers a personalised playlist that also tells the member what song is being played when they are grabbing their latte at their local store! Furthermore, users of their loyalty app can share gift cards with their friends and gold members (450 stars) even get a free birthday drink!
Earning chilli points with Nando's
Another example from the food and beverage industry that is proving incredibly popular is the Nando's loyalty card which allows customers to earn delicious rewards in the form of more food! Key to the success of this program is its simplicity and the speed at which customers can earn their rewards: you are only 3 chilli points away from your first food reward and you get your first point just by registering. Many loyalty programmes fail because they do not offer an attainable reward within a quick enough time frame. Nando's provides a seamless omnichannel experience too; the card integrates seamlessly with the Nando's app, showing customers their chilli points, and customers can add their Nando's loyalty card to Apple Wallet.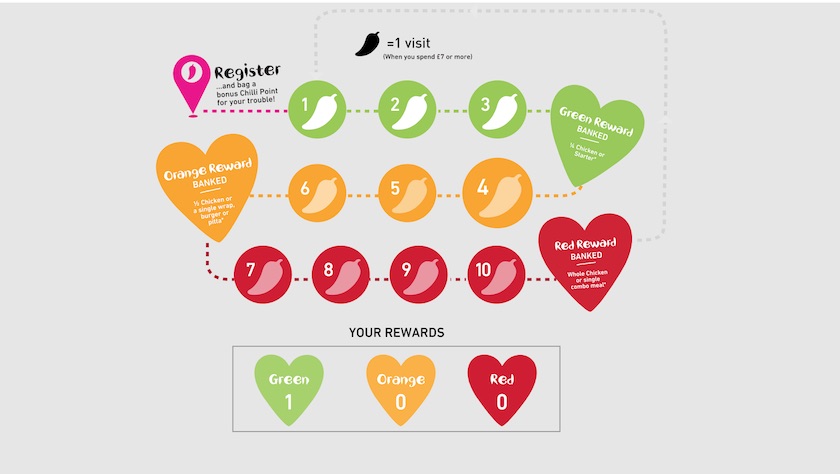 Success has been achieved globally and in many different markets. In Australia, Nando's has recently been praised for using its loyalty programme (Peri-Perks) to spread the word of the 50% discount they were giving to COVID-19 frontline Healthcare Emergency Services industry workers. They also won the award for Best Loyalty Program at the Inside Retail Retailer Awards 2020. 
Loyalty in fashion: H&M 
Many fashion brands and clothing retailers have implemented customer loyalty programmes. Pulse Boutique is an example of a mid-size brand that has been successful with its loyalty initiative, Pulse Perks, which since launch has seen a 39% increase in returning customers. In terms of the larger, global fashion brands, H&M has a standout reward proposition which offers a variety of attractive rewards to customers. Members of the programme get access to bonus vouchers, free click and collect, exclusive discounts and early access to exclusive collections. They are also able to 'shop now, pay later' through H&M partner, Klarna. 
Disney movie insiders
Disney movie insiders is a great example of an innovative and well-executed loyalty programme. When a new joiner becomes an 'insider', there is an immediate element of exclusivity created through the design. Members are encouraged to earn points by scanning movie tickets or unique codes from DVDs and Blu-ray titles into their mobile app. Their loyalty gives them access to a host of attractive rewards including exclusive content, discounts on tickets and invitations to special events whilst the programme incentivises active and continuous engagement, with reward points expiring if none are earned or redeemed within 365 days.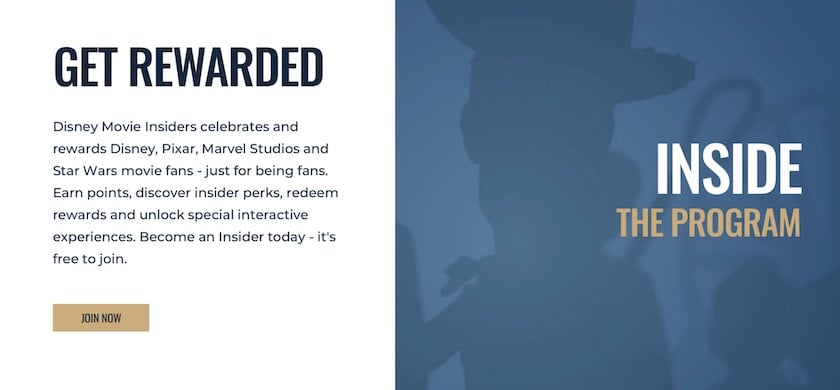 This rewards programme is being used as the foundation for the entire CRM engine at Disney studios. The VP of CRM at The Walt Disney Studios, Ruth Walker, who runs the Disney Movie Insiders programme, talks here about fuelling member excitement for the Disney brand through "engagement, access and reward opportunities." She talks about how their programme has been designed "to capture purchases in a variety of ways" and how they are learning more about their most valuable customers through it, which in turn allows them to offer a more personalised product, whilst also being respectful of their data privacy. The brand itself has experienced massive success recently, with Disney Plus achieving 100 million subscribers within 16 months of launch (this took Netflix 10 years!) and this loyalty programme is certainly part of that success.
Bloomingdale's 'loyallist' proposition
Bloomingdale's is an example of a high-end, luxury department store that is getting it right in the loyalty space! They have recently revamped their proposition to create a greater level of exclusivity, rewarding and incentivising their top-end customers that are spending the most. Bloomingdale customers that spend over $15,000 per year gain entry into the 'Top of the List' status and receive rewards like free premium shipping and the highest point earn rate. This move has been initiated by the pandemic and the changing purchasing behaviour of people in the highest earning bracket whose discretionary income has been diverted from spending on travel and entertainment to more luxury items. In addition, Bloomingdale's has cleverly integrated the programme with social media and  have a private Instagram account for 'Top of List Unlocked' members reinforcing the element of exclusivity.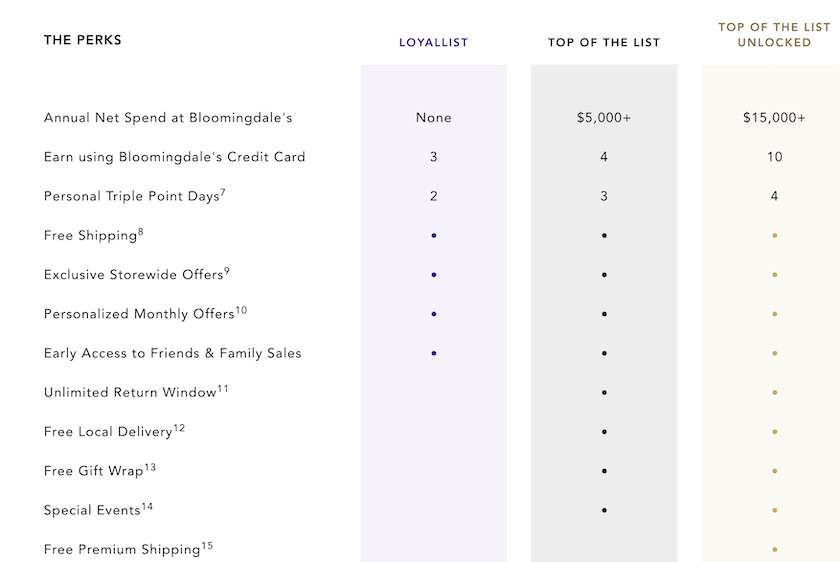 Co-op membership
Our final entry into our list of favourite loyalty programmes comes from the Co-operative supermarket. This proposition has been chosen because of its effectiveness in representing the company's values and how it has been integrated with other aspects of the business such as its insurance and legal services. After joining the Co-operative membership, for every £1 you spend on selected products and services, 2p goes back into your Co-op membership account and the Co-op matches that 2p in the form of donations to community organisations and local causes. The Co-op is particularly effective in communicating the value of these donations with their members, and uses case studies and storyboards that deeply resonate. Loyal customers get weekly personalised offers and can choose which local cause to support through the app. The success of the programme is tied to the Co-op's growth; they have gained 1.7 million households since the pandemic and reached their highest market share in 20 years.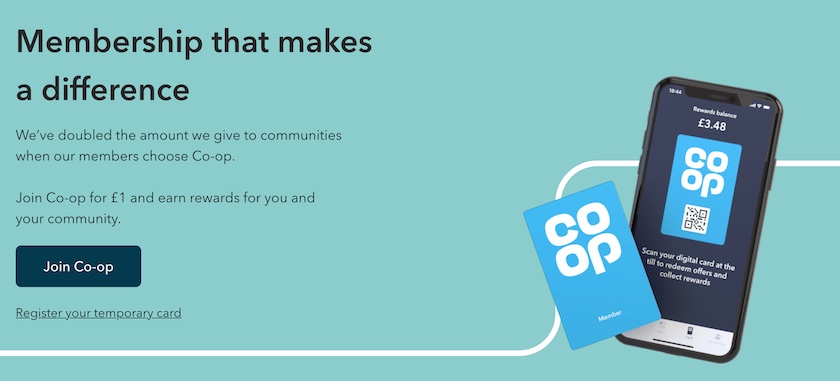 £50m delivery and relentless focus on the customer
Though not quite a customer loyalty programme, Deliveroo has been making waves in recent weeks with their exciting and groundbreaking plans to reward their most loyal customers and riders. The offer has been marketed as 'great food with a side of shares' and gives Deliveroo customers the chance to purchase up to £1000 worth of shares with the company stating that if the offer was oversubscribed, they would prioritise their most loyal customers. This is another example of innovation and prioritisation of customer loyalty at one of the largest and most dynamic companies. 
All of these great customer loyalty programmes are underpinned by a relentless commitment to building fantastic customer experiences. In order to build a successful reward proposition, a business must focus on achieving this whilst still making it profitable. 
Check out our other blogs in this mini-series:
If you want to gain further insight into exciting areas of digital customer experience like customer loyalty, then register your interest for our next CXcon event.