3 proven ways to grow customer loyalty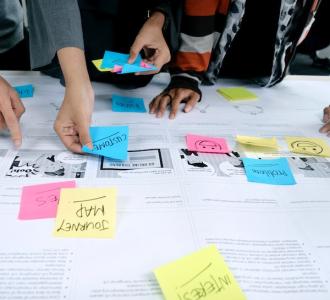 Customer loyalty programmes provide invaluable insight into customer behaviours. That insight is key to improving customer experience – one of the most important brand differentiators today. But are retailers doing enough to deliver lasting value to customers? And what do they need to be doing differently to achieve better outcomes?
Is customer loyalty still a top priority? 
Schemes that reward customers for their continued loyalty to a brand are not new. But some industries have historically neglected them in favour of customer acquisition efforts.
The reality is that acquiring a new customer typically costs more than retaining an existing one. We also know that loyal customers buy more, and buy more often. And while your competitor is just a keystroke or Alexa command away, a significant 61% of customers still describe themselves as loyal. That's according to PWC's '2017 Total Retail' survey, which surveyed 24,000 shoppers in 29 territories. 
But for the 39% of customers who are keen to explore their product and service choices, it's never been easier to identify alternative options for any purchase. And that's why brands need to work even harder to ensure a loyal customer base.   
Because where there's no compelling reason to stay with a brand – be that product, price, or convenience – consumers will shift loyalty where another brand is able to offer a more attractive engagement.
Understanding the customer loyalty shift
A massive 73% of consumers believe customer loyalty schemes are worth engaging with, according to research firm Colloquy. But the bad news is that more than halfof loyalty memberships are inactive. Worse still, 28% of customers have abandoned a scheme without ever redeeming anything. 
Customers clearly value loyalty schemes as much as ever, but findings like these suggest that a lot of loyalty schemes aren't sticky enough to keep people coming back for more.
The bottom line is that consumers have come to expect a joined-up, personalised customer experience, wherever they engage with a brand. Sticky loyalty programmes are those that use customer insight across every touchpoint to understand the shopper's emotions and thinking. Then, by examining their wants and desires, the retailer can tailor their offering accordingly.
Just as different customers will want to purchase in different ways, or view content in a manner that best suits them, customers desire and react to different types of loyalty schemes and rewards. 
For example, while some may favour express delivery, others may see more value in early-bird, exclusive buying opportunities or exclusive content. To keep an individual customer engaged and ensure your loyalty scheme remains fit for purpose, you'll need to understand what improves their individual satisfaction.
With that in mind, here are three ways you can improve your customer loyalty programmes:
1. Rethink how you're using customer data
Smart retailers are leveraging the data captured by their customer loyalty schemes to better understand and better market to their individual customers.
Of course, with GDPR legislation coming into effect from May 28, retailers need to be mindful of how they use customer data, ensuring that customers have explicitly opted to share their information in exchange for a value proposition that is clear to them.
As consumers become more wary about sharing personal data with organisations unless they can see clear benefits of doing so, retailers will need to gain their trust and engage in a transparent dialogue about the capture of this data in order to deliver ever more relevant services.
With appropriate permissions and segmentation it's easy to identify patterns in customer behaviour and react accordingly. A retailer can identify high-spending customers, for example, and then provide 'added value' rewards such as discounted shipping, early access to sale prices, or a charitable donation. Likewise, they can identify customers at risk of churn and establish methods for their retention.
Data insight is the key to understanding what your customer base sees as valuable and enabling you to build your loyalty programme around it.
This is where strategic partnerships can be incredibly effective in engaging and retaining customers. For example, if you're an airline you might partner with a hotelier to co-brand deals which are beneficial and relevant to your customer, whilst being mutually beneficial to you.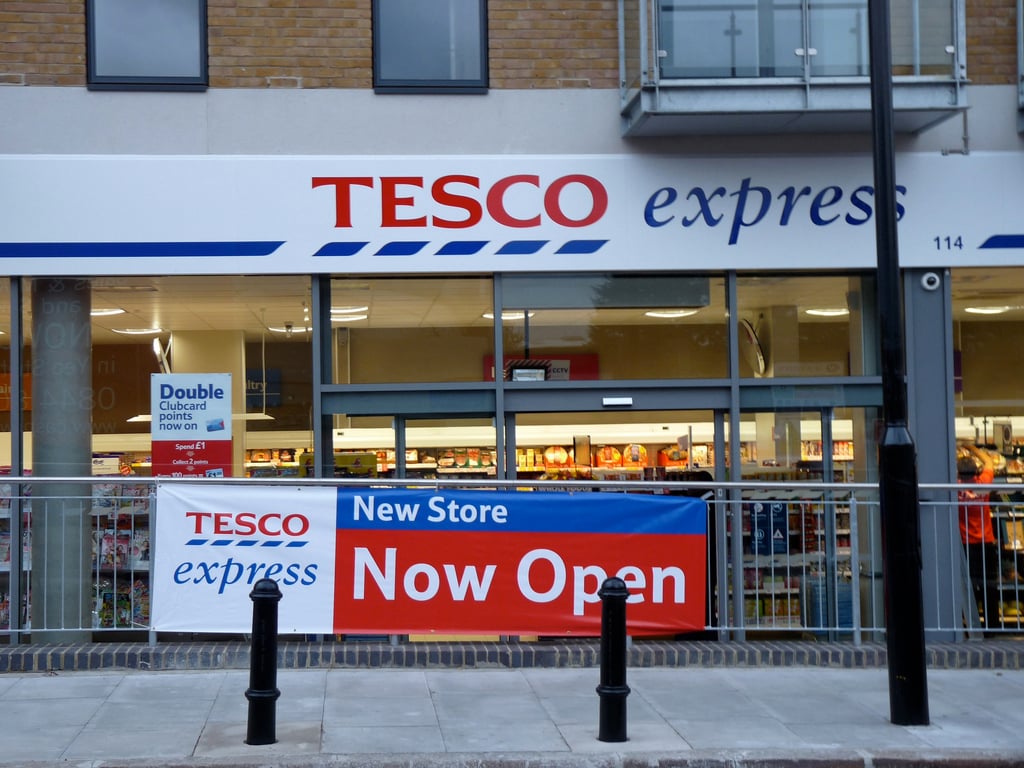 Tesco partners with the likes of restaurants and theme parks to bolster its loyalty scheme
Likewise, a grocery business with a demographic that indicates a high percentage of young families may choose to focus on desirable rewards such as days out at theme parks and attraction-based entertainment.
2. Reward non-transactional behaviours
Transforming customers into brand advocates requires a lot more than the product giveaways and discounts that loyalty schemes are largely still focused on.
Forrester research has shown that emotion is a strong loyalty driver, so investing in the process of understanding the actions and motivations of your customers across different points in the customer journey is key.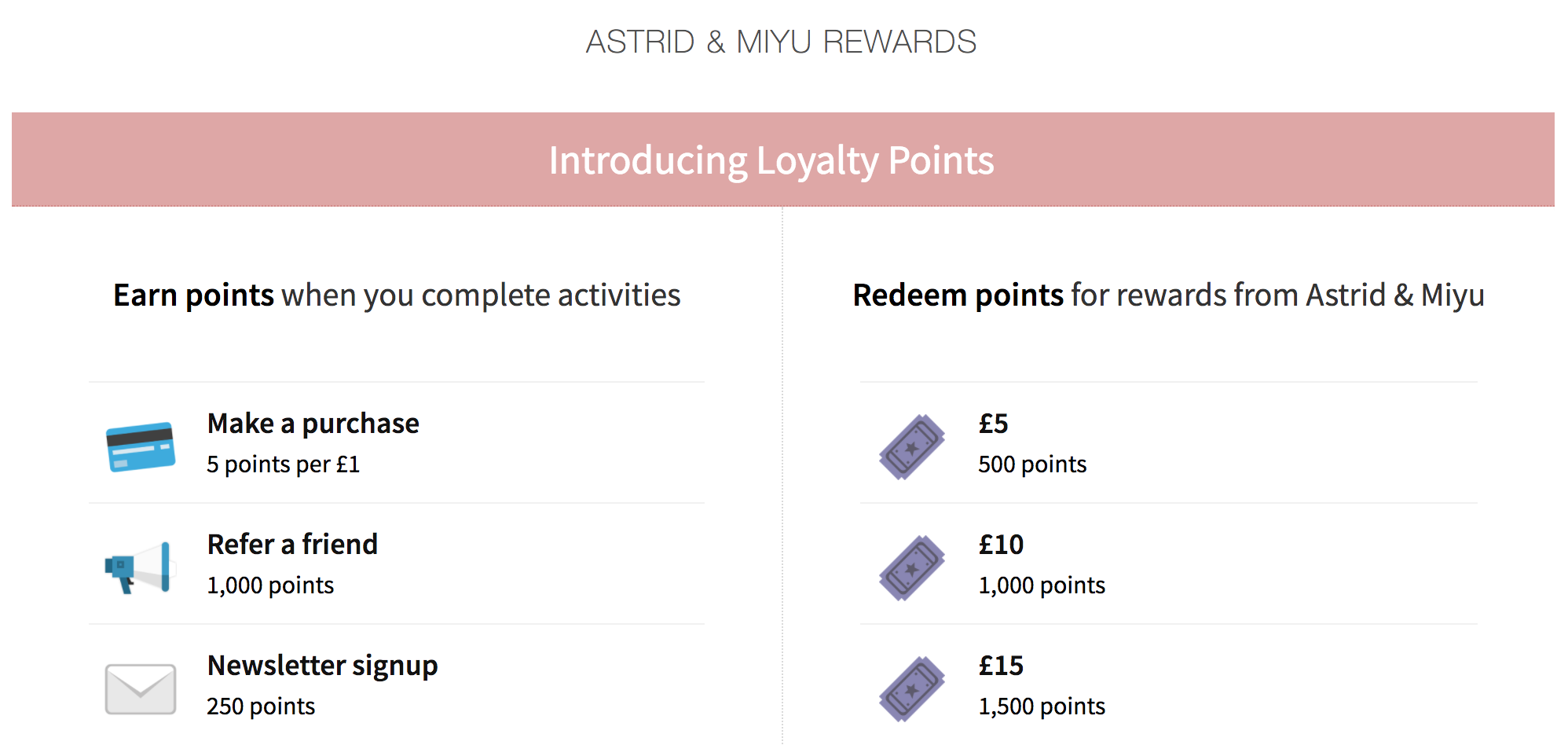 Jewellery brand Astrid & Miyu rewards both transactional and non-transactional behaviours
So consider ramping up the rewards you offer customers for non-transactional behaviours that tap into these emotional drivers, and consider partnerships that allow you to extend value beyond what you as a brand can provide alone.  
Solutions such as LoyaltyLion make it easy to reward almost any activity online, whether that's signing up for a newsletter, writing a review, of referring a friend. Being able to reward similar actions in-store is more complex but the goal for retailers has to be a joined-up loyalty scheme that rewards customers throughout their entire experience. 
Wherever your customer touchpoints are, look to understand your customer's motivations in order to reward accordingly.
3. Focus on changing behaviours  
Ultimately customer loyalty programmes should be focused on maintaining a relationship with a customer and increasing the lifetime value (LTV) of that customer. Incentives shouldn't be issued if they don't actually change behaviours – for example, if someone was going to buy the product anyway, with or without your reward. 
While it's important to reward your band of highest LTV customers, it's often worth examining the opportunities to be reaped by rewarding those just below this band. These are the customers who, if encouraged in the right manner, could up their spend and move into your most profitable segment.
Thankfully technology can help identify which customers to target, and consumers can also help identify technology with which to experiment.
As an example, customers expect to manage 85% of their relationships with businesses without any human interaction as soon as 2020. Of course how successful they are at increasing customer loyalty depends on experience; the better the experience a customer has with an online chat service, the more likely they are to stay loyal.
Being able to automatically service 'typical' questions like 'where's my order?' using AI-based chatbots can speed-up responses to customers and help establish a high level of customer experience. But what ultimately is a customer support interface can be framed as a digital friend who uses insight about the customer, built-up over the relationship with them, to offer personalised promotions and make them feel like a valued customer.
Continuously improve your loyalty scheme
Customer loyalty schemes, with their unique ability to gather and apply customer insight, nurture brand advocacy, and drive repeat purchases, will continue to be a key customer engagement tactic today and beyond.
But just like a retailer's wider organisation, loyalty schemes needs to continually evolve based on real-time customer data to continue delivering value to the customer. 
About the author
Brett Lawrence is a senior business consultant at Inviqa with 19+ years' experience working with leading retail and entertainment companies including the likes of Arcadia Group, Merlin Entertainments, and Blockbuster. Brett has held leadership positions with responsibility for operational, commercial, and technical focused teams. 
At Inviqa, which specialises in digital strategy consulting, ecommerce, web CMS development, and custom software development, Brett guides strategy and growth initiatives for the likes of Graze, Virgin, Astrid & Miyu, and World Duty Free.
Related reading