Digital transformation lessons from BBC World Service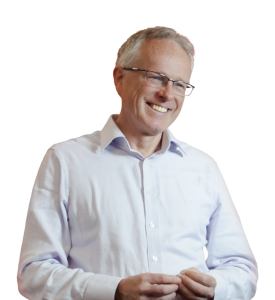 'Digital' is integral to how successful organisations operate and serve their customers. 'Digital transformation' is essentially business transformation at the end of the day, but where 'digital' remains a silo in organisations, digital transformation cannot become an organisation-wide priority.
This was a key takeaway from a digital strategy workshop I recently hosted with Inviqa and Dmitry Shishkin, digital development editor at BBC World Service. Together with a group of digital heads from sectors spanning the likes of media, retail, and not-for-profit, we explored what it takes to lead digital transformation.
Here is some of our thinking about how to effect lasting business change.
Who is responsible for digital transformation? 
Investing in digital know-how and new talent to support digital transformation is a sensible move for any company, because many companies won't already have this expertise internally. But focusing these capabilities in one place in the form of the emerging digital transformation officer (DTO) role is not always the right approach. 
The capabilities embodied in the DTO role are actually required at multiple levels of the business, including at senior leadership level. And so for real business change to happen, every level of the business needs to be aligned and invested in the change that's needed.
This is why we're seeing the rise of 'bridge' roles designed to connect and align business-strategy-makers and digital product teams so that companies are better equipped to drive innovation, test assumptions with digital experiments, and pivot in line with changing customer needs. 
Supported by the right processes, practices, and methodologies, bridge roles connect the business' strategy, customer experience design, and service delivery capabilities, and are invaluable in helping a business to transform digitally. This is critical when you consider that digital change is unlikely to affect online business alone; it's also likely to affect the wider business and offline customer experience.
Speaking at the workshop, BBC World Service's Dmitry Shishkin said that bridge roles are proving to be hugely important in the transformation of media organisations such as the BBC:
Bridge roles are the way forward when it comes to digital transformation. Their role is to influence heads of departments and those colleagues who are 'one level up'. As the bridge in media organisations, they sit in the middle of editorial, product, and business strategy.
We're also seeing a stronger drive towards establishing dedicated product owner roles, as the bridge between business stakeholders and 'digital' teams. Having a recognised product owner is key to ensuring products and services continue to address real (and evolving) customer needs; product owners manage different stakeholders and their expectations, and help establish effective digital cultures.
Of course where responsibility for digital transformation lies will be influenced by business' legacy structures and governance. And regrettably, 'digital' is still treated as a separate entity in many organisations, rather than being embedded in every line of the business.
'We need to stop thinking in terms of the "digital" department', as Dmitry points out: 'we're dealing with business transformation plain and simple. So the sooner we start dropping "digital" adjectives from our job roles the better; it's unhelpful to underline digital as a "thing", as this just silos it from the rest of the business'.
Businesses are at different stages of maturity in their use of digital tools and approaches, however, and for the less-digitally-mature, thinking in terms of a centralised 'digital' department can arguably be a positive thing. Where an organisation is in their digital journey will also impact how the business balances ambition with the need to deliver and realise benefit, but there's a clear need for leaders to showcase why 'digital' is everyone's prerogative. Digital transformation cannot happen in a vacuum and without the buy-in and example set by senior leadership. 
The key building blocks for a digitally-enabled future
Following Dmitry's presentation at the digital strategy workshop, the roundtable discussion focussed on a summary of the key themes emerging from the talk: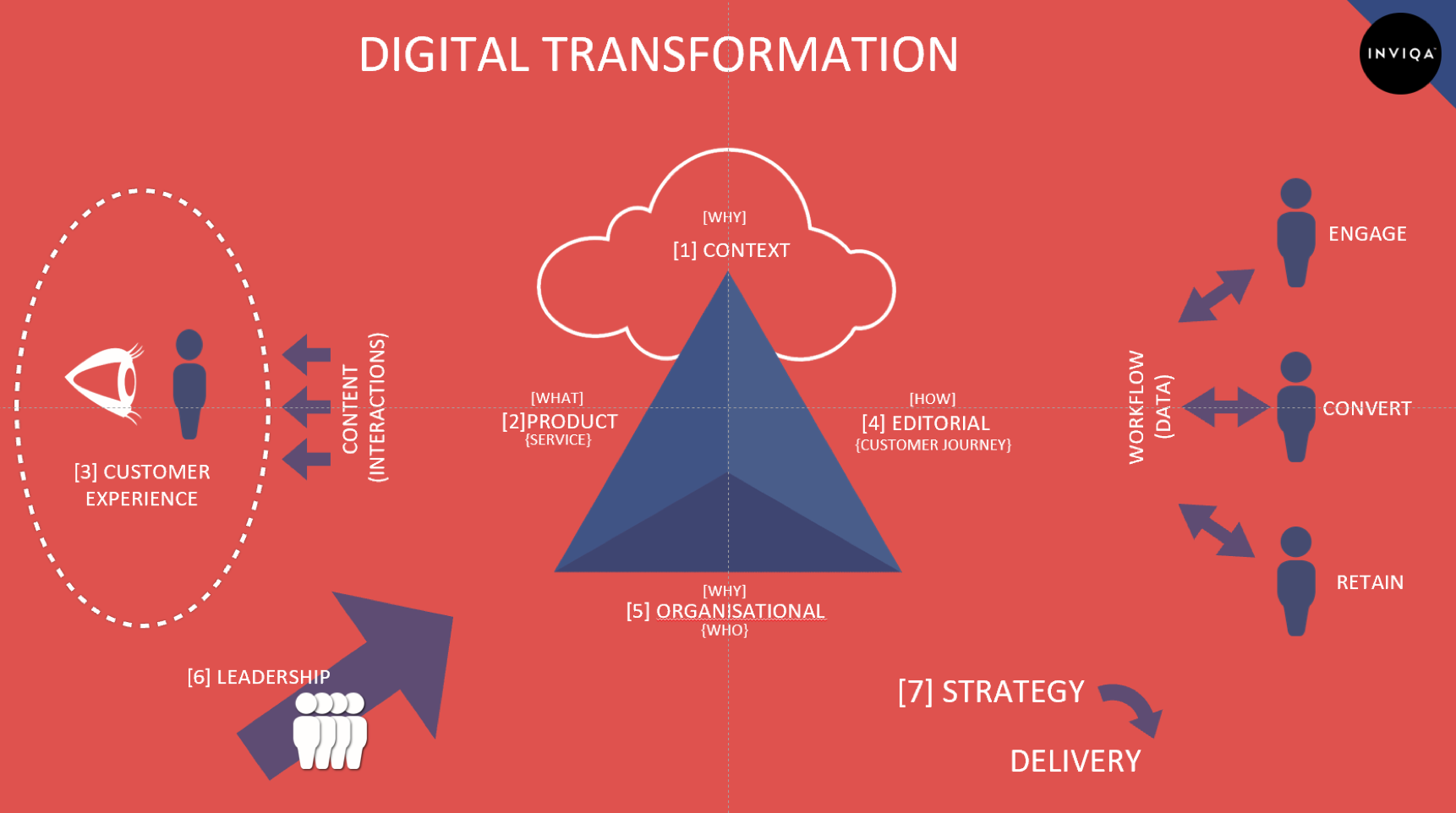 Dmitry used a triangle view to focus on what he felt are the key considerations when embarking on a digital transformation initiative or journey within a media organisation (i.e. product, business strategy, and editorial). The diagram above builds this out further to provide a broader canvas of the ingredients involved in any and every digital transformation:
1. Context
The individual context of an organisation influences the shape its (digital) transformation agenda will take. For many in the room the challenge was how best to leverage technology as part of a company's customer proposition. Every organisation is at a different stage of maturity in their use of technology, which impacts how ambition is balanced with the need to deliver and realise benefit.
2. Product or service
Digital transformation impacts an organisation's approach to delivering customer-facing digital products and services. Effecting business change means shifting the focus from 'push', where the business creates what it thinks the customer needs, to 'pull', where it truly understands and responds to the customer's needs. Increasingly, this requires a business to invest more energy in clarifying who its customers are, researching their needs, and exploring what customer experience will drive the behaviours the business is looking for.
3. Customer experience
The ultimate challenge is never losing sight of the customer as the organisation pursues its digital transformation agenda. As digital becomes embedded in every interaction between the customer and the company, the focus moves to ensuring those interactions are consistent and complementary, and that they drive the desired behaviour.
A main area where digital transformation initiatives fail is the resistance by teams to adopt new technology and tools. Investing in unproven tech, or tech that can fail, is fine, according to Dmitry: 'You will always need lines in the budget for new things coming down the pipeline, and often a key decision is deciding what to stop and let go in favour of the new'.
 
Legacy technology can stand in the way of digital innovation and growth, and so, even as they work around their legacy systems, organisations need to ensure their core platform is flexible and open. Businesses need to be ready to harness evolving technologies – effectively and profitably – and to put them at the heart of their business strategies.
4. Data-enhanced customer journeys
Data is a key component of a successful digital change. Dmitri explored how the BBC has focussed on workflows in its digital transformation to simplify the editorial process and use data to make improvements and change priorities.
Without data, you're just another person with an opinion.
Businesses should be mindful of the fact that there is no point using data and adding new tools for your teams to use if no one is using data to take decisions in the first place. Data is also critical to challenging what management may have traditionally seen as the 'right' way to do things and data-led prototypes and small digital experiments are critical for building a business case, testing assumptions, and using and responding to real-time insight about customers to continuously improve and grow a digital product or service. 
5. Strategy
The 'change management' implications associated with digital transformation cannot be ignored, and the way in which a company organises its digital team will vary, from a centralised group, to a fully distributed model and options in between. 
It's critical to link digital transformation initiatives with overarching business strategy for them to driving meaningful business change. As a participant at the Inviqa workshop observed: 'strategy and delivery teams need to work together to ensure the success of a digital transformation programme. Unless they do, all the great strategy work would be confined within a deck of slides'.
Successful digital transformation requires a close collaboration between strategic thinkers and digital doers. That's why, here at Inviqa, our business consultants, designers, and technologists collaborate closely to support businesses all the way from digital strategy into product delivery and beyond. 
6. Leadership and alignment
Effecting business change requires the right digital culture, led and embodied by senior leadership, but visible at all levels of the business. As Dmitry puts it: 'The "tell, sell, yell" strategy doesn't ever work'. The business needs a singularity of purpose when it comes to digital transformation, and so 'there's no point scattering your energies doing unconnected and uncoordinated things'.  
 
For those in 'bridge' roles, gaining the support of top management is also critical, according to Dmitry: 'If you're a change agent, change can only happen with two conditions in place: if top management publically, openly support you; and if people one level below you also do. This is crucial: someone has to be able to maintain the process and pick up the reins in your absence'.
 
Managing change is also a key consideration here. Ultimately, business leaders need to seed and recruit people at every level of the organisation who behave as they want them to behave.
A business' ability to change is influenced by its ability to source and attract employees with suitable commercial awareness and an appetite for risk and digital experimentation.
Organisations looking to drive change will need to establish an environment where people have permission to fail as part of a 'fail often to succeed sooner' mentality. Putting KPIs and targets in place to objectively measure the effectiveness of digital experiments is key, and experiments that 'fail' but explore new ground must be celebrated. 
Communicating and capturing the learnings around digital experiments, especially those that haven't worked, is key to progress. 'Town hall' meetings have worked well for BBC World Services as a way to do this, and 'sharing information, and being as open as we can be about everything' has been key to the organisation's digital transformation, according to Dmitry. 
 
Leaders need to share, celebrate, and demonstrate humility in their own failings, according to Dmitry, because when junior colleagues see their leaders publicly acknowledge mistakes, it helps remove the stigma around failure. 
Making 'digital' everybody's job
In a world where customer experience is a critical brand differentiator, there's no room for a siloed treatment of 'digital'. The transformative potential of technology is too significant to be left to a digital department alone. That's why embedding digital capabilities at every level of the business is key to effecting business change and enabling the organisation to meet and even exceed customer expectations. 
As a McKinsey advisor puts it:
It's not just about a chief digital officer, or a chief data officer, or a chief analytics officer. Actually, this digital thing becomes everybody's job, everyone's responsibility. You need to inculcate that change across the organisation.