The ecommerce sites millennials love to hate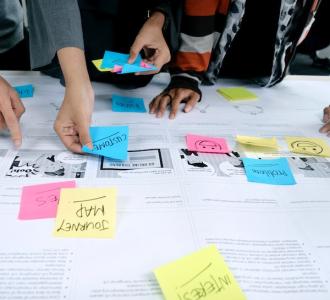 The millennial shopper will become the mainstream consumer within a decade, representing 35% of spending as soon as 2030. Despite the spending power of this important demographic, our latest retail report suggests that many retailers are failing to meet millennial expectations when it comes to online shopping experiences.
We asked a nationally-representative sample of 1,000 UK millennials to name the ecommerce sites they love and hate. Since 59% of 16-36 year-olds head to Amazon before any other ecommerce website, according to our research, we discounted Amazon from the list. Here is a sample of websites that cropped up, time and again:
| Hated by millennials | Loved by millennials |
| --- | --- |
| Tesco | ASOS |
| Argos | Next |
| Wish | Boohoo |
| Asda | John Lewis |
| Sports Direct | Nike |
Inspired by heuristics evaluation techniques, we then conducted focus group workshops with 16-36-year-olds to evaluate these five 'hated' websites.
These sites were assessed against a criteria our research identified as important to millennials:
Product reviews and third-party validation
Product information and authenticity
Site speed and performance
Navigation / ability to find what looking for
Frictionless online checkout
Convenience (e.g. offering both guest checkout and login options, local collection points, choice of delivery options etc.)
Let's now take a look at the findings from these focus groups to understand why millennials are struggling with these and many other ecommerce websites.
Failing to provide customer reviews
Reviews are integral to the ecommerce journey. Our research found that a massive 93% of millennials are very likely (56%) or likely (37%) to read product reviews before making an online purchase.  
Armed with this evidence it's not surprising that 4 out of our 5 'hated' sites either had no customer reviews or the quality and authenticity of the reviews was perceived to be poor. 
Neither Tesco groceries nor Sports Direct featured any customer reviews. Although Asda groceries and Wish did provide customer reviews, the lack of detail included was, in many cases, perceived as inauthentic.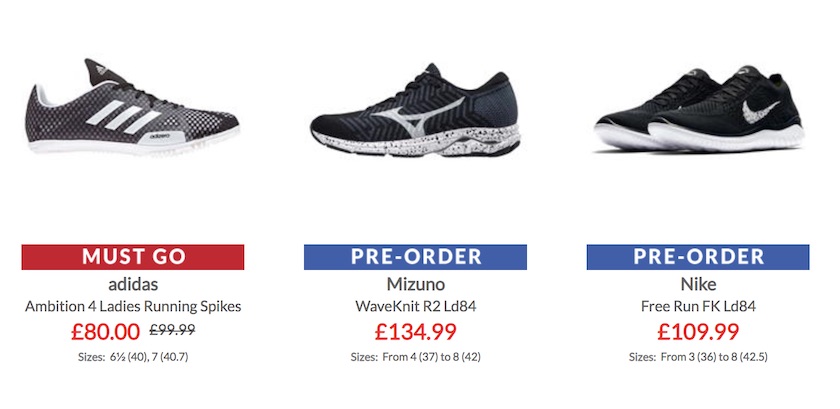 93% read reviews before making a purchase, but sportsdirect.com doesn't feature product reviews
The only exception here was Argos with its comprehensive customer reviews section which features a simple 'I recommend this product' tick box, and provides details of the person making the recommendation (including age, location, and gender), lending valuable credibility to reviews.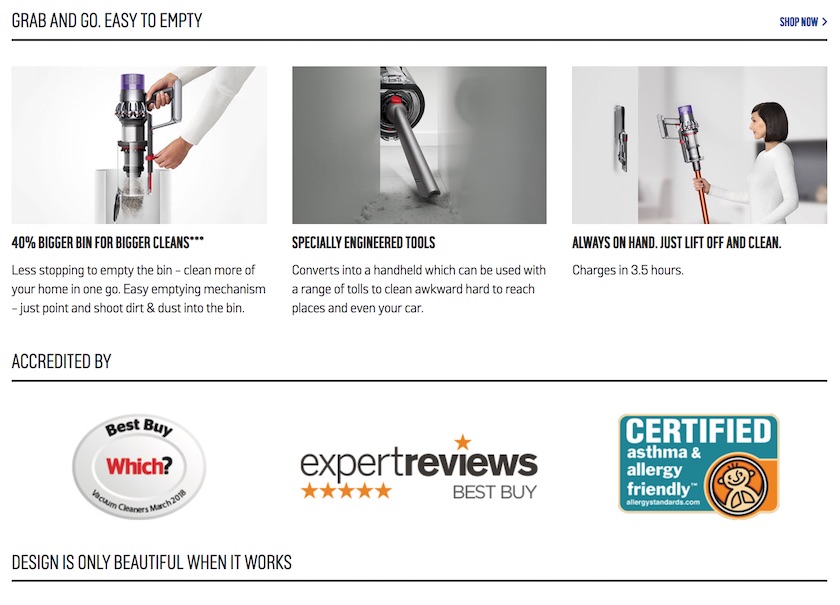 Argos makes use of third-party validation such as trusted media reviews 
Supermarkets and the lack of guest checkout
The most popular perception of what makes a positive ecommerce experience (as voted for by 44% of millennials) is where the shopper knows exactly what they want and is able to 'find it quickly and easily'. A seamless checkout experience is key to converting these shoppers with strong intent to purchase, and offering a guest checkout is key to removing friction in the checkout funnel.
It's telling then that three out of our five sites hated by millennials – Argos, Tesco groceries, and Asda groceries – didn't offer a guest checkout option. Asda's and Tesco's grocery sites fared especially badly amongst our focus groups when it came to the checkout process.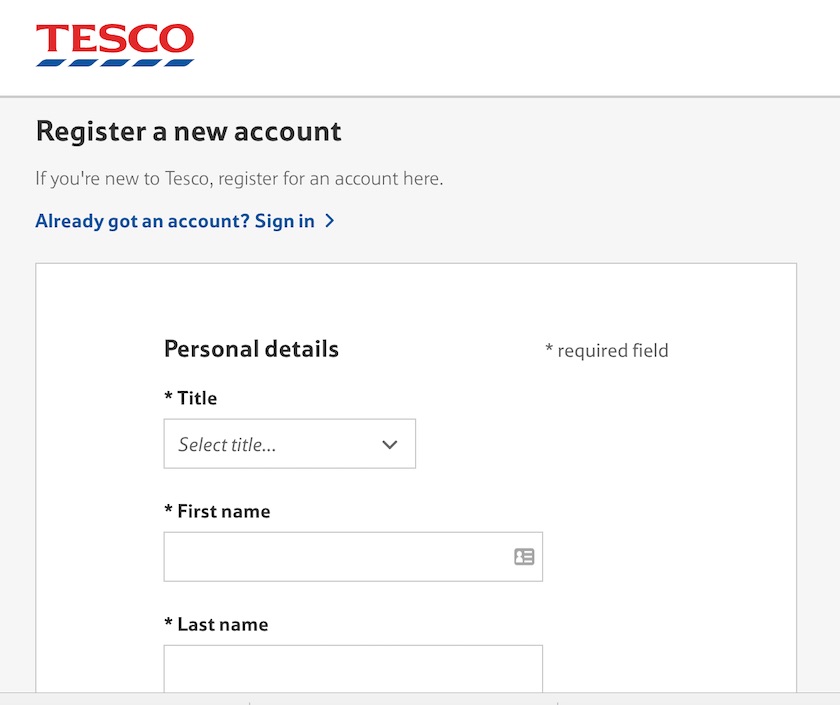 Tesco users must set up an account before they can add to their basket
Tesco requires you to set-up an account before you can add items to your basket. This step poses an immediate barrier to conversion. What it does mean, however, is that once a user has created an account and continues shopping they can be told, at the point of adding an item to their basket, whether there are any issues with delivery to their address, and can be given alternative options.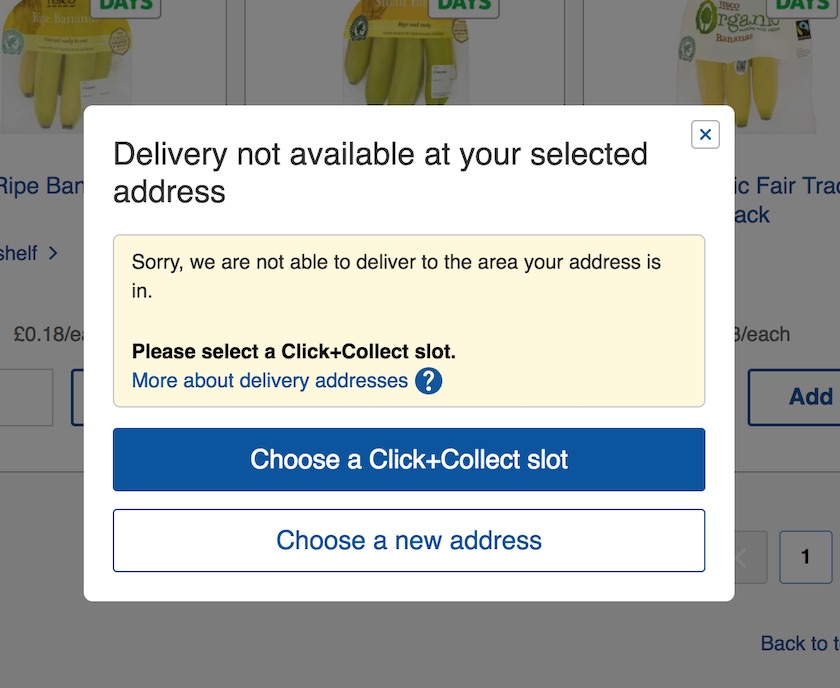 At the point of adding an item to basket, the Tesco site makes a user aware of any delivery issues
Asda groceries, on the other hand, gives users the option to 'start shopping', browse items, and add them to the basket before qualifying whether Asda can deliver those items to the user's address. So shoppers in a rush could miss the upfront 'check postcode' option and spend time building a basket of goods only to discover Asda can't deliver to their address. When this does happen, customers aren't given alternative options such as the ability to collect in store, something that is sure to increase Asda's basket abandonment rate.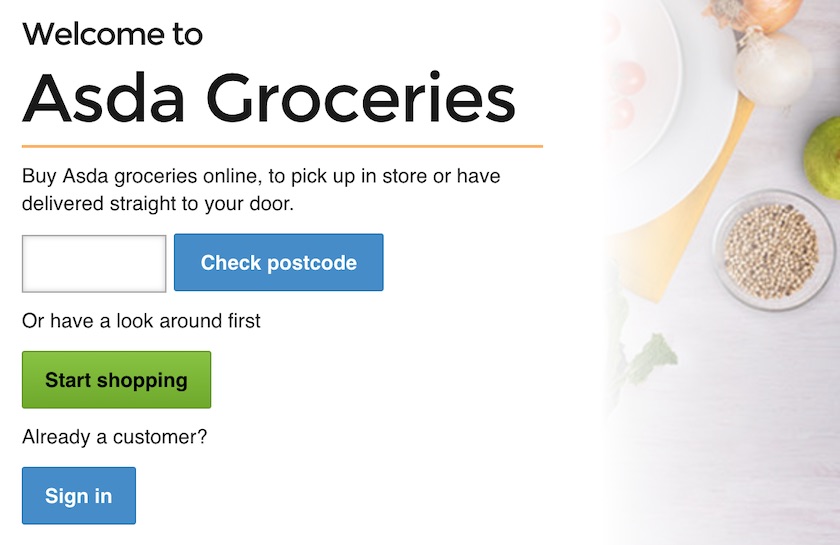 Asda visitors can get stuck into their shopping without realising they may not qualify for delivery
Supermarkets like Tesco and Asda clearly have a more complex distribution process compared to brands selling non-perishable goods and delivering via a third-party. But at the moment it feels like no one has really cracked the challenge of the guest-checkout / postcode-qualification challenge – something that could really make a difference in a competitive market where millennial spending power continues to grow. 
That's why supermarkets would do well to take inspiration from other organisations. Take Domino's Pizza, for example, which uses a model that assesses your postcode ahead of asking you to sign in or use a guest account; based on your postcode you're presented with only the options that are open and available to you.
Insufficient product information 
Having complete, accurate, and engaging product information can make the difference between converting or losing a prospect customer. What's more, 52% of millennials say the 'amount of product information and / or product reviews' is what makes them trust an online retailer the most.
It's perhaps unsurprising then that our five 'hated' websites were all critiqued by millennials in our focus groups for their product information. Tesco groceries and Asda groceries were both criticised for showing too much irrelevant information. The Tesco grocery site, for example, provided details that were perceived as distracting or unnecessary by some of our reviewers, such as providing the address of a product manufacturer on a bottle of wine's product page.
Wish and Sports Direct, on the other hand, were both criticised for not having basic product information. As an example, sportsdirect.com didn't provide any sizing information for a particular tennis racket.
The growing popularity of product information management systems (PIM) such as Akeneo, can help dramatically improve the amount and accuracy of information featured on retailer's sites, though of course they rely on them being implemented, maintained, and managed correctly. 
Friction in the navigation
When asked what best defines a positive ecommerce experience millennials say it's when they know what they want and can find it 'quickly and easily'. So when it came to naming the websites they loved and hated, it's no surprise that the ease of finding products was a key consideration.
'Hated' sites all had prominently-located search boxes, with the exception of Asda, and offered search suggestions. But the quality of those search suggestions varied depending on the item and search terms used, and none of the sites went beyond a simple list of terms (for example, none featured imagery or category suggestions). 
Below is a baffling example on argos.com. The search term 'tv' yields no suggestions, yet the search term 'television' offers results which include the term 'tv':


Wish was criticised for its very broad product categories and lack of filtering options making it impossible to find an item quickly. For example, clicking on 'fashion' in the navigation takes you straight into the product catalogue with no options to filter by gender, size, or item.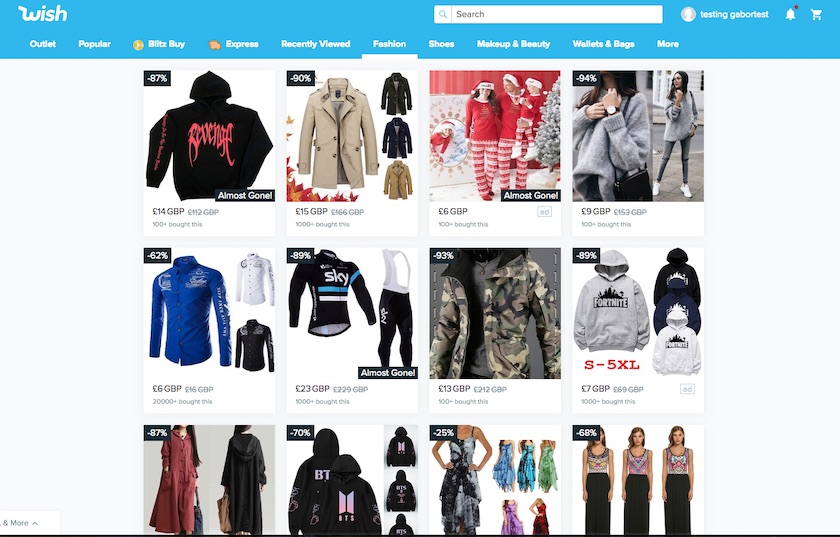 In contrast, Argos was criticised for having too many filter options which made finding an item confusing, as illustrated in the television example.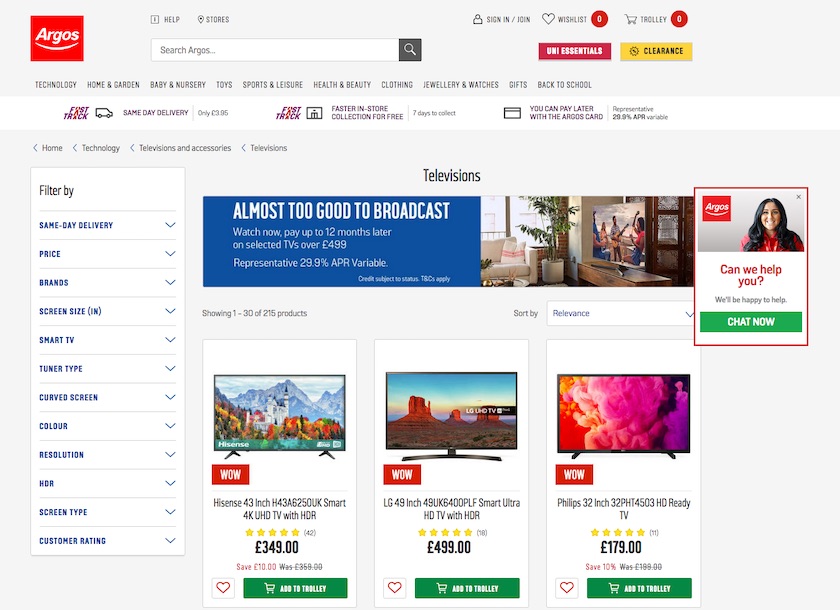 Although Tesco groceries, Asda groceries, and Sports Direct all came under fire for having unwieldy navigations, the sheer size and breadth of their product catalogues means navigation is likely going to be a challenge for these larger retailers.
Wrapping up
Our latest retail report shows that millennials care deeply about price and convenience. They frequently shop with a strong idea of what they want and with strong intent to make an online purchase.
While it's not inconceivable that focus groups with different age ranges would have provided similar feedback to our groups of millennials, what's clear is that 16-36-year-olds expect detailed and accurate product information, balanced reviews, and a frictionless path to purchase. But as our findings show, even some of the biggest names in retail are failing to meet these fundamental needs. 
We hope this exercise is a useful reminder of why retailers must be continually investing in the user experience and putting the user at the heart of everything they do. Because understanding the mindset and motivations of the individual shopper is key to providing ecommerce experience that fulfil specific needs, but also surprise, inspire, and delight.
Get the full story by reading our latest retail report: 'What millennials want: online retail in the Amazon era'.
Related reading