Arsenal Football Club is a London-based club that plays in the Premier League, the top flight of English football. Arsenal Media Group (AMG), which manages and leverages all aspects of Arsenal sports media property, enlisted the help of Inviqa in 2016 to transform its primary platform for fan engagement.
Arsenal.com is Arsenal's number-one channel for engaging fans around the globe. The website not only provides a source of club information and news; it also directs fans to its various online retail stores and helps Arsenal to engage and acquire new partners. 
 
But Arsenal.com and its sister sites were developed without mobile users in mind and, with a dated system in place for sharing new content, Arsenal was missing opportunities to improve fan engagement and drive revenue.
 
The club had two content management systems (CMSs): one to manage Arsenal.com; the other to provide a hub for club-related videos and to manage Arsenal Player, the club's dedicated video site. These bespoke, PHP content management systems were almost 10 years old and were showing their age. They posed some difficulties for editorial teams, were difficult for developer teams to update, and were preventing Arsenal from capitalising on the growing number of distribution channels and platforms favoured by its fans.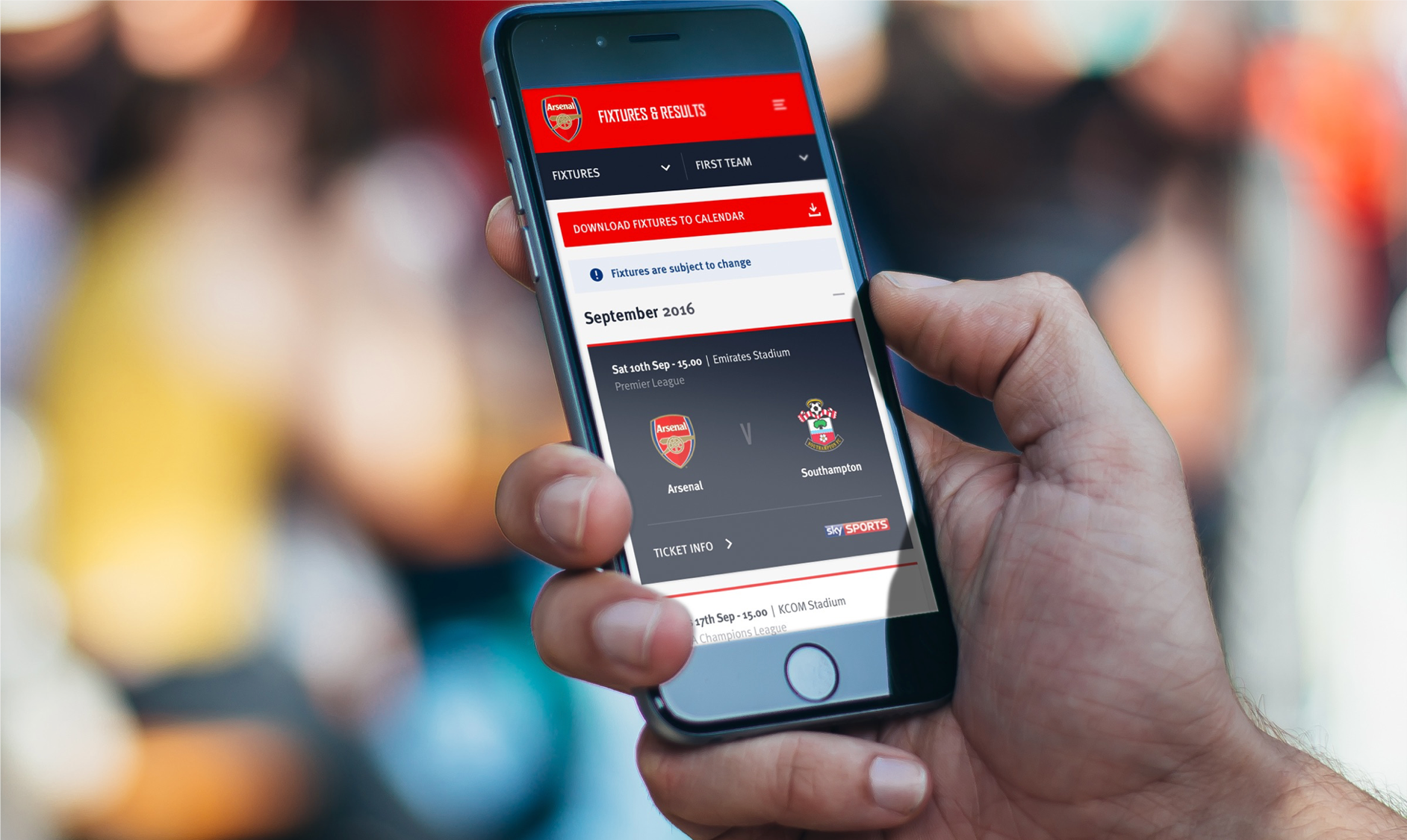 For editorial teams, some simple processes like managing images and embedding videos were unnecessarily complicated, so asset management was a key pain point. Meanwhile, the legacy platforms were preventing Arsenal's content team from integrating with other systems and developing application programming interfaces (APIs) to enhance the fan experience. It could be difficult to make changes to the website without destabilising other areas, and knowledge of the platform had eroded over time, with only a few people equipped to maintain and enhance it.
 
Arsenal recognised the need for a single, sustainable, and flexible CMS that would support its current and future business growth initiatives. The new platform would need to provide stability and a foundation for becoming more agile in the face of changing fan behaviours. With mobile representing approximately 70% of Arsenal's audience, optimising the website for a seamless mobile experience was key.
 
The club was looking for a cutting-edge, open-source platform that would optimise editorial workflows, be easy to integrate and develop, and would provide capabilities to enable future business growth.
Thanks to our expertise and combined experience in the sports industry (NBA, Football League, Liverpool FC, Major League Soccer), Inviqa and US-based agency Phase2, were selected as Arsenal's partners to provide consultancy, as well as to implement and maintain the new platform.
With many Arsenal fans never experiencing a game at the stadium, we have to convey the excitement and passion of being at the ground to a global audience, and digital is the best way to do that. Inviqa showed us that they understood this from the outset and challenged us to explore the motivations and business reasoning behind every decision we made.
David Savage, Core Platform Product Manager, Arsenal Football Club & Arsenal Media Group
Our support for Arsenal included:
Discovery: workshops with key stakeholders to gain a deep understanding of the project goals and how success would be measured to help prioritise and inform decisions
Drupal 8 customisation and implementation  
Implementation of Gigya for single sign-on for social media and membership
Implementation of a mobile-first design
Platform-as-a-service approach with Platform.sh for simpler development and deployment workflows, as well as agile scaling to meet peak traffic
When we designed our new CMS we knew it would be the hub for all our digital content. We also knew we were building a CMS that would, in time, be delivering content to devices, platforms, and channels that don't currently exist. This had to be at the heart of the design and build philosophy.
David Savage, Arsenal
Following a thorough Discovery, which encouraged Arsenal to 'strip everything back, identify our objectives, gather requirements, and establish a direction of travel', according to David, the project progressed over two stages:
Building a 'minimum viable product' – a base platform to support Arsenal's existing workflow and process
Delivering enhancements to strengthen editorial workflows and processes
A new digital home for Arsenal
The all-new, Drupal-powered Arsenal.com provides the club with a bigger, bolder content hub that paves the way for improved fan engagement and future business growth. Delivered on-time and without any disruption to the business, the new platform, built on Drupal 8 and Platform.sh, allows Arsenal to move faster in response to changing fan behaviours and continuously improve the experiences it delivers.
We're now able to progress more rapidly though our roadmap and get features developed seamlessly. Now that the huge task of replatforming is completed, we can focus on further growing and enhancing fan experiences.
David Savage, Arsenal
The new content hub has had a very positive effect on membership, with 15% year-on-year growth in the volume of sign-ups to its digital membership. 'It's still early days', says David, 'but we're already seeing above-average membership sign-up. We're really pleased; the site has stood up during high-demand periods'.  
Arsenal.com was developed to be mobile-first, providing a stable and intuitive experience across multiple devices. Features like infinite scroll further enhance the mobile experience, while the decision to replace the legacy membership gateway with single-sign on powered by Gigya has simplified the user journey. 
Thanks to page load optimisations, including the 'lazy loading' of images, the new Arsenal site rivals the old one for page load time, despite offering a far richer experience. And since adding video to the homepage, Arsenal is seeing 15% more video views per user, with 20% longer dwell time on the homepage, and more than 33 years' worth of content watched in the month of May 2018 alone.
As a testament to the website's popularity with fans and members of the public, the Arsenal FC site was awarded the 2018 People's Voice Webby Award (hailed as 'the internet's highest honour' by The New York Times).
The new site has also transformed editorial workflows and processes. Content teams are now able to effortlessly create and publish engaging content for fans. The new platform enables Arsenal to take full advantage of its rich media content and the team streamed its most hours of video to date in July 2017. 
Arsenal now has the foundations to build upon its live content offering through real-time updates, such as match imagery within the live, minute-by-minute match-day coverage, and fan content from social channels. Having invested in customer relationship management (CRM) to improve fan relationships, Arsenal is now looking to focus on making fan experiences personalised, geo-targeted, and ever-more relevant.
I would definitely recommend Inviqa. They're very strong in terms of account and project management, and we have a really good relationship thanks to their openness and transparency. They appreciate that we're in it together with common goals.
David Savage, Arsenal
Arsenal's senior systems and operations manager, John Dollin, sat down with Inviqa's content practice director, Myles Davidson, to share his top fan engagement tips. Listen to the podcast below, or head here to get edited highlights from the conversation.