Poor website performance is millennials' biggest ecommerce bugbear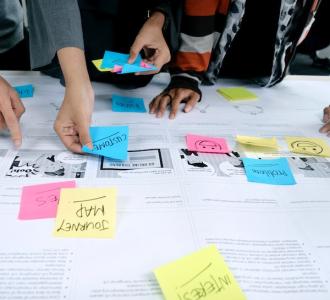 UK millennials recently voted poor website performance as the top cause of bad online shopping experiences. And with millennials forecast to represent 35% of spending by 2030, retailers would do well to pay attention. Here we explore what's at risk when retailers fail at website fundamentals and how they can better cater to the needs of this powerful demographic.
What millennials want
It's easy to see why the retail world is a bit obsessed with millennials; aside from their significant spending power, millennials are pushing the boundaries of customer experience and they're spending more than other demographics on Amazon – a platform that's eating just about every retailer's lunch. For these reasons, understanding how to better cater to millennial shoppers is in many retailers' interests.
Millennials have 'come of age during a time of technological change' and are often associated with much-hyped technology trends like AR and VR. But some of these technologies are seeing a slump in consumer interest, with many preferring that brands focus on improving their existing digital products rather than jumping on the latest trends. 
New research from digital consultancy Inviqa suggests that many millennials may feel this way because their overriding ecommerce concern is achieving a fast, frictionless journey.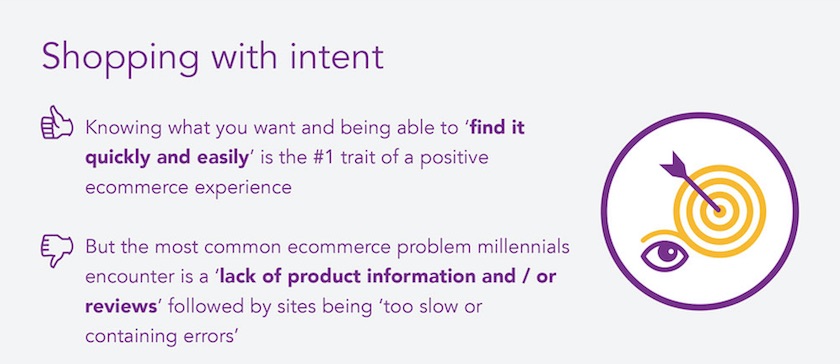 Shopping with strong intent to purchase
The study of 1,000 UK millennials found that 16-36-year-olds often have a clear idea of what they want when shopping online, with strong intent to make a purchase. As voted for by 44% of millennials, the defining characteristic of a positive ecommerce experience is knowing what you want and being able to 'find it quickly and easily'.
But ecommerce websites are making these types of shopping experiences difficult by failing at the basics, from poor site performance to inadequate product information. The most common problem millennials encounter when shopping online is a 'lack of product information and / or reviews'.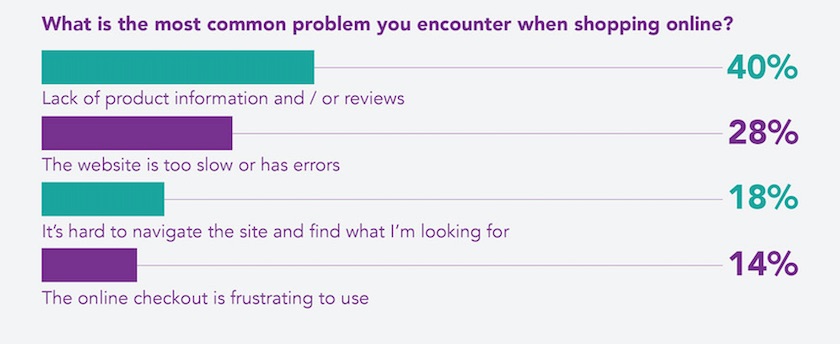 Source: whatmillennialswant.inviqa.com
This is despite the fact that millenials see reviews as critical in the customer journey, with a massive 93% of them saying they are very likely (56%) or likely (37%) to read product reviews before making an online purchase.
Meanwhile, the top cause of bad ecommerce experiences is websites that are slow, have errors, or are hard to navigate. Nearly a third of millennials (28%) voted slow, error-riddled websites as the most common ecommerce problem they encounter.
With nearly 1 in 5 (19%) millennials saying that the key characteristic of bad ecommerce experiences is knowing what they want but struggling to find it, all retailers must cater to millennials shopping with a strong idea of what they want to buy when they land on an ecommerce site. 
So how can retailers reduce friction and better cater to millennials shopping with a strong intention to purchase? 
Provide information that aids purchase 
Even for millennials landing on a website with strong intent to purchase, that site's ability to instill trust and confidence is key to conversion; after all, more than half of millennials (52%) say the 'amount of product information and / or product reviews' is what makes them trust an online retailer the most.
Accurate and engaging product information, imagery, balanced reviews, and content that enables informed decision-making are all key to progressing shoppers along the purchase funnel.  
But be mindful of the fact that millennials aren't always shopping with explicit intent; 1 in 10 millennials, for example, say the main reason they wouldn't shop with Amazon in some instances is because they don't always know what they're looking for and 'it's hard to find inspiration on Amazon'. 
This is where the likes of rich content and gift guides are used to great effect. Lush is a great example of how to do this well; its ethically-sourced beauty products are brought to life through story-telling, engaging editorial, and rich product information that shows what's possible with imaginative, content-driven commerce. As a result, its site feels more like a blog or magazine than an ecommerce store and brings the tactile experience of physical Lush stores to the world of online shopping.
Retailers need to tell brand and product stories with the depth of personalisation and contextualisation that only content can provide. And they need a flexible content management repository that enables their content to be what and where it needs to be, today and in five years' time.
Invest in a robust PIM solution
With poor product descriptions representing one of the highest causes of cart abandonment, the quality and completeness of your product information can make the difference between converting or losing a prospect customer.  
Even millennials shopping with a clear idea of what they want and strong intent to purchase expect to see detailed, accurate, and complete product information in order to make informed purchase decisions. But almost one third of the data in product catalogues still contains errors.
Product information management (PIM) solutions aim to rectify this by providing a single source of truth for all the product data a retailer pushes across its channels.
A PIM allows a retailer to centrally manage all the technical and marketing data around its catalogues and products and, unlike historical merchandising systems, is designed to improve the efficiency of product data creation and management.
Learn more in this introduction to product information management.
Optimise for speed with AMP and audits
Slow site load times can make the difference between converting a potential customer and losing them at the first hurdle, with more than 50 percent of users abandoning sites that take longer than three seconds to load on mobile. 
This technical challenge is set to grow for retail brands as the average page weight continues to rise thanks to increased use of imagery, the higher pixel density of new consumer devices, third-party modules, and interactive pages that add weight to CSS and JavaScript.
Google's Accelerated Mobile Pages (AMP) aims to help here and is a great tool for optimising your site for speed on mobile. Aiming to improve the mobile web experience, AMP provides clean, instant-loading content that can improve the ranking of your web pages. Learn more about how it works with our introduction to Google AMP.
Site performance audits are another great tool for improving site speed by surfacing and prioritising opportunities to improve performance. It's an approach that was taken by the UK's favourite bed and bath brand, Soak&Sleep, and resulted in a backlog of site changes to improve speed through the likes of remedial work and improvements to the code base, a menu redesign, the implementation of lazy-load images, image size optimisation, and minimising assets required to achieve faster site load time.
Just a week after implementing the changes, the Soak&Sleep website saw speed improvements of up to 30%, plus a 6% rise in average order value and 5% rise in online revenue.  
Optimise your site for search
Shoppers using search are more likely to purchase than those relying on site navigation, because they tend to be shopping with intent, often in the later stages of the purchase journey. Optimising your site for search, therefore, is key to driving conversion and helps site visitors to intuitively search for and find the products that match their intent. Check-out this article from our partner Algolia to learn more about the key considerations for building site search.
Etsy is a great example of how to optimise for search. According to Google, it's is one of the most user-friendly mobile sites going, and it capitalises on the fact that millennials use mobile more than any other device to search for products.
The Etsy homepage features a prominent search bar that returns results rapidly from just a few keystrokes. The usual search filters are there, from price to relevance, but site visitors can also search by options like free shipping and gift wrapping, while a guest checkout reduces friction for new customers.
Invest in customer journey analysis
Millennial shoppers may share some notable trends and behaviours, but retailers really need to understand them as individuals in order to provide value and differentiate their digital experiences from other retailers.
Rather than simply consider what millennials shoppers do and the services they require, retailers need to consider what these consumers are thinking, hearing, feeling, and doing, at every stage of the user journey. 
Methods of customer journey assessment and evaluation, such as customer experience mapping, usability testing, multi-variant testing, and heuristics evaluation, are valuable tools in helping retailers improve customer experiences by understanding shoppers' mindsets and motivations, rather than focusing too much on demographics.
Heuristic evaluation in particular is fast, easy, and helps ensure businesses don't lose sight on the basics with their digital proposition. It was used to great effect by jewellery upstart Astrid & Miyu to drive maximum results during Black Friday. The results included a year-on-year revenue rise of 144%, a 133% increase in transactions, and 5% rise in average order value.
Wrapping up
Understanding the needs and behaviours of millennials is key to survival as retailers strive to give consumers compelling reasons to shop from them directly.
For this powerful demographic, which often shops with strong intent to purchase, being able to get what you want, quickly and easily, is the primary concern, irrespective of where you start or end the shopping journey.
Enabling these frictionless journeys means optimising ecommerce sites for speed and performance, eliminating errors, and understanding where existing features of the website or app can be improved.
But ultimately it's about understanding the mindset and motivations of the individual shopper in order to provide compelling online experiences that fulfil needs but also inspire and delight.