At its annual conference in Las Vegas, Magento announced a new addition to its product portfolio: Magento Enterprise Cloud Edition. The product was shrouded in secrecy until the official announcement alongside a host of partnerships with the likes of Platform.sh and Fastly. But what exactly is Magento Enterprise Cloud Edition? Why all the fuss? And what will it actually offer retailers?
Magento Enterprise Cloud Edition is a brand new product that will sit alongside Magento's Community and Enterprise offering. Currently, retailers using Magento have to manage their own hosting, whether via a hosting partner, or by buying their own servers. Magento Enterprise Cloud Edition is hosted meaning setting up and running a Magento store just got a whole lot easier.
Magento Enterprise Cloud Edition is a platform-as-a-service offering built on Amazon Web Services' (AWS) global infrastructure. In one move, Magento has removed the hassle of hosting sites in multiple countries, managing load capacity, and made it possible to introduce more dynamic deployment processes. By building Cloud Edition on AWS, Magento merchants can rest easy knowing their sites can handle demand and instead spend more time optimising their stores for customers.
As well as AWS, Magento announced a series of strategic partner services that make up the Cloud Edition package. These include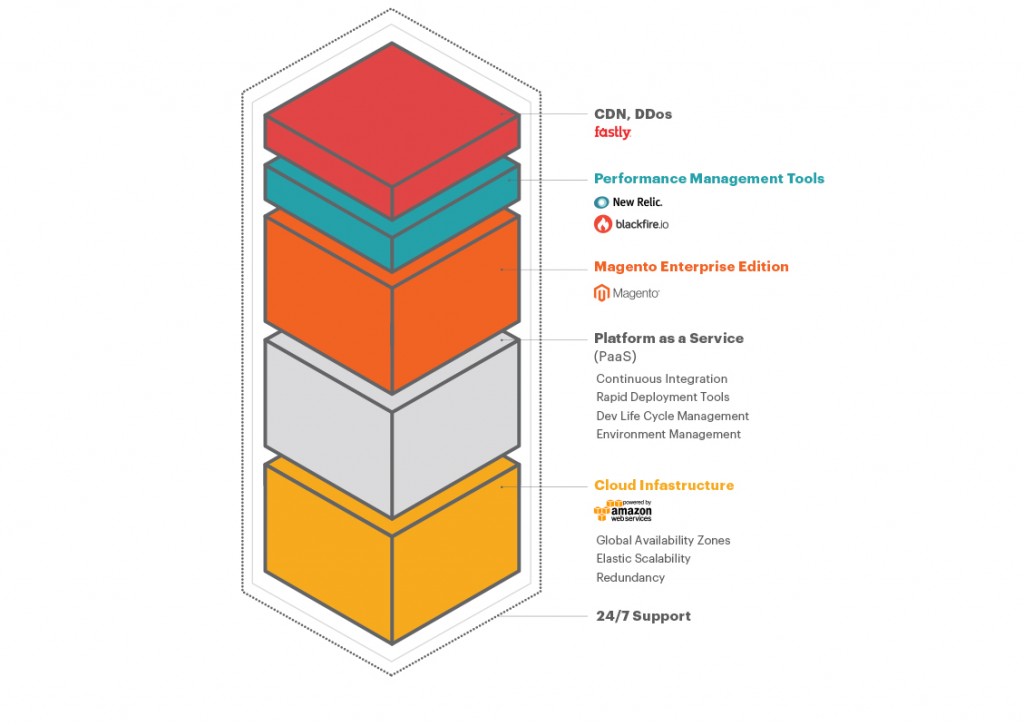 Cloud Edition is due to launch on 1 May 2016, and will run Magento 2.0 onwards. The price, quoted on customer-by-customer basis, will include:
Full Magento 2 Enterprise Edition license
Fastly CSN and DDoS protection
Unrestricted versions of New Relic and Blackfire.io Enterprise
Continuous cloud integration tools with unlimited users
Capacity to expand with peak traffic at no additional cost
Some provision for overage charges (if over bandwidth allowances)
24/7 support services
Magento will introduce lower tier pricing later in the year. Speak to a Magento partner or Magento itself to discuss specific requirements and pricing for your organisation.
With Cloud Edition, Magento is taking on the bigger players in the ecommerce platform market. By removing the difficulty of setting up and managing hosting, Magento has created a very tempting prospect for retailers; easily scalable, completely controllable ecommerce under one single fee. We expect to see Cloud Edition become the bastion of Magento's commitment to high-performing, customisable ecommerce.
Among the buzz around Cloud Edition, Magento also announced the launch of the Magento Marketplace, a new 'app-style' store that has replaced Magento Connect.
The old Connect marketplace regularly came under fire for duplicate extensions, blatant plagiarism, and little quality control. The new Marketplace for Magento 2 has firmly put an end to this. The new store is fully curated and extensions are only released for download following strict performance and quality tests.
The result is a smaller, but decidedly better quality, marketplace of modules. Merchants buying extensions can now be sure their module has been validated for quality, functionality, and has been formally approved by the Magento team itself.
Following the launch of Magento 2 and the formal split from eBay Enterprise, Magento has had a busy year. The arrival of Magento Enterprise Cloud Edition and the new Magento Marketplace directly addresses feedback that Magento has received for years. It's a new phase for Magento, and one we are thrilled to see.
---
Article update
This article was originally published under Session Digital, which unified with Inviqa in June 2016. For more information about the unification visit https://inviqa.com/new-era.
Image: Divante @Imagine 2016